Online consultation has always been a popular trend, especially 1-on-1 consultation. In particular, the voice and video matching mode is increasingly popular due to its easy operation and highly interactive features.
1-on-1 Consultation Scenarios
1-on-1 consultation mode is now appearing in various industry apps, including medical consultation, job interviews, mental health counseling, and online astrology. It improves user matching efficiency and experience, attracting more users.
Medical consultation: patients can connect virtually with healthcare providers to discuss health issues and receive a diagnosis in a mobile app or web app through voice or video calls and chat.
Online job interview: applicants can participate remotely through an online chat, video, or audio platform.
Mental health counseling: therapy conducted virtually through phone calls, video chats, and text messages
Online astrology: Users can seek guidance from authentic astrologers through voice or video calls and chat.
Pain points of online 1-on-1 consultation
While the 1-on-1 consultation model is rapidly developing, companies also have to face some pain points in operation, such as:
Difficulty in app store listing and long review periods
High platform acquisition costs and difficult accurate conversion
Up to 30% taxes and fees on the app store platform.
Compatible with mobile websites for better adaptability
In response to the aforementioned three issues, businesses and developers are progressively focusing more on adapting web platforms. Instead of spending time and resources hiring developers with different technology stacks to develop apps, more businesses hope to launch and update their products through web platforms. In particular, by adapting for mobile browsers on the web platform to obtain more traffic.
1. Cross-platform compatibility
Web applications can run on multiple platforms and devices without developing separate applications for each platform and device. This saves development costs.
2. User accessibility
Web applications do not require downloading and installation; users can access them directly through a browser, improving user convenience. This feature is naturally suitable for social media promotion channels. Users can instantly experience the core selling point service with only a URL link.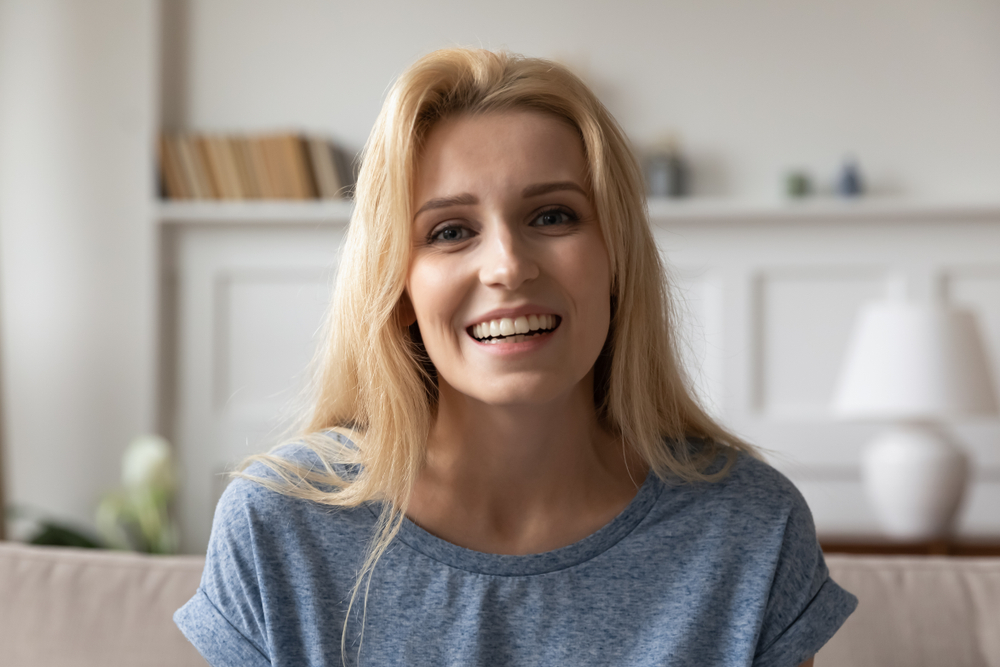 3. Rapid updates
Web applications can be updated, and new features can be released anytime without waiting for app store reviews and releases.
4. Lower costs
Compared to native applications, the development cost of web applications is lower, and the development cycle is shorter.
5. SEO-friendly
Web applications can be indexed by search engines, effectively increasing the exposure and search ranking of the application. Therefore, improving promotion and monetization efficiency.
Overall, web applications have the advantages of:
cross-platform compatibility
no installation
rapid updates
low cost
SEO-friendly
In 1-on-1 consultation, live streaming, and live shopping, web applications occupy an increasing share of traffic and revenue. The adaptation of web applications in these scenarios relies on the web-based RTC communication capability and the ability of cloud communication service providers. They should ensure high-quality and stable communication under complex overseas network conditions and uneven device performance. Otherwise, the quality of audio and video communication will directly affect the user experience and the core business indicators, leading to a decline in revenue.
ZEGOCLOUD's complete Web SDK capabilities
The global market has a complex network environment, and ZEGOCLOUD is committed to providing companies with the best real-time interactive experience. Years of industry experience and technical accumulation can help clients quickly build audio and video communication capabilities. The vendor assists in rapid application launch and explore new scenarios in the video consultation industry expansion field.
Check out demo and documentation of ZEGOCLOUD Web SDK.
1. Dual stream functions and traffic control to ensure user experience in complex network environments.
ZEGOCLOUD supports dual-stream functions on the web platform.
The streaming-publishing end can simultaneously publish two streams of different resolutions and bit rates.
The streaming-playing end can choose to play high or low-resolution streams based on its network environment, which can effectively cope with complex overseas network environments. At the same time, it supports traffic control.
When the network quality of the streaming-publishing end changes, it can automatically adjust the media stream's bit rate, resolution, frame rate, etc., to ensure smooth interactive effects.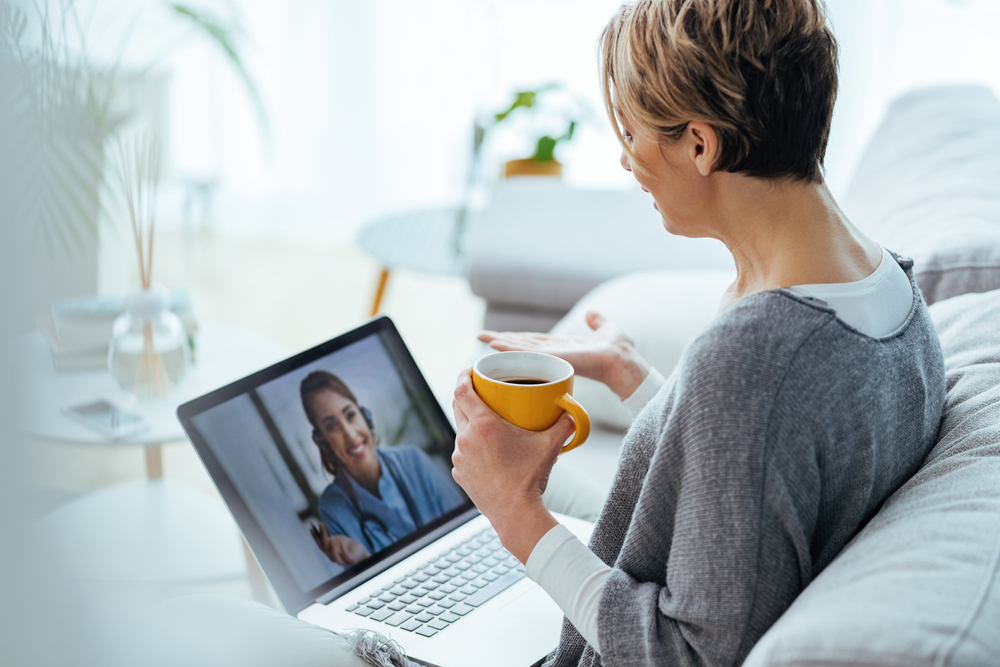 2. AI noise reduction to restore users' pure sound quality.
ZEGOCLOUD can provide an AI noise reduction function for users' noisy backgrounds and sudden noise. It can reduce the noise of the collected sound of the microphone. Under normal processing of steady-state noise, it can also process non-steady-state noise, including mouse and keyboard sounds, kitchen utensils and dishes sounds, environmental wind sounds, coughing sounds, and other non-human noises. The CPU consumption is very low compared to traditional noise reduction, and the required memory is consistent with traditional noise reduction, which can retain pure voice and improve users' call experience.
3. Background replacement to align the live environment with user needs.
Users or hosts in complex indoor or outdoor environments can replace the background or virtualize it to optimize the background effect during live streaming. Or when the host needs to change other scenes, such as karaoke scenes, outdoor scenes, online meeting scenes, etc., they can selectively replace the background to make the communication environment more in line with user needs.
4. Hardware encoding and decoding to reduce client performance consumption.
ZEGOCLOUD web RTC supports hardware encoding and decoding, reducing the CPU usage rate, thereby reducing the device's heating situation, reducing the stuttering rate, and being more user-friendly.
5. Provides real-time moderation to ensure user behavior compliance.
ZEGOCLOUD's real-time audio and video products provide moderation services. This service provides real-time recognition and review of audio and video content. Developers only need to call the audio and video stream review interface to detect whether there is any non-compliant content in the stream in real-time. ZEGOCLOUD will send back the non-compliant information to the URL specified by the developer through callbacks to assist in supervising the security of user rooms and reducing manual review costs.
6. Complete a time-based pricing model to increase company revenue.
In the 1-on-1 scenario, there are often requirements to charge users based on call duration. ZEGOCLOUD provides various types of signaling and streaming media-related callbacks on the client and server sides. For example, the updates when the user enters the room takes a speaker seat, views the host's video, and exits the room can be notified to the business side by event callback. The client can design a specific time-based pricing model based on actual business scenarios and callbacks.
In addition, as the main application scenario, ZEGOCLOUD has deployed complete technical capabilities and supporting functions based on user experience. The ZEGOCLOUD web SDK also supports basic beauty features, providing various beauty capabilities such as whitening, smoothing, and sharpening. It also provides 3A, real-time voice changing, mixing, screen sharing, and other functions, considering the needs of the demand side and providing complete web functionality services to help the business side provide users with a better interactive experience.
Quality service guarantee for a smoother user experience.
In addition to the comprehensive deployment of web capabilities, 1-on-1 consultation requires superior quality service guarantees to solve experience problems such as long loading times, blurry images, and stuttering. Take "call duration" as an example, which refers to the total duration of the call between the viewer and the host, and the length of the call affects the host's profits. Therefore, to improve the call duration in 1-to-1 consultation scenarios, cloud communication service vendors should focus on performance in terms of fluency, real-time response, stability, and other dimensions.
Check out demo and documentation of ZEGOCLOUD Web SDK.
1. Weak network transmission optimization, smooth communication with 65% packet loss
According to actual test data, ZEGOCLOUD's ability to resist weak networks among many cloud communication vendors is excellent. Even in weak network environments with a 65% packet loss rate, ZEGOCLOUD's web end can still support normal audio and video calls for users, with a network bandwidth requirement of less than 300kbps. Therefore, it has a significant advantage in areas with poor network construction.
Even in the most common scenario of combined network loss, which means simultaneous packet loss, jitter, and speed limit, ZEGOCLOUD's web end can still provide high-quality audio and video services that meet the core demands of business scenarios.
2. Global quality node coverage, 70ms ultra-low latency sensory experience
Through massive service accumulation, SDN technology, and relying on major global cloud vendors, ZEGOCLOUD has developed a "Massive Ordered Data Network MSDN" to achieve high-quality intelligent scheduling and routing globally, greatly improving data transmission speed and reliability. It covers over 500 nodes in 212 countries worldwide, providing stable, secure, and reliable network transmission services.
In particular, there is rich node coverage in some popular overseas regions, such as Southeast Asia, South Asia, South America, North Africa, and the Middle East. End-to-end transmission optimization has been achieved based on self-developed engines, resulting in an industry-leading breakthrough with end-to-end latency as low as 70ms and a high-quality transmission rate greater than 99.9%.
3. 99% instant video loading rate, effectively reducing user first frame time
The connection rate refers to the success rate of users calling the host in 1-on-1 video call scenarios, a critical business indicator directly affecting the app user's payment rate. For example, in the 1-on-1 consultation scenario, users can tolerate a waiting time of no more than 2 seconds from the start of login to playing the first frame. Once it exceeds 2 seconds, most users will cancel the call actively, leading to a decline in the client's connection rate.
ZEGOCLOUD mainly improves from two aspects: server resources and signaling interaction. It has optimized instant video loading by covering over 500 available BGP nodes and using intelligent scheduling algorithms and the fastest 1 RTT to connect. This effectively reduces the first frame time, with an instant connection rate as high as 99%, helping clients improve the app user's connection experience.
4. Analytic Dashboard provides all-round data detection capabilities
Analytics Dashboard is ZEGOCLOUD's audio and video quality operation platform for developers, providing functions such as call insight, user monitoring, quality dashboard, and operation dashboard to help developers comprehensively monitor audio and video services, restore call quality and interaction situations and efficiently locate and troubleshoot problems, improving audio and video quality and user experience.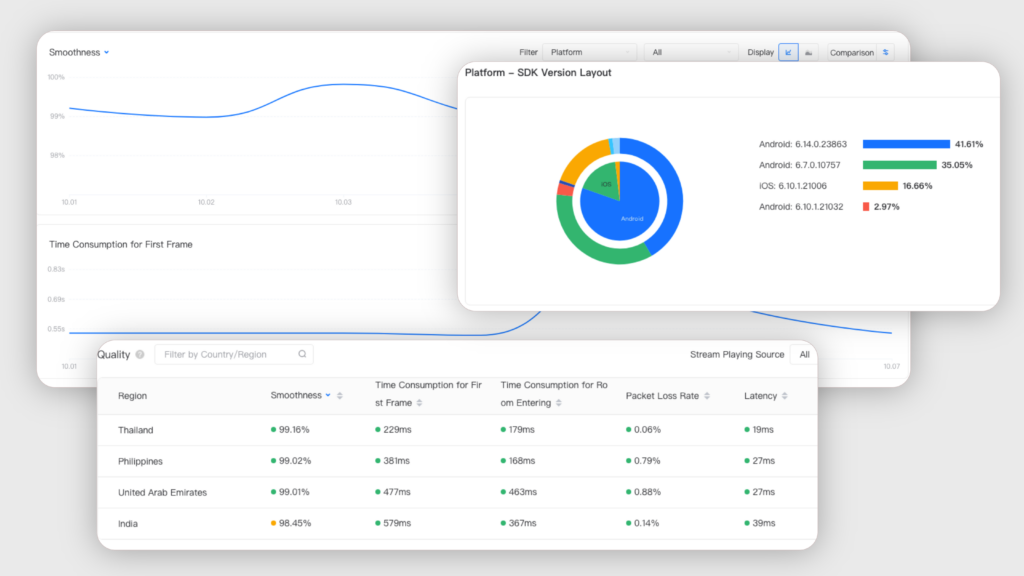 In addition to the excellent data performance mentioned above, ZEGOCLOUD's performance in global online operation data statistics for web RTC is remarkable, with an average success rate of over 99% for push and pull streams. When facing different device performances or multiple concurrent streams, ZEGOCLOUD's web RTC performs better in CPU usage, memory usage, heat generation, power consumption, and other performance indicators, occupying fewer hardware resources to provide high-quality audio and video services.
ZEGOCLOUD's real-time interaction helps global industries grow.
As the current trend, many pioneers have set sail in the consultation industry. In addition to common scenarios such as 1-on-1 consultations and live streaming, ZEGOCLOUD's web SDK has also been widely used in the e-commerce and online education industries. With just four lines of code and 30 minutes, developers can quickly implement audio and video chat capabilities and support setting usage scenarios.
Developers no longer need to worry about configuring multiple settings such as resolution, frame rate, and bit rate, which greatly helps industries quickly achieve audio and video communication capabilities. In the global market, great potential and stable technical support is always the premise of high-quality services and content output. ZEGOCLOUD will continue to provide the best business experience for clients!
Talk to Expert
Learn more about our solutions and get your question answered.
Talk to us
Take your apps to the next level with our voice, video and chat APIs
10,000 minutes for free
4,000+ corporate clients
3 Billion daily call minutes