ZEGOCLOUD is a global cloud communication service provider. By integrating a single SDK, ZEGOCLOUD enables organizations and developers to simply and rapidly gain real-time audio and video communication capabilities and to enjoy seamless, dependable audio and video experiences with excellent quality even in poor network situations.
With excellent audio & video technology supporting full-band voice processing, it is compatible with various mobile phone terminals and it is good at adaptively finding the best point between delay and fluent streaming in poor network environments.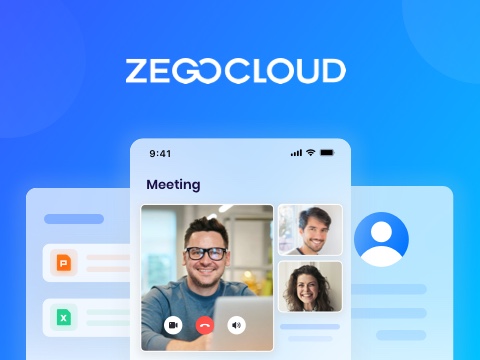 ZEGOCLOUD's Technology
ZEGOCLOUD technology has four main advantages:
Multiple data centers and global networks allow users to access the system through nearby nodes
An intelligent dispatching system always connects users to the best network resources.
An optimized first-frame loading strategy allows video playback to start instantly.
Our independently-developed transmission protocol achieves the best trade-off between latency and smoothness and adapts to different network environments.
ZEGOCLOUD scenarios
Live Steaming
Perfectly supporting multiple live streaming formats such as dual-stream live streaming, multi-player connected, voice live, interactive mini-games, etc. Various forms to meet the various needs of entertainment and game live streaming.
Chat Room
Supplying Both speed mode and high-definition mode for team-game playing scenes. Also, supply interactive mode and broadcast mode for the entertainment scene. NO delay for either speed or entertainment.
KTV
Plentiful methods for KTV, take turns solo, single-player MV, two-player MV, and multi-player chorus, truly experience for KTV entertainment.
Education
Multi-ways connect modules to solve the issue of big classroom or small group teaching, and ultra-low latency technology solves the real-time communication efficiency of 1-on-1 video consultation.
Retail
300ms ultra-low latency technology solves the requirement of real-time bidding and lucky draw. Supporting clear and fluent live e-commerce broadcast effects in a complex network environment.
Talk to Expert
Learn more about our solutions and get your question answered.
Talk to us
Take your apps to the next level with our voice, video and chat APIs
10,000 minutes for free
4,000+ corporate clients
3 Billion daily call minutes