Developing a web developer portfolio website is necessary to get big projects and close deals with high-paying clients. But effectively presenting a portfolio is also an art. That is why, in this article, we have mentioned some of the top portfolios that can see and get new ideas that you can use for presenting your case studies.
Top 15 Web Developer's Portfolio Websites to Inspire You
To create an exciting portfolio website, you need to ensure that your website is user-friendly and creative. Thus, you can take inspiration from the following portfolios to make a unique portfolio website.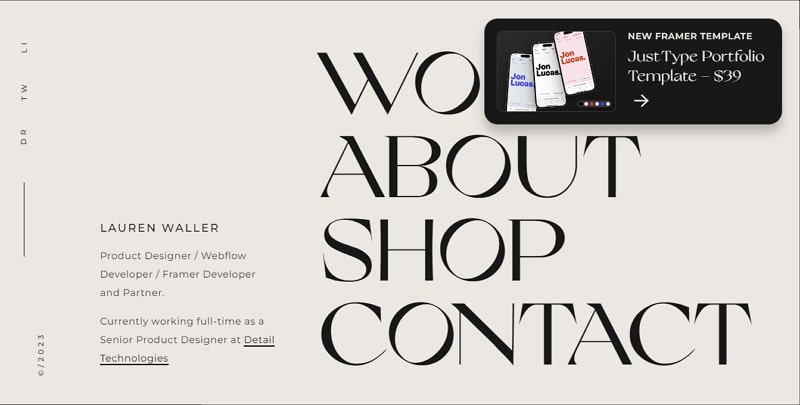 Laurne web developer portfolio website has a dynamic background and contrasts with a very interesting user interface. All the accessible options on this website, such as About, Work, and Contact, have large typography, which enhances user engagement. That is why it is easier for people to get in touch with Laurne through her portfolio website.
Lokkee is a passionate and top-notch experienced coder who has multiple development skills. These skills include the front-end, desktop app development, and much more. Besides, the web developer portfolio of this freelance programmer reflects his creativity and hard work. From his website, you can get the idea to develop your attractive web developer portfolio website.
Lynn is a strong and intelligent woman who has fantastic skills as a CSS developer and as a designer. In addition, she has vast experience in the web development field and has an exciting web developer portfolio website. Her website changes yearly, continuously showing the world her new creative case Studies. Moreover, some of her interesting projects are also featured by CNN, Vox, and other channels.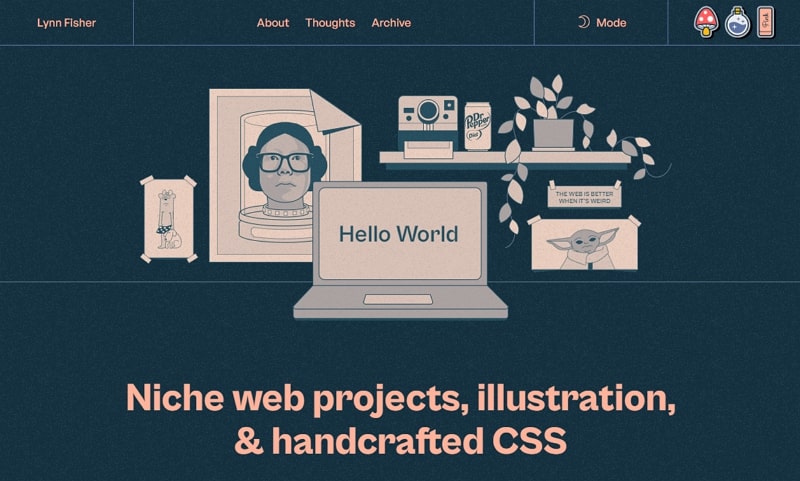 Buron-Simon has one of the most engaging and creative web developer portfolio websites. From his 3D website, his expertise in 3D animation to create brilliant navigation systems can be seen clearly. Therefore, if you want to improve your developer website engagement ratio to attract an audience, this design can inspire you.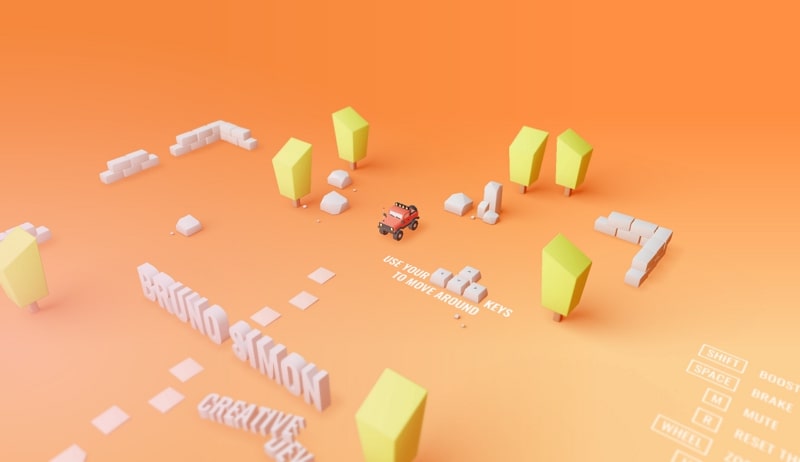 If you are looking for a one-page web developer portfolio website example, check out the portfolio website of Patrick David. David is a professional UX/UI Designer and developer who has years of experience in his field. Furthermore, his portfolio website has a unique design that attracts viewers and engages them differently.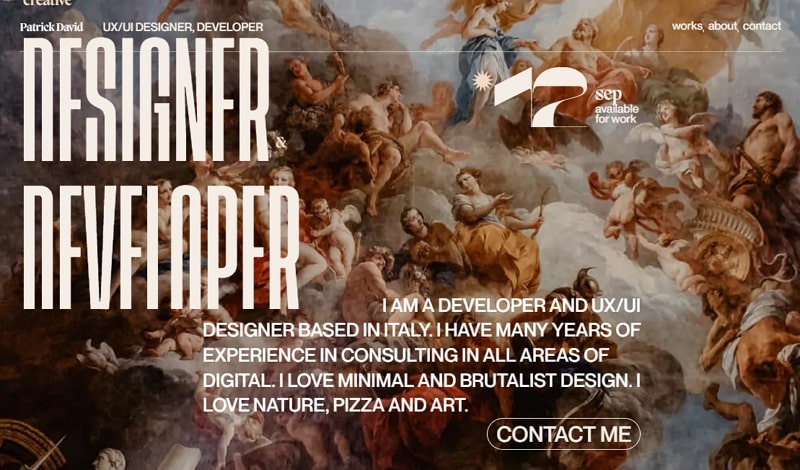 Another web developer portfolio website example that you can see for inspiration is the Brittany Chiang website. Brittany is an expert lead engineer who loves to build products and lead projects for clients at the current time. Moreover, her one-pager website has a dark scheme and an eye-catching design that enhances the user experience.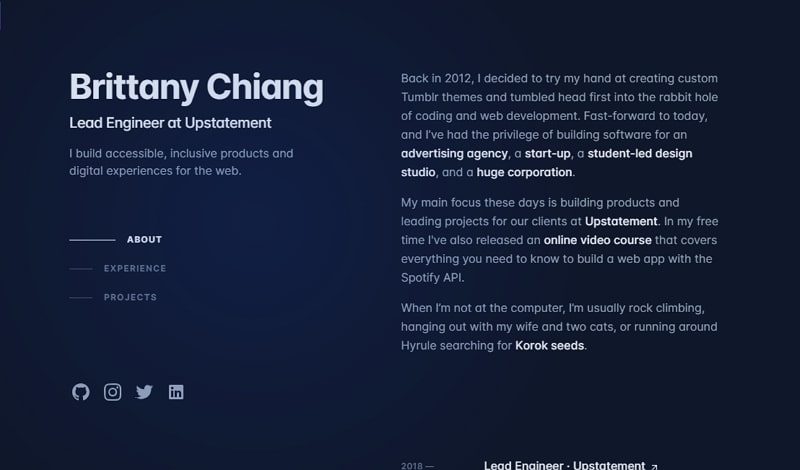 To help you get inspired and create a colorful theme-based portfolio website, Matt's portfolio can help you a lot in this. The layout of this website is user-friendly and contains all the necessary information on the main page. In addition, it also has some testimonials that can help impress the viewer along with the unique case studies.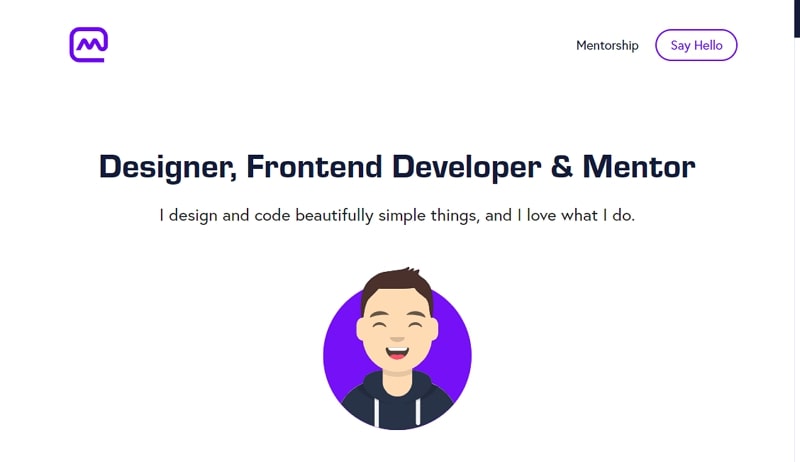 If you want to design a smooth web developer portfolio website, then take a look at Olaolu's professionally designed website. Moreover, Olaolu is an experienced UX engineer and front-end developer with exceptional skills. His website has separate sections on the homepage about his services and past experience, making it easy to understand whether he is the right person for the job.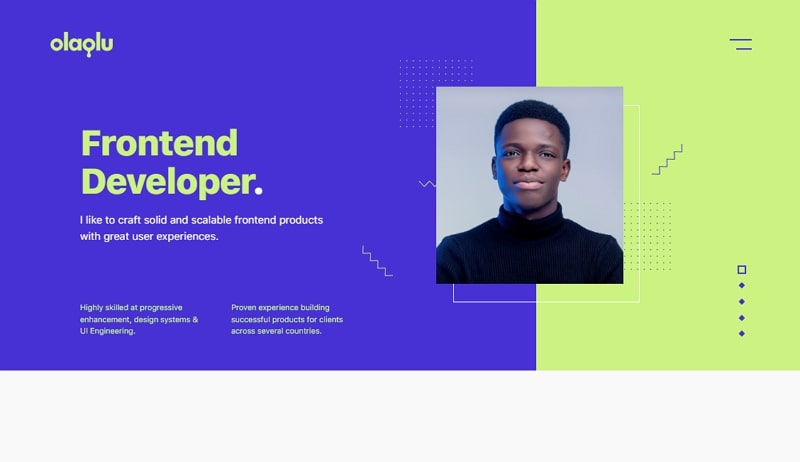 Sebkay is a straightforward and kind of blog-based portfolio website whose owner is Seb, a lead developer. Moreover, this developer's website has a top section with the work and project options to help you understand the developer's past experience. In addition, such layouts can be helpful if you also want to publish some blogs on your site.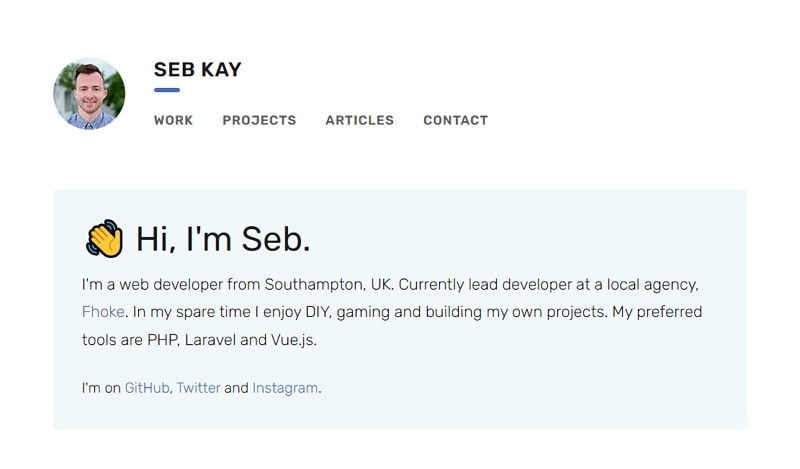 For developers who want to integrate a unique theme into their developer website, Yul Moreau website can be an excellent example. It has a 1980s theme and is perfect for driving user engagement with the help of exciting and creative visuals. Furthermore, this website has scroll effects and different seamlessly embedded images, which provide a unique user experience.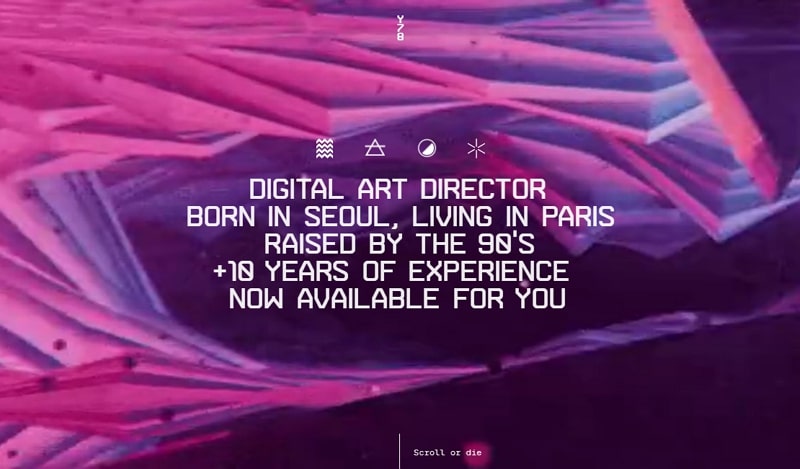 Stereo is a web developer portfolio website of an agency that provides multiple IT services like brand strategy, UX/UI design, ML, and AI. It has a clean theme with images and videos embedded in the website's background, which engages the user for a smooth experience. Moreover, detailed information about this agency is available on the website, which is good for connecting with the audience.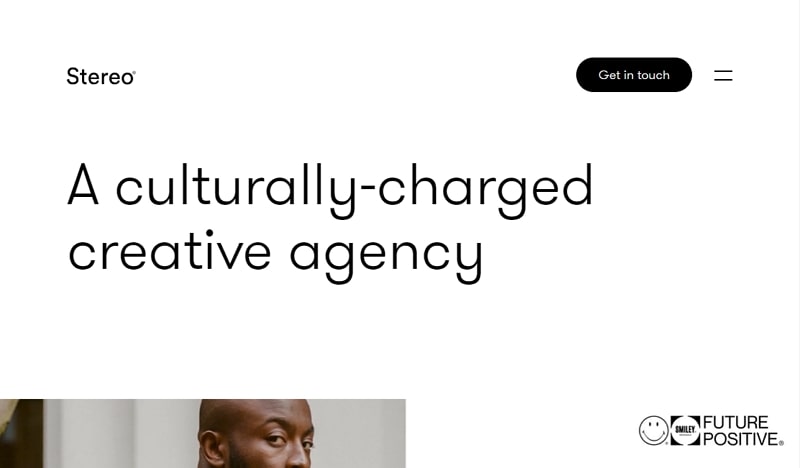 For developers who have numerous projects to show the world, Tim's website is a good example. It has a unique card-themed website layout with animation effects, which is very easy to use. Moreover, due to its highly engaging design, it catches the attention and keeps users engaged with different features of the website.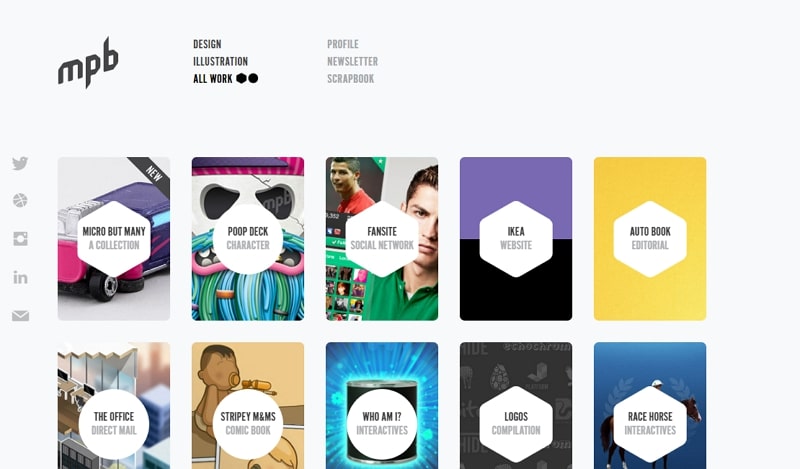 Many individuals want to make their web developer portfolio website but don't know which theme and layout they should follow. Here, Sara, who is a web developer with experience in collaboration with multiple companies, has a very smooth and simple portfolio website. Moreover, she has embedded her introduction video on her web, which is a positive point for the audience.
Making an animation effects-based agency website should be easy for you now with the help of a craftsman website. Furthermore, this web developer portfolio website has a distinct layout with a list of their team mentioned on the website. Doing this helps them showcase their team of experts to the world so that people can trust them.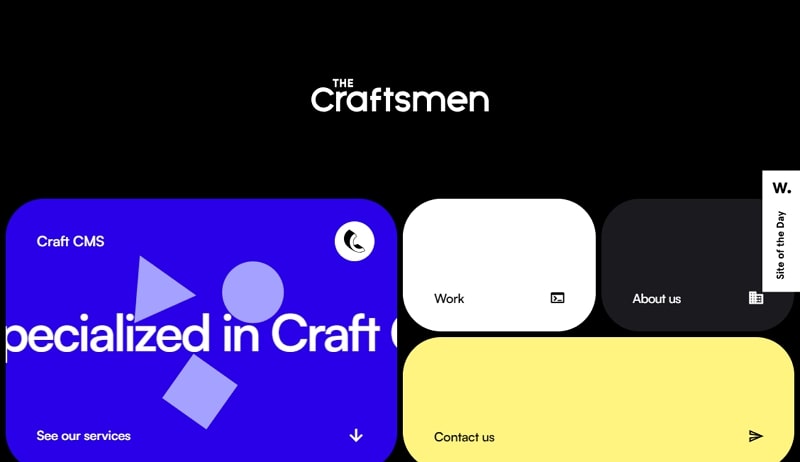 Jesse Zhou is a developer and data scientist who has impressive creative ideas. Jesse's website is another beautiful example of creativity that is enhanced by 3D animation. From this kind of website, Zhou has successfully shared her experience, skills, and hobbies with the world. Moreover, you can get inspiration from this website, which can help you build your web developer portfolios.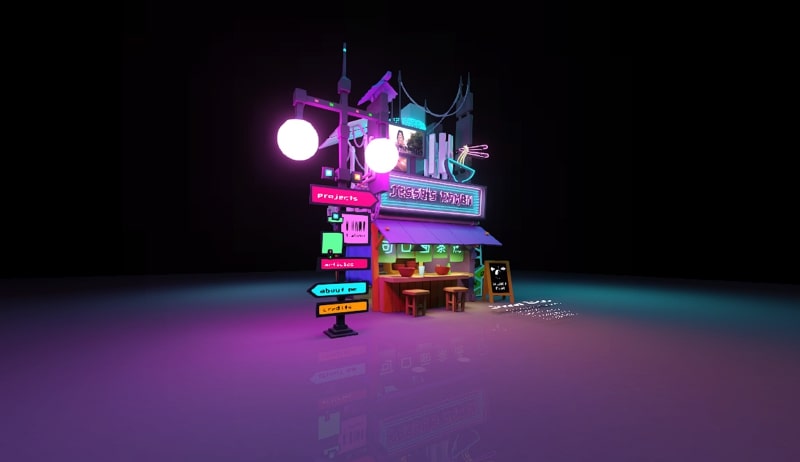 Conclusion
Having a web developer portfolio website is very important if you want to apply and grab new opportunities. Because, based on your experience and portfolio, it becomes easier to get new projects that can improve your growth. However, nowadays, the best way to showcase your portfolio is with the help of a website. That is why we recommend you use ZEGOCLOUD to build a unique and eye-catching web or mobile app.
This is because it provides various SDKs and APIs for developing in-app messaging chat, video calls, live streaming, and other platforms. Consequently, you can also understand this by looking at the VOOHOO live group call feature that has the ZEGOCLOUD video call API integrated into it to ensure that its users get the best voice call experience.
Read more:
Talk to Expert
Learn more about our solutions and get your question answered.
Talk to us
Take your apps to the next level with our voice, video and chat APIs
10,000 minutes for free
4,000+ corporate clients
3 Billion daily call minutes