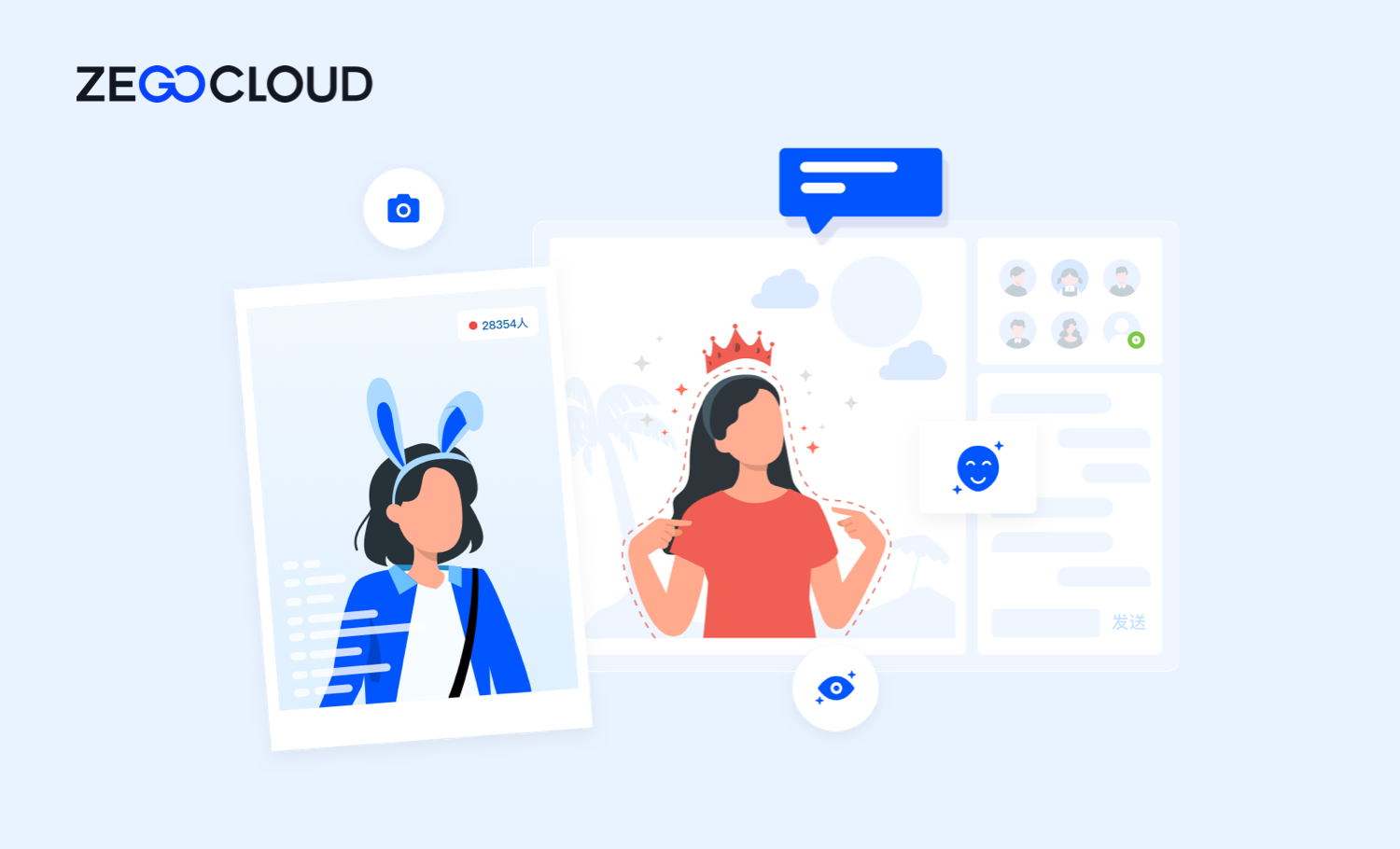 Video communications have become ubiquitous in people's lives, from one-on-one video calls to group video conferences to different types of live video streaming. People care about how they look in the video. Some people want to present their best selves, and some people love video effects that can add fun to their video conversations.
During the last seven years of serving global clients from various industries such as live streaming, video dating, and online education, ZEGOCLOUD has developed a deep understanding of users' needs in different video communications scenarios, which is a topic far beyond the realm of technology. For example, hosts on live streaming platforms generally want to make themselves look prettier, more adorable and charming, or sometimes funnier to amuse their audience. They can achieve this by doing real facial makeup or waring interesting widgets, just that it would cost them a lot of time. In the live streaming industry, hosts' schedules are tight, and they have to perform many shows without much time in between. The cost of time means a great deal to them and the platform. So, it demands some sort of technology solution to address these challenges and meet these requirements.
In the early days of the live streaming industry, platforms and some technology service providers came up with beatification modules to cater to users' needs. Those beautification modules are able to make hosts look great on screen in some ways by smoothing the skin, removing blemishes, etc. To some extent, such beautification modules did solve the problem and have become a popular and necessary feature for social entertainment platforms.
However, as the industry develops, real-time video communications are integrated into more and more business scenarios. In addition, as Gen Z – the generation that grew up with the internet—has become the main consumer cohort on the internet, they expect social and entertainment platforms to offer more personalized and innovative experiences. Traditional beautification modules become inadequate for new use cases. In response, AI technologies are used to create more advanced real-time video effects to meet the market needs. Compared with traditional beatification modules, AI-powered video effects modules are more versatile because they can be trained for new scenarios using a machine learning framework. This gives platforms the ability to innovate rapidly by trying out different video effects in various use cases.
ZEGOCLOUD launches AI Effects—an AI-powered real-time video effects product
To help social and entertainment platforms create more attractive products and catch the market trend, ZEGOCLOUD launches an AI-powered real-time video effects product—ZEGOCLOUD AI Effects. It provides face beautification, face shape retouching, face filters, and other advanced real-time video effects, which can be used in different social and entertainment contexts, such as live streaming, video chat rooms, and video dating. It is an easy-to-integrate and cost-effective solution that can help platforms add new video effects with a very short go-to-market time.
Let's take a closer look at the features offered by ZEGOCLOUD AI Effects:
1) Face beautification: a must-have and standard feature for all social and entertainment platforms
People use makeup to look polished and express their style in daily life. Likewise, virtual face beautification has become a must-have feature for social platforms to encourage users to show up on video. ZEGOCLOUD's solution provides the following face beautification effects that can touch up the user's appearance in a natural way:
a) Basic face beautification
The solution provides various face beautification features to make users look polished and rejuvenated on live video, including skin smoothing, skin tone retouch, eye brightening, teeth whitening, eye bags removal, dark circles removal, blemishes removal, acne removal, and more.
b) Facial features retouching
In addition to basic face beautification features mentioned above, the solution also offers advanced features that can be used to retouch facial features, including face slimming, chin slimming, nose slimming, eyes enlarging, pupil distance adjustment, mouth shape adjustment, and others. These features are built based on accurate facial key points detection and 3D face modeling that are powered by machine learning algorithms, and they work especially better for live streaming and short video scenarios where there is only one person on camera.
c) Virtual makeup
Virtual makeup is an enhancement and extension of the basic face beautification capabilities. With accurate facial key points detection, it can precisely apply virtual makeup effects to the user's lips, eyes, eyebrows, cheek, etc. It can also virtually transform single eyelids into double eyelids. The AI model can be trained to fit the aesthetic taste and styles of different regions and cultures.
2) AR effects: bonus features to add more fun to video conversations
Sometimes people may want to hide their real look in video chat or add some stickers onto their faces to look funny. Augmented Reality (AR) effects have come to satisfy these needs. ZEGOCLOUD's AR effects solution includes various virtual face masks that help them feel more confirmable when having video chats with first-time strangers, and 2D/3D face stickers of different styles that can help live streamers amuse their audience. The solution provides plenty of basic materials for creating customized AR effects of various styles to match the users' tastes. It has excellent robustness to work well with complicated backgrounds, changing lighting conditions, and exaggerated user postures.
3) Intelligent image segmentation: for adding virtual backgrounds and more
In video chats or live streaming, users may want to hide their surroundings for various reasons or just want to use a fancy virtual background for fun. ZEGOCLOUD's solution supports various segmentation methods for high-precision background replacement:
· Portrait segmentation: With algorithms that can precisely detect 19 human body key points (head, neck, legs, arms, etc.) in real-time, ZEGOCLOUD's solution can precisely locate the boundary between the human body and the background and replace the background with selected pictures dynamically.
· Green screen segmentation: use chroma keying to identify the green screen background and replace it with a virtual background. Green screen background replacement normally has a higher precision, which means the human portraits will remain clear and sharp after background replacement.
· Hair segmentation: detect and separate the user's hair from the rest of the image in the video to change the hair color or apply other effects.
With these features, users can replace their background with various virtual settings, such as a virtual stage or a beautiful scenery image, to make the live video more fun and appealing.
4) Video filters: giving live videos moods and styles
The solution provides video filters that can give live video various styles of look and feel. Users can easily change the video filter style by choosing from different themes: Fresh, Japanese style, Soft, Forest, Light effects, etc.
The challenges of incorporating AI video effects into real-time engagement
AI-powered video effects are great for social platforms to boost user activity. However, building them requires a significant amount of development cost and time. Social platforms usually choose to use existing AI technologies provided by a third party rather than doing the research and development by themselves. On the other hand, real-time audio and video technologies are also complicated and too expensive to develop in-house. To integrate AI video effects into real-time audio and video communications, social platforms may need to cooperate with two or more technology providers. This brings several challenges:
1) Complex and time-consuming integration
If the video effects SDK and the real-time engagement SDK are provided by two separate providers, it will require a lot of time and effort for the involved parties to communicate and collaborate with each other to complete the integration. The standards and specifications of the two SDKs may be different, and sometimes it is difficult to reconcile and fix the conflicts. Such issues will increase the development cost and slow down the go-to-market process.
2) High maintenance cost
After the product launch, there will be ongoing maintenance needs. The communication with multiple vendors will also be a challenging issue. For any changes and upgrades to the SDKs, A large amount of time and resources will be required to conduct development and testing.
3) Delayed response to production issues
Just like the maintenance issues, when a technical issue occurs in production, it may require both vendors to work together to fix it because neither of the vendors has sufficient knowledge about the technologies from another vendor. For example, it is very likely that an AI vendor doesn't know how a real-time engagement solution works. Therefore, the production issues cannot be fixed in a timely manner, which may result in customer loss and brand damage.
The above challenges can be overcome by selecting a vendor that can provide both technologies, but very few companies can offer both AI-powered computer vision and real-time audio/video capabilities with commercial-grade quality due to the very high technology threshold in both areas.
Why ZEGOCLOUD's AI Effects solution?
As a global RTC service provider, ZEGOCLOUD truly understands how the issues discussed above affect a platform's operations through first-hand experiences. In response, ZEGOCLOUD launches AI Effects, a one-stop AI-powered real-time video effects solution to address the challenges. As an integrated"AI + Real-Time Audio/Video" solution, it has great competitive advantages over other products in the market:
1) One-stop integration, fast time-to-market
As this is a one-stop solution with both the AI video effects and RTC components developed by ZEGOCLOUD, the interfaces in both components are well-designed to fit into each other seamlessly. Therefore, integrating both components into your platform is a much easier task than handling SDKs from different providers. It will save you from difficult troubleshooting and complicated communications and collaboration among multiple parties. In addition, the solution supports all major OS platforms such as iOS, Android, Windows, and macOS.
2) One service provider, easy ongoing maintenance
ZEGOCLOUD offers professional technical support with high standards of service level. To ensure customer success, ZEGOCLOUD forms a team of experts with 5 different roles (Sales, pre-sales support, technical support, solution delivery, and customer success specialist) to serve one single client. With both the AI video effects and RTC capabilities provided by ZEGOCLOUD, you just need to work with a single vendor for any maintenance issues.
3) One unified service, swift response
ZEGOCLOUD offers a back-end monitor system called "Prism" that provides real-time, multi-dimensional, and visualized monitoring of your platform's quality of service. It works 24/7 and raises alarms when issues occur. Furthermore, a one-stop solution also means that you can get timely responses from one single vendor, which means a great deal when solving time-critical production issues.
4) Outstanding AI computer vision capabilities
With a strategy to apply AI computer vision to real-time audio and video communications, ZEGOCLOUD has assembled a team of experts in multimedia and AI technologies and invested a large amount of resources into related development and engineering, and ZEGOCLOUD AI Effects is one of the achievements of this endeavor. The solution provides various smart image rendering features such as face beautification, face detection, and image segmentation, which can be applied to various scenarios such as live streaming, online education, digital photography, etc.
5) An industry-leading RTC service provider with successful track records
ZEGOCLOUD has a well-established and dedicated team of professionals with extensive experience in RTC and AI computer vision technologies. Our products and solutions have been verified by clients from various fields to be very effective in helping them acquire and retain users and drive revenue growth.
As a global RTC service provider, ZEGOCLOUD covers more than 200 countries and territories and provides one-stop real-time audio and video solutions to businesses in different sectors, including social and entertainment live streaming, online education, video conferencing, gaming, financial services, IoT, and more.
Conclusion
More and more platforms are integrating AI-powered video effects into various scenarios to deliver more engaging real-time video interactions and enhanced user experiences. With ZEGOCLOUD's one-stop solution, you can easily intergrade AI video effects into real-time video with fast time-to-market, easy maintenance, and outstanding performance.