ZEGOCLOUD has been pushing the limits of technology and has launched an innovative online karaoke real-time chorus solution that brings a pleasant offline karaoke chorus experience online.
Karaoke clubs are popular, especially in Asian countries, to spend leisure time with friends singing favorite songs. However, the Covid-19 pandemic has caused an abrupt shutdown of KTVs, and many people have turned to online social and entertainment activities to spend their leisure time.
Online karaoke real-time chorus
Since then, online KTV has been going through rapid development, with the singer's line solo singing being recorded and uploaded online to an online quasi-chorus with multiple people singing in turns. The fast upgrades of online karaoke reflect the compelling desire for interactivity and rapidity.
1. Improved user engagement
Clients who have adopted ZEGOCLOUD's chorus solution have achieved a thrilling increase in user engagement metrics. For example, a sizable social platform has significantly improved user engagement metrics with a 3% increase in its DAU and a 10% increase in the number of contemporary rooms.
2. Delivering an authentic online karaoke real-time experience to end-users
The standard chorus solutions in the markets allow users to sing in turns, thus online sing-in-turns. The critical difference with ZEGOCLOUD's online karaoke real-time chorus solution is that it will enable users to sing simultaneously and hear each other in real-time, fully replicating the experience of an offline chorus.
In the online sing-in-turns chorus solution, the lead singer sings first, and then the sub singer takes turns singing the song. To list a few of its disadvantages:
1) Unpleasant experience for the lead singer.
The lead singer cannot hear the sub singer, whereas the sub singer can listen to him/her. The audience can hear all singers properly.
2) Limitation of the number of singers.
Due to accumulated latency, having an online chorus of 3 people or above is challenging.
To resolve the above two limitations, ZEGOCLOUD engineered an online karaoke real-time chorus solution, which allows all singers to:
hear and interact with one another in real-time
synchronizing the accompaniment across all participants
enjoy limitless the limit on the number of participating singers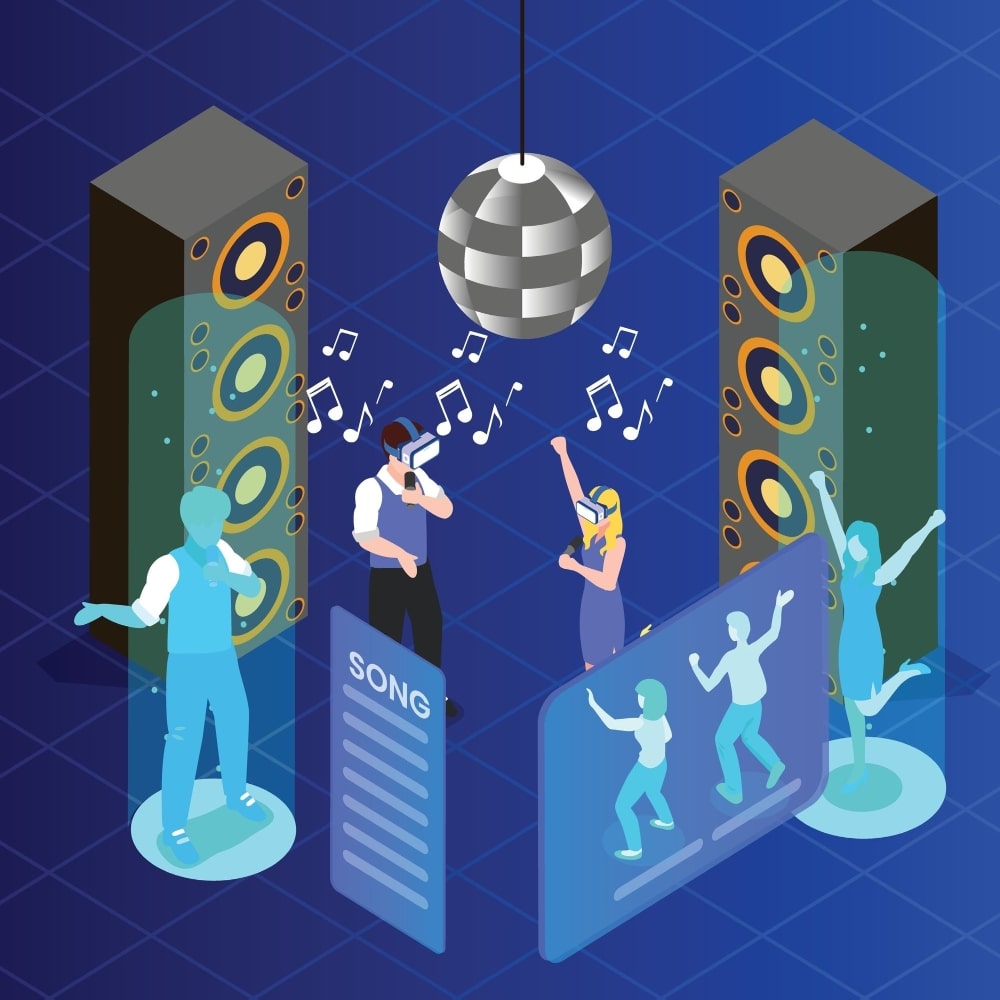 3. The technological challenges to the online karaoke real-time chorus solution
With years of experience in engineering and technology, ZEGOCLOUD has made several critical technical breakthroughs:
1) End-to-end latency reached an ultra-low level of 70ms
Research reports show online chorus without perceivable latency will only happen when the end-to-end latency reaches a shallow level of 80ms or below. ZEGOCLOUD has broken the threshold and made it to 70ms, which means it can transmit the sampled music/voice data from one user-end to another without perceivable delay.
ZEGOCLOUD has broken down the whole process of transmission into six consecutive phases, i.e., sampling, pre-processing, encoding, transmission over MSDN (ZEZEGOCLOUD'sroprietary acceleration network), decoding, and rendering. And then, it has set lowering latency as the priority for each phase.
This way, ZEGOCLOUD reached an ultra-low end-to-end latency of 70ms to ensure an outstanding user experience in the online chorus.
2) Precise synchronization of accompaniment across all participants
To replicate the experience of offline KTV chorus where users can hear the accompaniment at the same time, ZEGOCLOUD adopted the strategy of playing the accompaniment at each user-end locally without having to depend on other participants. So all participants can sing along with the accompaniment. However, another challenge arises: how to synchronize the playback of complement across all participants?
To conquer this, ZEGOCLOUD uses NTP (Network Time Protocol) servers for precise time synchronization. A pleasant effect is that the accompaniment is played back at every user end in synchronization. Furthermore, it adopted a strategy of loading the accompaniment to prepare the player for background music synchronization.
3) Multiple singer streams are mixed in synchronization at the server end
Besides crafting an excellent choral experience for singing users, ZEGOCLOUD considers it equally important to ensure a great user experience for the audience, who should hear a smooth chorus with all the singers voices and the accompaniment blended nicely. To achieve this, ZEGOCLOUD adopted the approach of mixing streams at the server side with precise synchronization in timing. Three key aspects are taken care of:
Streams are combined into one single downlink stream to maintain bandwidth at a low level for the audience.
Singing user's vocal tracks, synced background music, and fixed paces.
The synchronization is obtained through precise calibration with NTP clocks.
In the end, each audience user needs to subscribe to a single downlink stream to hear the chorus with excellent effect. The bandwidth required for the audience is very low and fits most users.
4. Support for more than 3 participants, in-ear monitoring, and ultra-low latency
Increasing the number of singing users participating in a chorus, it's easy. With the well-designed architecture of ZEGOCLOUD'solution, every single singing user is independent and doesn't rely on others for the accompaniment or vocal track as the basis for stream mixing. Besides, the audience hears the chorus by subscribing to only a single combined stream.
With in-ear monitoring switched on, singing users can get more outstanding feedback on their voice and accompaniment at ultra-low latency.
5. The right online karaoke real-time chorus solution for every scenario
Based on the requirements of various online KTV business scenarios, you can select the right solution to deliver the best user experience.
1) Pay-per-singing chorus
Users pay for the opportunity to sing a chorus with the lead singer. The paying user can select a song and connect and interact with the lead singer.
The experience of the paying user (i.e., the sub singer, singing a song together with the lead singer) is the priority along with the knowledge of the audience.
With the online sing-in-turns chorus solution, the downlink stream contains a synced mixture of the lead singer's vocal track and the accompaniment, pulled from the lead singer's end. The sub singer initiates a stream-mixing task, which will execute at the server side to produce a synced mixture stream containing both the lead singer's and the sub singer's vocal tracks and the accompaniment. As a result, the audience will hear a synced chorus.
2) Online real-time chorus
Multiple users can interact in a KTV room and initiate a virtual chorus for fun. This scenario thrills users with social interactions. So, it's important to allow multiple users to sing simultaneously and hear each other.
ZEGOCLOUD's ultra-low latency real-time voice/video technologies ensure that participants interact smoothly in real-time, making online choral singing an enjoyable experience.
3) Online-Merge-Offline (OMO) cross-room chorus
In this scenario, two groups of users are in two different KTV rooms, for example, a traditional offline KTV room and a mini-KTV box in a shopping mall. They pick a song and have a real-time chorus among the singing users across the two rooms.
ZEGOCLOUD online real-time chorus breaks down the distance barriers.
6. A few recommended use cases to cover maximal users with low entry barriers
The following are a few typical use cases:
1) Solo
A user who obtained a singing slot can select a song for solo singing. The user has to wait in a queue until the turn comes, and the accompaniment starts to play before starting to sing.
2) Snatch-to-sing
A user can choose to join a room from a list of rooms of different song categories according to their preference. The choice of the song to be played is random, and users in the room can try to snatch a chance to solo a part of the song.
3) Sing-in-turns
A whole song is divided into several parts and distributed to several users. The lead singer will sing the first part, and the rest will sing their part in turns.
Conclusion
ZEGOCLOUD's innovative online real-time chorus solution is a significant technological breakthrough. This achievement has raised the technology benchmark globally to a new and unparalleled level. Nevertheless, this cutting-edge solution demands the capability of end-user devices and the network. We must point out that not every user has a powerful enough smartphone and internet connection to do the online real-time chorus. Internet entertainment is born to meet the needs of various users with maximum coverage regardless of their smartphone or internet connection capability. The user cases previously described lower the entry barriers for users to the maximum extent, which enables your platform to serve as many users as possible.
ZEGOCLOUD's online real-time chorus solution will release its full potential to enable more viral apps and technological upgrades in the digital world.
Talk to Expert
Learn more about our solutions and get your question answered.
Talk to us
Take your apps to the next level with our voice, video and chat APIs
10,000 minutes for free
4,000+ corporate clients
3 Billion daily call minutes