Surrounded by tropical beaches, sweet coconut, and sunny days, South East Asians have plenty of choices to enjoy their spare time and life. However, covid-19 pandemic changed the youngest generation's behaviors, turning their eyes to cyberspace. And here's where Knoknok social platform has found people's attention.
Covid-19, the timing for Knoknok success
Knoknok is rising to satisfy Z-generation's social needs by providing voice chat rooms featuring gaming entertainment.
Knoknok is a social media platform for dating that figured out its way to woo its users by voice chat room with games. Voice chat rooms provide users with a means of instant chat, able to replicate the natural intimacy that voice conversations can create.
Being new, the Knoknok social platform has been rising rapidly thanks to its sophisticated and elaborate operations, finely designed gaming content, and powerful technologies. People in the field may wonder who is the team behind it.
Knoknok successful model
Knoknok was started more than one year before the pandemic by a team of serial entrepreneurs. With less than a hundred people, their team has created a social platform with a million user base.
Knoknok's operational statistics have increased with the adoption of the model of group voice chat plus gaming. The number of daily active users (DAU) has increased by 2% roughly, and the number of real-time concurrent rooms has increased by about 9%.
Overall, the total time length of voice chatting has increased by 25%, with a surprisingly high user retention rate and average online time.
Knoknok focuses on its target markets—Southeast Asia and the Middle East. It has completed several financing rounds and is poised to make a giant leap in 2022. Although Knoknok is still an emerging platform, its growth rate is steady and eyeball-catching. Meanwhile, it has managed to maintain its cost at a relatively low level.
Knoknok's model solves some issues commonly faced in the field, i.e., the high cost to acquire user traffic has undermined the profitability of social platforms.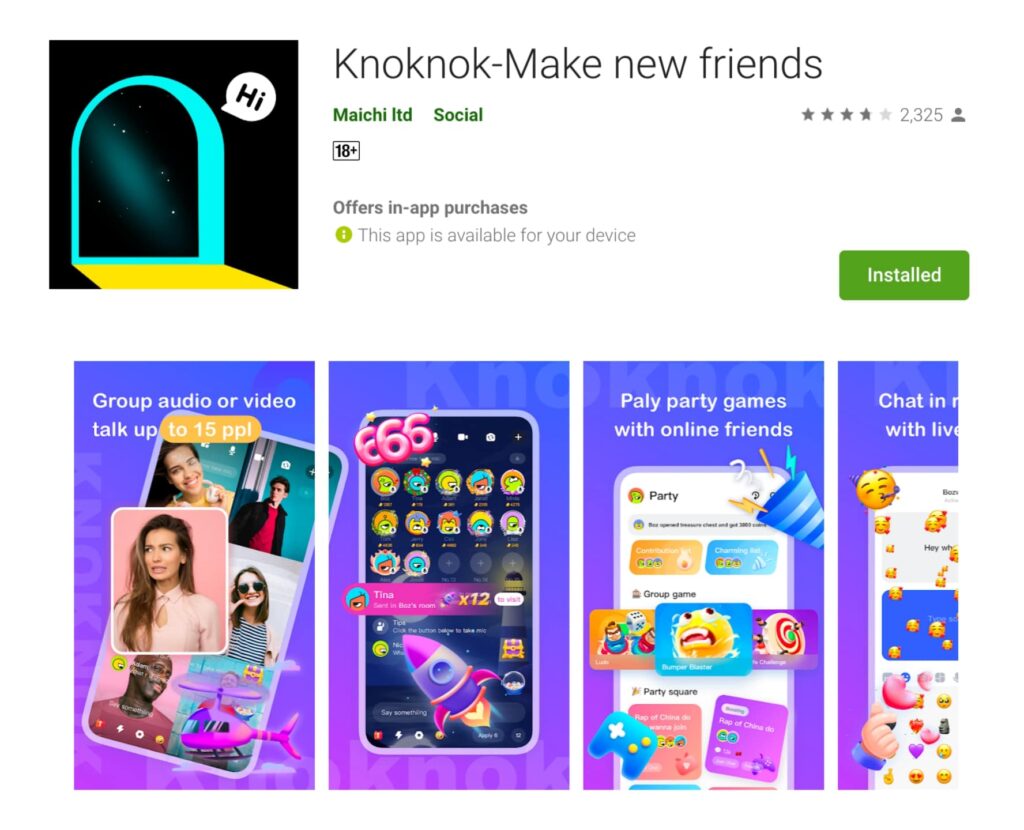 Chat rooms features
There are two types of chat rooms on the platform:
Group voice chat rooms for up to 8 participants. The host leads the chat and games as side entertainment; users can chat along while playing games.
Group voice chat rooms for users to chat only. The host leads the chat with several participants from four up to fourteen and the audience.
Just like music, games are the standard language for people from different cultures and constitute the ideal icebreaker to start a conversation. Furthermore, users tend to spend more time on the platform, thus enhancing a platform's monetization ability.
Monetization
Regarding monetization, there are two approaches:
1) Virtual gifting
Users can send virtual gifts, which they need to purchase with money, to their favored hosts or co-hosting participants. The platform takes a share of users' spending on gifts as revenue.
2) Gaming payment
Users need to pay for the games they play in a pay-per-play manner, another source of revenue for the platform.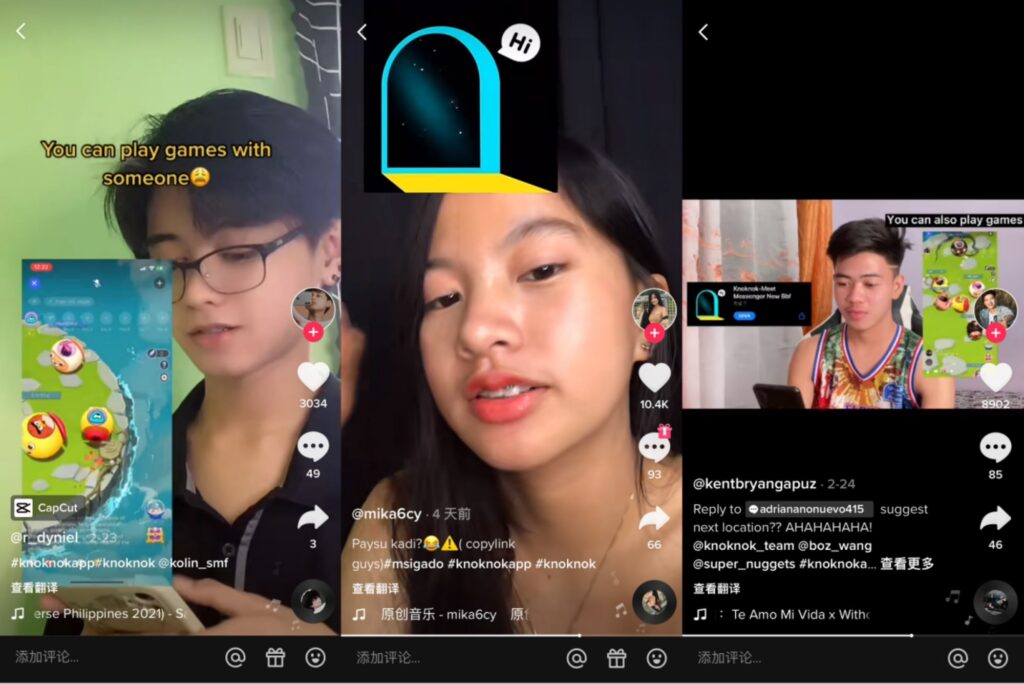 Enhanced user experience
Knoknok social media platform has paid great attention to its user experience. Different parameters can measure UX, such as the smoothness, latency, and voice quality of users' voice conversations.
Since the real-time voice experience is the main thread that goes through the whole user journey, it is paramount to ensure that users can enjoy broadcast-grade audio quality in their voice chats.
For this reason, Knoknok has chosen ZEGOCLOUD as its technology partner for voice chat rooms and gaming content. Terrific user experience has been a decisive edge enabling Knoknok to outcompete its competitors.
In Knoknok's voice chat rooms, users can expect a group voice chat experience with a voice quality comparable to face-to-face conversations.

Two main challenges arise from two aspects:
-the network infrastructure
-end-user devices.
ZEGOCLOUD, a reliable partner
With a global data network called MSDN ("Massive Serial Data Network") and world-leading real-time data transmission technologies, the ZEGOCLOUD platform is capable of handling real-time audio/video streaming globally with massive concurrency gracefully. Also, ZEGOCLOUD has done a lot of engineering to achieve full compatibility with various platforms and end-user devices and high-fidelity of voice quality.
ZEGOCLOUD's technological advantages cover four main areas
A Massive Serial Data Network (MSDN) enables ultra-low latency data transmission.
Knoknok social media platform covers more than 30 countries in Southeast Asia and the Middle East, where the quality of telecommunication networks can be challenging.
ZEGOCLOUD has deployed thousands of servers on public clouds with more than 500 BGP nodes to construct a layer of proprietary transmission network called MSDN, covering more than 212 countries and regions worldwide.
ZEGOCLOUD MSDN ensures data transmission stability and reliability by featuring:
proximity-based service access (i.e., establishing a connection through the nearest access point)
dynamically back-to-source
Intelligent routing.
For example, to transmit data between Manila and Kuala Lumpur, the RTT will be about 300ms if data packets go through routes on public networks. It will be reduced to about 100ms if MSDN accelerates data packets.
Optimization of transmission over a congested network
Network congestion happens, especially in countries with inadequate network infrastructure, leading to packet loss and jittering arrival time intervals. In turn, it results in lagging, stuttering, and missing or repeating audio.
ZEGOCLOUD adopted a real-time transmission framework and sophisticated strategies to improve QoS, even when 80% of the packets are lost.
Knoknok's users are delighted to enjoy a smooth voice chat even when the wireless signal of their smartphone is weak.
Compatibility with more than 20,000 end-user device models
Regarding the end-user devices in different countries in Southeast Asia and the Middle East, there are many mobile hardware models and customized versions of the Android OS.
Most of them are low-end smartphone models with poorly designed acoustical architectures, and those personalized versions of Android OS might have degraded compatibility. It is challenging to fine-tune acoustic echo cancellation algorithms (AEC) and automatic noise suppression (ANS).
ZEGOCLOUD has done a tremendous amount of optimization of its products for over more than 20,000 models of end-user devices.
software optimization: ZEGOCLOUD's team dug into the level of language source code of Android OS and started the optimization bit by bit.
hardware optimization: ZEGOCLOUD's team fine-tuned its terminal engine to compensate for the weakness of hardware design. It lifted the processing burden on hardware by shifting usage from CPU and GPU. Also, they adopted some strategies for selecting encoder/decoder and bit rate level to improve hardware performance.
Terrific audio quality, delivering an excellent listening experience
ZEGOCLOUD has developed a proprietary voice engine with AEC, ANC, and AGC capabilities to proceed with voice data.
The voice engine supports full-band (from 16k Hz to 48k Hz) voice processing. It achieves ultra-high fidelity of voice through various technologies, including:
automatic gain control
ultra-long-distance sound pickup
intelligent recognition of steady-state/non-steady-state noises
noise suppression by quick convergence.
Furthermore, ZEGOCLOUD has achieved a well-balanced mix of noise and voice-carrying valid signals while realizing high voice fidelity.
Regarding the echo cancellation algorithm, the challenges of single-talk and dual-talk scenarios are quite different. ZEGOCLOUD's voice engine can recognize either method preciously and handle them respectively.
By combining acoustic and psychological methods, ZEGOCLOUD voice beautification provides dozens of special voice effects through the voice terminal engine.
ZEGOCLOUD also provides high-quality mini-games that are fit for voice chat room scenarios as value-added services to its clients. Knoknok has integrated three mini-games in its group chat rooms offered by ZEGOCLOUD.
ZEGOCLOUD, unlocking clients' innovation
ZEGOCLOUD is an international company counting more than 600 employees founded in 2015. It provides real-time engagement technology solutions, such as voice & video chat rooms, voice & video calls, live video streaming, and gaming content, aiming to help social platforms boost their operational performance.
In the last seven years, ZEGOCLOUD has served more than 4 thousand clients globally, including big names such as Live, Uplive, Oasis, Yalla, Starmaker, Mico, and Blued.
Empowered by ZEGOCLOUD's cutting-edge technologies, Knoknok pioneered and developed the model of group voice chat room plus gaming entertainment.
Looking forwards, more and more social platforms with the novel model combining real-time engagement ability and gaming content, as represented by Knoknok, will emerge.
Talk to Expert
Learn more about our solutions and get your question answered.
Talk to us
Take your apps to the next level with our voice, video and chat APIs
10,000 minutes for free
4,000+ corporate clients
3 Billion daily call minutes