Instant Video Loading solution is a crucial feature in 1-to-1 social engagement. Businesses can utilize it to match users more effectively and boost sales.
What is 1-to-1 social engagement?
1-to-1 social engagement is more socially focused and private for users than multi-person online social engagement. That's what makes it simpler to develop social ties and have personalized conversations. It also enables users to find matches and make friends based on their own interests and hobbies.
It is becoming the mainstream social method due to its advantages, such as:
high matching efficiency
low consumption threshold
simple interaction ability
strong monetization ability
Compared to traditional multi-person voice chat rooms and live streaming, 1-to-1 social engagement has several advantages. Among them: quick integration, quick launch, and low cost for businesses. It can also be used to set up user-oriented charging models, such as gift rewards, and unlock the level of interaction with the host. These constitute efficient ways for businesses to boost revenue.
Growing popularity
1-to-1 social engagement has quickly gained popularity in the field of global entertainment.
As shown in the following tables, 1-to-1 social applications account for half of the Pan-Entertainment apps. Regions with a high demand for entertainment socialization are: the Middle East, Southeast Asia, Europe, the United States, and Latin America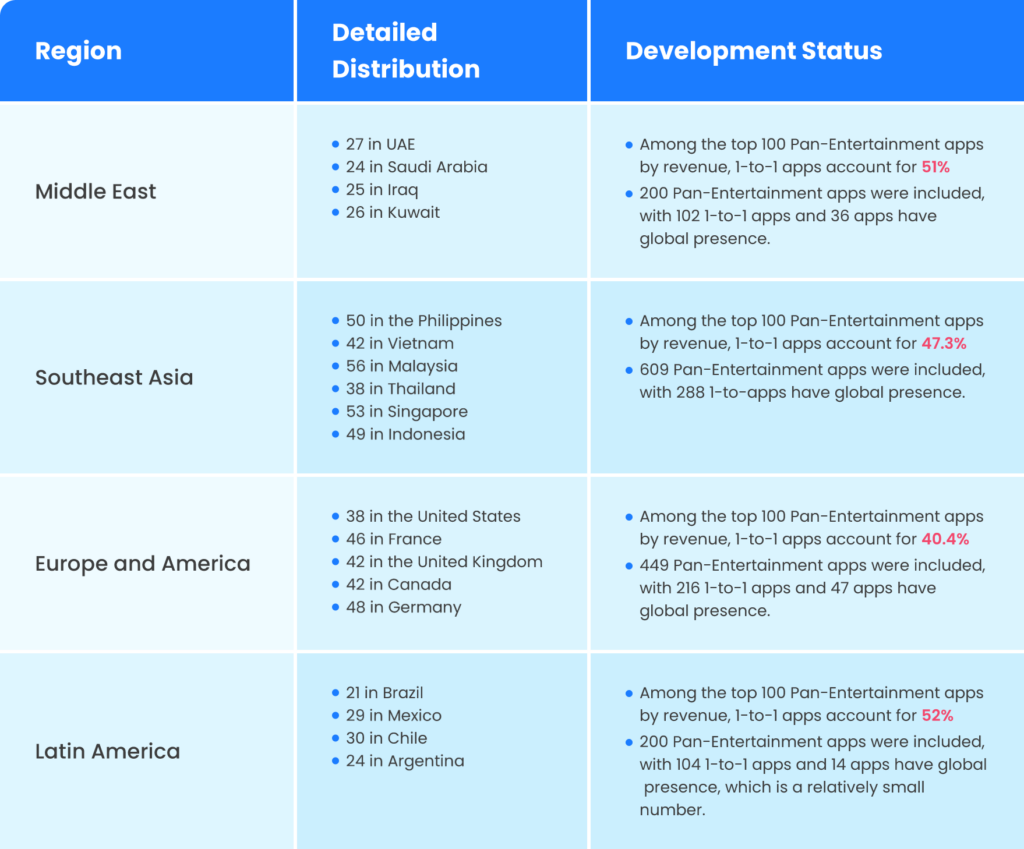 Instant Loading Video User improves User Conversion
The typical 1-to-1 platform charges users a small fee for host matching. After a brief chat, users pay to extend calls. This model lets users sample hosts. It compensates hosts, rewarding engaging experiences. Meanwhile, it boosts rewarding matches and revenue.
For providers, the key to monetizing 1-to-1 social engagement is facilitating a seamless user journey from match to transaction. The full path for businesses to complete a revenue-generating exchange is as follows:
User matching: Users can search or be algorithmically matched with preferred hosts tailored to their unique interests and passions to enable personalized social engagement.
Receiving orders: After a match is made, the host checks if he/she will accept the order. Once accepted, the video chat begins.
Room interaction: During a private conversation, users engage with the host, have a video chat, or play games together.
Transaction settlement: Monetary exchanges are processed after the interaction.
The speed and fluidity of transitions between these stages determine a user's likelihood of completing a paid order or subscription. Excessive wait times, technical difficulties, or lack of compelling experience at any point may cause users to exit prematurely, reducing time spent and hurting conversion rates.

Connection rate parameter for Instant Loading Video
According to market research, "connection rate" (the percentage of users who successfully make video calls to a host) is a crucial business metric in 1-to-1 video calls. Users are anxious to connect and begin ordering, and the connection rate directly impacts the users' payment rate. One crucial element that influences the connection rate among them is connection time. Users can typically accept a connection latency of up to two seconds during the matching phase. Most users will end the conversation if it goes above 2 seconds, lowering the host's connection rate and business revenue.

According to the aforementioned figure, there is a great likelihood that the user will end the call immediately if their call is not connected within 2 seconds, resulting in a loss of orders. For instance, a 5% exit rate results in a loss of 500,000 dollars in income for the corporation with monthly sales of 10 million.
Therefore businesses can successfully shorten connection times, boost connection rates, prevent user attrition, and increase overall revenue with an Instant Video Loading solution.
The Industry's Leading-Edge Instant Video Loading
Before addressing the aforementioned issues and assisting businesses in lowering user churn rates, we need to identify the " connection rate " and the crucial optimization factor." The three key variables influencing the connection rate are the business connection rate, network quality, and connection time.
ZEGOCLOUD has delved into the business level and optimized the "connection time" for technical optimization, releasing the industry's leading-edge customized "instant video loading" to effectively reduce the first frame loading time and improve the 2-second connection rate. This was done in order to guarantee the connection rate and network quality. Currently, throughout Europe, America, and Southeast Asia, ZEGOCLOUD's instant video loading solution can successfully connect within 2 seconds in 95% of cases.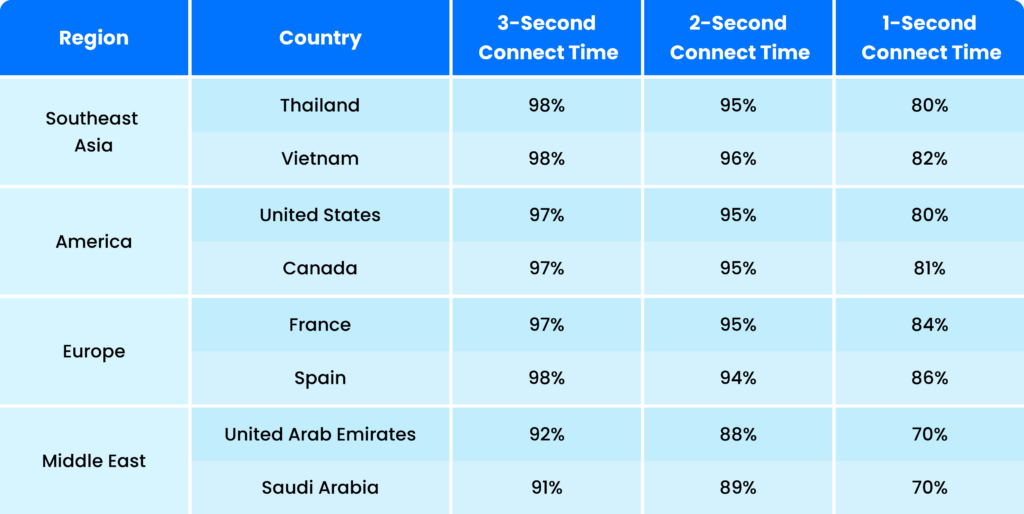 In a 1-to-1 scenario, other vendors' solutions can only achieve a 70% success rate for successful connection within 2 seconds, and when compared to success rates for connections that take more than 5 seconds, ZEGOCLOUD may attain a 99% successful connection rate. ZEGOCLOUD can achieve a 95% connection rate within the app with full optimization, which is a 25% improvement over the other vendors' 70% success rate. For a 10 million dollar rise in revenue, for instance, this results in a 2.5 million dollar increase in revenue for the business. In the host acceptance process, ZEGOCLOUD has currently assisted numerous customers in reducing connection times and revenue loss.

The execution of ZEGOCLOUD's instant video loading is based on years of technical expertise accumulation, ongoing research into technology's ultimate impact, and uses client trust and ongoing parameter tuning.
Industry technological advancement
1. Industry technological advancement, complying with the desired outcome
ZEGOCLOUD SDK separates signaling and media streaming layers. This allows streaming to start for room login notification without delay, accelerating first-frame delivery. The uncoupled design minimizes latency, enabling near-instant video display and a premium user experience for live streaming communication.
ZEGOCLOUD has engineered an innovative live video and audio streaming platform that liberates signaling, room, and media functions into discrete yet harmonized layers. This uncoupled architecture introduces flexibility and responsiveness previously unachievable.
The segregated room and media services allow end users to connect and start streaming calls near-instantly without delay for login or stream notifications. Parallel rather than sequential processing of call setup slashes connection times to under 2 seconds.
This breakthrough technology stack overcomes the limitations of legacy designs and powers a premium user experience defined by rapid call initiation and low latency streaming performance that other vendors can not provide.

2. Constant parameter optimization using vast amounts of data, jointly developing instant video loading solutions with clients
ZEGOCLOUD has introduced a cutting-edge technical solution for instant video loading that adjusts settings based on the underlying architecture of clients. It covers parameters for various device models and increases the instant video loading rate, thanks to years of industry experience accumulation. ZEGOCLOUD's customers have also provided a large amount of global data to support continuous optimization, which helps improve the performance of instant video loading. This is a joint effort between ZEGOCLOUD and its clients, who trust and support the company's efforts.
A complete solution for a one-stop access service
Instant video loading is a crucial feature in 1-to-1 social engagement that businesses can utilize to match users more effectively and boost sales.
The 1-to-1 social engagement solution from ZEGOCLOUD has full and developed solution capabilities. Along with the main RTC functionality, it can also give users access to in-app chat, beauty filters, moderation, recording, and other features from a single location, which lowers communication and docking expenses for businesses with more third-party vendors.
In order to guarantee the fundamental experience of the 1-to-1 scenarios, ZEGOCLOUD also offers high availability, incredibly smooth and low latency in-room calling capabilities, and rich scenarios, which boost revenue by extending the in-room interaction time. It's a comprehensive, full-featured solution that will help clients in various industries.
Talk to Expert
Learn more about our solutions and get your question answered.
Talk to us
Take your apps to the next level with our voice, video and chat APIs
10,000 minutes for free
4,000+ corporate clients
3 Billion daily call minutes