Build with ZEGOCLOUD and enjoy your 10000 free minutes per month. Bring your ideas to life using powerful, developer-trusted APIs. Just pay for what you use with ZEGOCLOUD's flexible pricing model.

About ZEGOCLOUD
ZEGOCLOUD is the world's leading Real-Time Audiovisual interactions service provider enabling enterprises to build timeless and hassle-free cloud communication platforms. Developers can obtain high-quality audio and video real-time interactions and capabilities by integrating a single SDK. ZEGOCLOUD has supplied high-quality services to users in over 200 countries and regions, earning the happiness and trust of many major clients in many industries.
Start building your project ideas with us and enjoy flexible pricing and 10000 free minutes each month.
ZEGOCLOUD Products:
Live Interactive Video Streaming
ZEGOCLOUD Live Interactive Video Streaming service supports one-to-one video calls, one-to-many video broadcasting, and many-to-many video conferencing. It can be used in many scenarios where video interaction is required, such as social networking, group video conferencing, online classroom, etc.
Real-Time Audio Streaming
The Real-time Audio Streaming service supports one-to-one voice chat and one-to-many voice conversation (up to millions of participants), applicable to VoIP phone services, ganging-up in games, internet radio stations, and so on.
Audio/Video Recording and Archiving
Audio/Video Recording and Archiving service empowers enterprises with an on-premises video witness system that can meet various legal and compliance requirements. It can be used for video witnessing bank account opening, brokerage account opening, in-person interviews, and other events.
Voice Chatroom
Our Voice Chatroom service supports simultaneous speaking in group voice chat, background music, and sound effects. It allows users to keep the conversation active in the background while switching to other applications.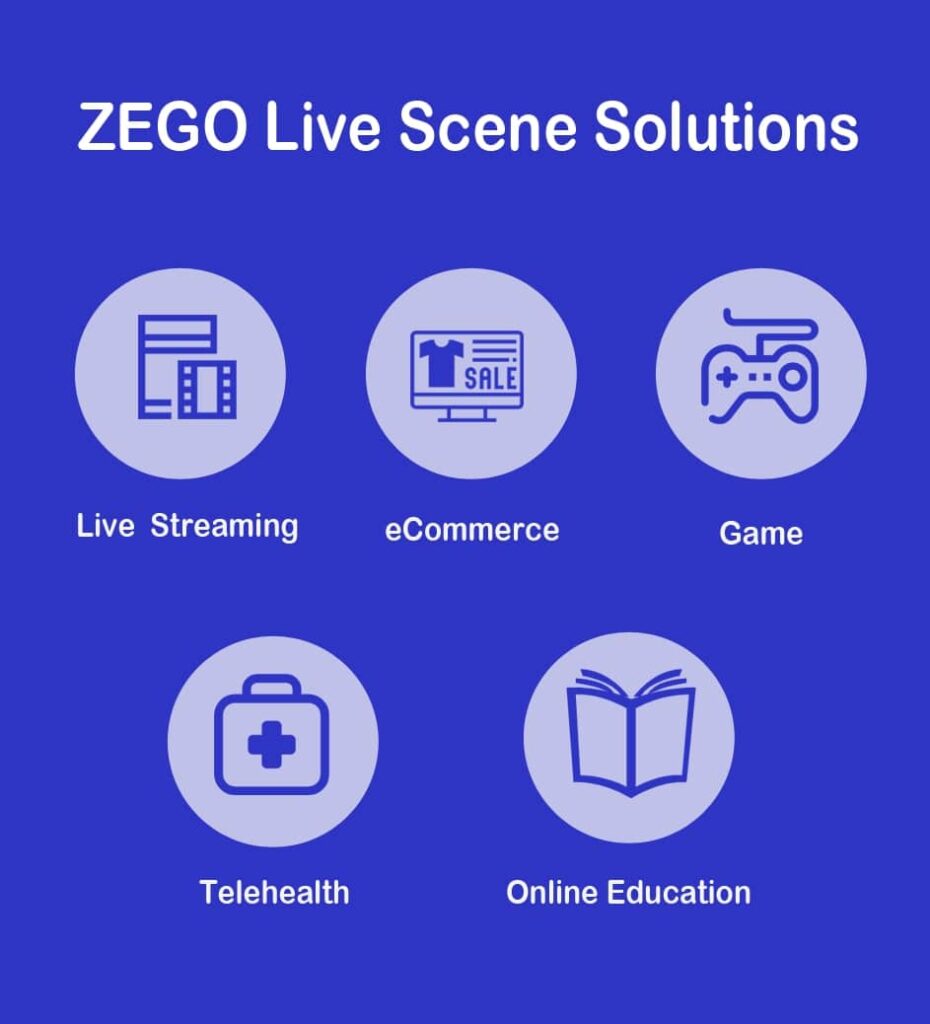 Service Access Demo

Build your project with ZEGOCLOUD services and enjoy 10000 free minutes each month.
Contact sales to discuss our products and solutions.
Talk to Expert
Learn more about our solutions and get your question answered.
Talk to us
Take your apps to the next level with our voice, video and chat APIs
10,000 minutes for free
4,000+ corporate clients
3 Billion daily call minutes