Nowadays, many users across the spectrum use avatar cartoon apps to create and use avatars of themselves. The reasons behind it range from privacy concerns to showcasing creativity and having fun. If you are also looking for a great cartoon avatar-maker app, this article will help you. It will list the top 10 cartoon avatar creator apps for Android and iOS.
10 Best Cartoon Avatar Maker Apps
Deciding on the best cartoon avatar app can be hard for you due to the numerous available options. That's why we have selected and listed the 10 best cartoon avatar maker apps below for you: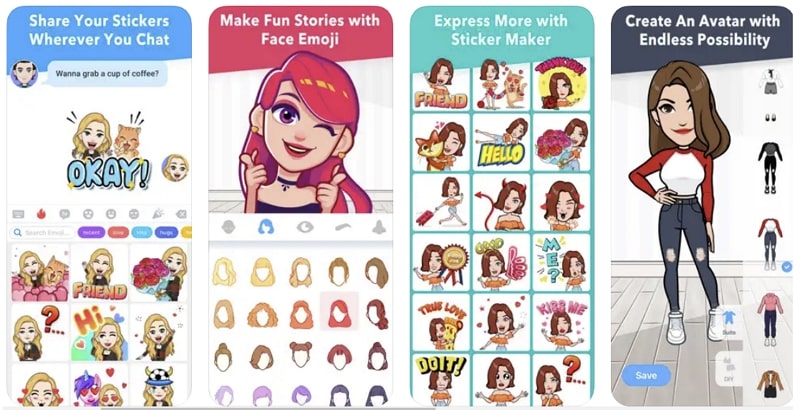 Available for free, Zmoji is a fun and creative cartoon avatar maker app that allows you to create personalized cartoon avatars of yourself. Moreover, you can customize these avatars using a wide range of options and tools. The options available at your disposal include facial features, hairstyles, clothing, accessories, shoes, etc. With these, you can make the avatar a carbon copy of you.
Using Zmoji, you can create various expressions and poses for your avatar to express different emotions and feelings. Moreover, this app also offers many stickers, emojis, GIFs, and reactions for you to use.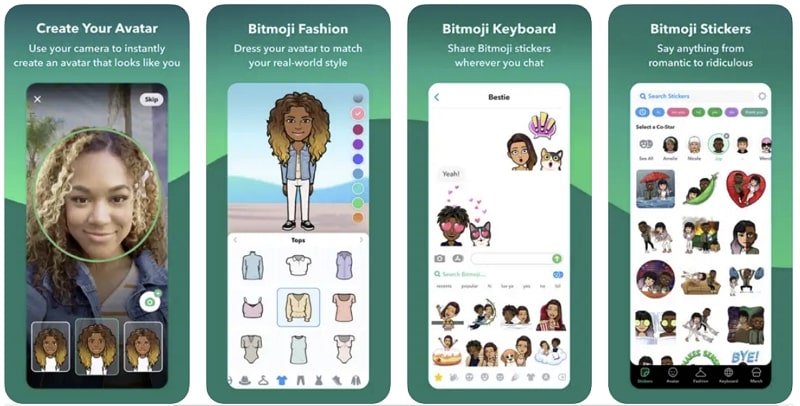 Bitmoji is a cool app that lets you create a cartoon avatar, called a Bitmoji, that looks just like you. When creating the cartoon avatar, you can choose its hairstyle, face shape, clothes, and even accessories like hats and glasses. After creating the virtual avatar, you can use it and have fun in messages, on social media, and even in games.
This app also has tons of pre-made stickers which will adopt to feature your cartoon avatar doing fun activities like eating pizza or playing football. Moreover, you can add these stickers to your messages and posts to make them more fun and expressive.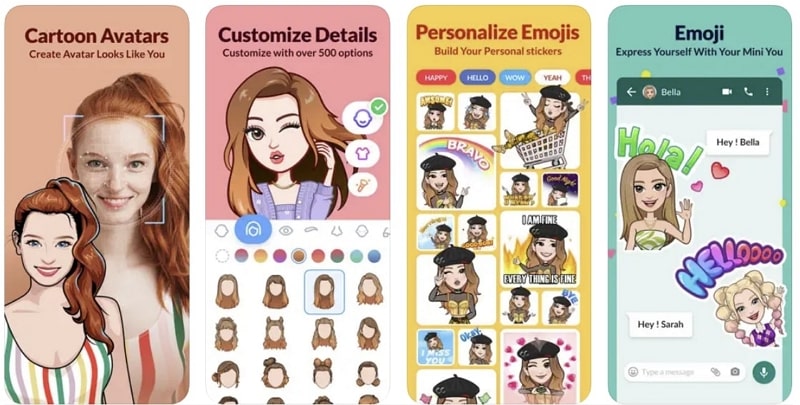 An avatar is like a little cartoon version of yourself, and Avatoon is the best avatar cartoon maker. With Avatoon, you can customize your avatar to look just like you. It supports full customization of the avatar, from hairstyle and glasses to backgrounds and activities. With this app, you can also create fun stickers, emojis, and even memes featuring your cartoon avatar.
Avatoon has a clean, delightful, and easy-to-use interface. Furthermore, you don't need any special skills or artistic talent because you simply need to select the features you want, and the app will do the rest.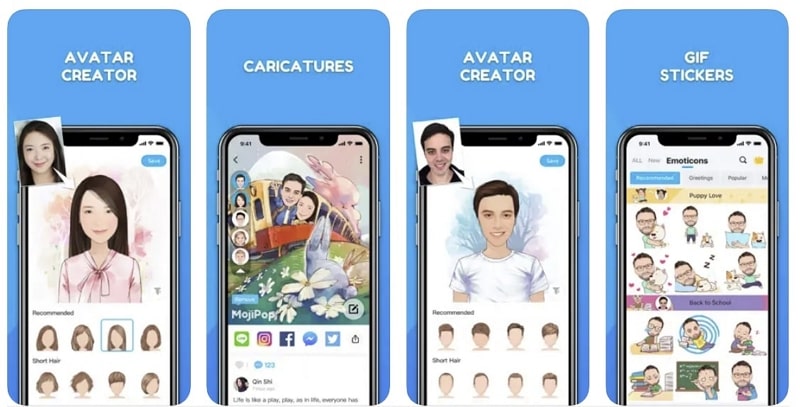 If you are looking for an app to make a cartoon avatar of yourself and your friends, MojiPop is a great choice. It is a fun and exciting app that lets you creatively express your feelings. With it, you can create your very own personalized emojis and stickers using your cartoon avatar. Later, you can use these in your text messages, social media posts, and games.
Furthermore, you can use these stickers and emojis from the keyboard directly. It also offers thousands of stickers and emojis for free. Additionally, the app receives regular updates with new stickers and emojis.
5. Avatar Factory (Android | iOS)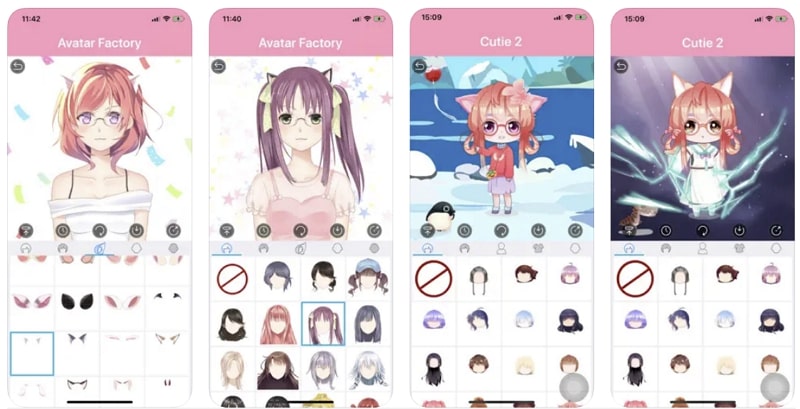 Avatar Factory is the best choice for users who loves anime. It has a wide range of famous anime characters for you to choose from and emulate. Using this app, you can create your anime avatar by allowing you to specify the based material. Moreover, this cartoon avatar app lets you check out and react to avatars created by other users on the app.
This cartoon avatar maker is available for both Android and iPhone users and is free. The major features of the Avatar Factory include reset, history, share, like, and save options.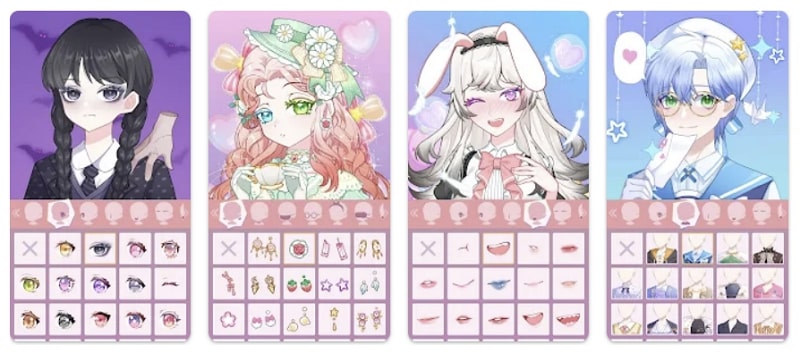 It is another cartoon avatar-maker app that is widely popular among anime lovers. Anime Avatar Maker Creator contains a wide range of anime stuff like clothing, accessories, reactions, etc. With this anime avatar maker app, you can fully emulate yourself into the anime character of your favorite anime verse. One of the best things about this app is its user-friendly interface and easy drawing process.
Anime Avatar Maker is the best choice for users who want to create anime avatars of themselves but are not good at drawing. Using this app, they can easily create fantastic anime avatars.

One of the best apps when it comes to 3D avatar cartoon makers, BOOO is an excellent choice for creating realistic avatars of yourself. It is an augmented reality-based app and can turn your photos or 2D avatars into 3D avatars. During the avatar creation, you can customize skin tones, eye colors, hairstyles, hair colors, etc., Moreover, it also offers over 1000 makeup options to make your avatar stand out.
BOOO also includes options for creating stickers and emojis featuring your 3D avatar. One drawback of this app is that it is only available for Android users. Thanks
8. Avatar Maker – Anime (Android | iOS)
Looking for an app to create a cartoon avatar based on your favorite anime character? Avatar Maker – Anime is the best option for you. It has over 10000 anime characters in its database for you to use and customize. Moreover, this app is also full of all accessories, clothes, shoes, and reactions regarding the anime world. You can also export and save the avatars you create in this app.
Avatar Maker – Anime is only available for both iOS and Android users and offers a simple and clean user interface. Furthermore, you can use this app to create an anime character and add it to a famous anime or manga to create your own story.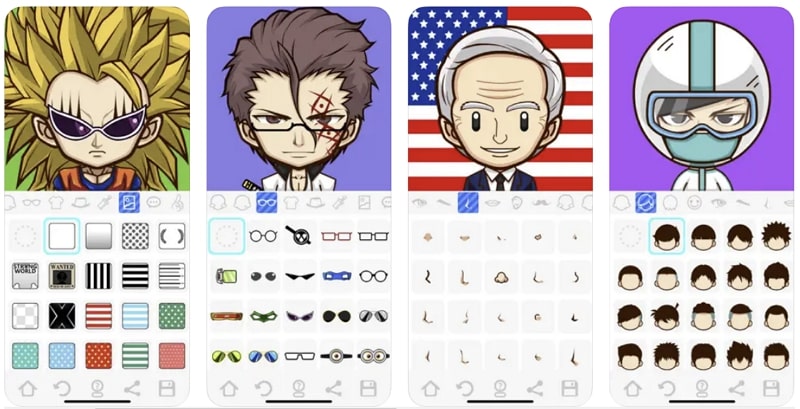 SuperMii, also known as SuperMe, is one the most used app for creating avatar cartoons by users worldwide. It is available on both the Google Play Store and App Store and millions of users have downloaded the app. In this app, you create a virtual avatar using the in-built cartoon avatar maker. Furthermore, this app allows you to customize everything regarding your avatar to create the desired result.
While it is free to download and use but if you want more, there are many in-app purchases available. The avatars created through this app are usable on all major messaging apps like WhatsApp, Facebook Messenger, WeChat, etc.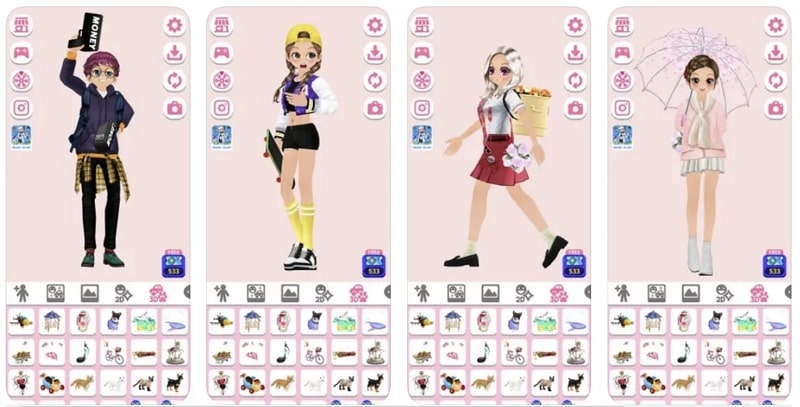 Working with facial recognition tech, Styledoll is another great choice for creating cute 3D cartoon avatars. Unlike other entries in this list, it works and bills itself as a game. Moreover, it works on the famous kawaii concept and allows users to create cute and attractive virtual avatars of their selves. After creating a 3D avatar, users can work on it by unlocking different clothes, accessories, and situations.
Styledoll allows users to save their avatar on their devices and share it with their friends. To ensure you never get bored, it contains thousands of costumes, backgrounds, dialogue bubbles, and fashion items.
How to Make Avatar Cartoon with ZEGOCLOUD
Developing a great cartoon avatar maker app is not a complex task nowadays. There are a lot of quick and easy ways available to reduce the time and cost involved in app development. One of the best options to build an excellent cartoon avatar maker app is to use ZEGOCLOUD Virtual Avatar SDK. It offers a wide range of amazing and unique features at an affordable cost.
With this SDK, you will be able to create an app capable of creating realistic 3D cartoon avatars. Users can use their pictures or take selfies to get an astonishing and unique 3D avatar. Apart from converting photos to avatars, it also includes a vast collection of clothes, shoes, and other accessories for users to choose from and try. Moreover, it is GDPR compliant regarding users' data and privacy.
What Makes ZEGOCLOUD Virtual Avatar SDK the Best
It is due to its unique features if you want to know why ZEGOCLOUD Virtual Avatar SDK is an industry standard for creating virtual and cartoon avatar apps. Described below are some of these features:
Multi-Dimensional Facial Features
To make the virtual avatar as realistic look-alike of users as possible, ZEGOCLOUD Virtual Avatar SDK contains many features. Among these features is the ability to adjust the facial features using different options. These options include jawline, lips, eye shape & color, nose, facial hair, and many others. It also provides expression and speech emulation.
When creating cartoon avatars of themselves, it is not only the faces users want to recreate. Having a wide range of clothing and other accessory options at their disposal is also important. That's why ZEGOCLOUD Virtual Avatar SDK ensures the users of your app are able to create the best possible avatar. For that, it offers a wide range of clothing, makeup, accessories, headwear, shoes, and other options.
Want your cartoon avatars in specific poses? ZEGOCLOUD Virtual Avatar SDK allows users to create and emulate different body poses in virtual avatars. It includes powerful AI algorithms to recognize different body poses and facial expressions to ensure you get what you want. Moreover, it also has a dedicated gesture recognition feature.
Since users need to provide their actual photos to create realistic 3D avatars, it is essential the respective app or platform is secure. Moreover, it makes using the ZEGOCLOUD Virtual Avatar SDK as it comes with highly advanced security and data protection features. These features include highly advanced end-to-end encryption algorithms and GDPR compliance.
Steps to Make Cartoon Avatar Maker App Using Virtual Avatar SDK
Now that we have talked about ZEGOCLOUD Virtual Avatar SDK features, let's go through the simple process needed to create a cartoon avatar app. Follow these steps to do it quickly:
Step 1: Sign Up and Log Into the ZEGOCLUD Console
Open the web browser on your device and go to ZEGOCLOUD's official website. Here, create an account if you don't have one and log into the Admin Console. Now, click "+" to create a new project.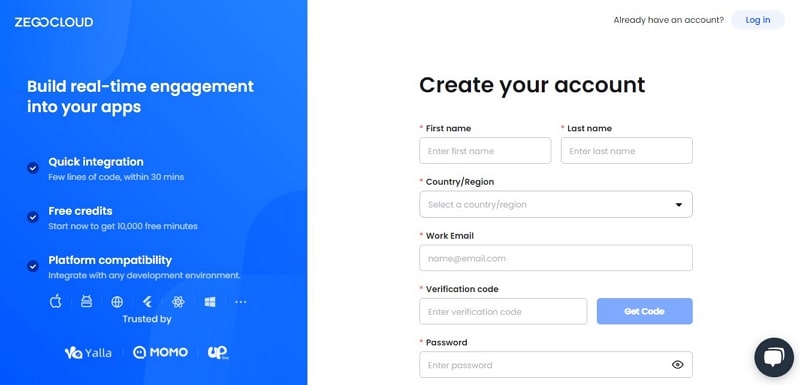 Step 2: Select the Use Case for Your App
On the next screen, you need to choose a use case for your app. There are over 12 use cases available, and you can choose one depending on your needs. Once you have selected a use case, tap "Next" and give your app a name. Afterward, choose "Start with UIKits" to initialize the app.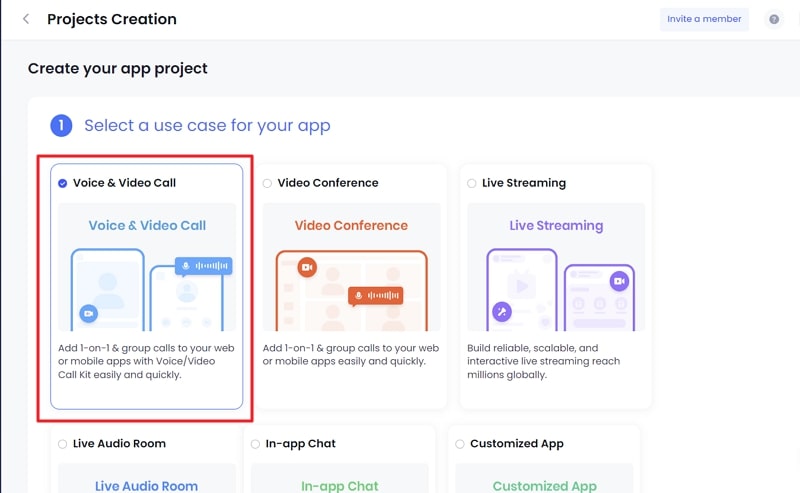 Step 3: Choose the Desired Framework and UI Configuration
You will now need to select a framework for your app. It includes options for both iOS and Android. After choosing the framework, you will move to the UI configuration screen. Here, configure the app UI and click "Save and Start to Integrate."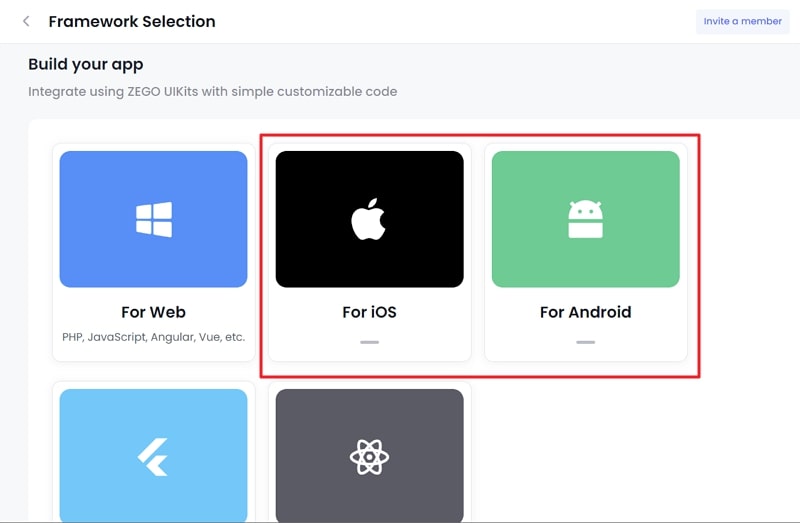 Step 4: Enable the Virtual Avatar Service
Click "Project Management" on the left side panel of Admin Console and select your recently created project. In the project, click "Service Management" and move to the "Virtual Avatar" tab. Here, you can activate the ZEGOCLOUD Virtual Avatar service.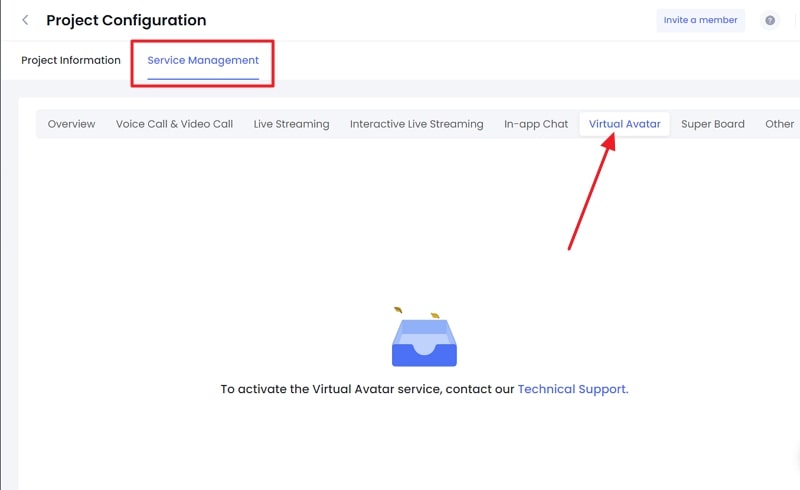 Conclusion
To conclude this discussion, we can say cartoon avatar apps are a fun way to polish your creativity and pass the time. There are many great apps available for you to choose from and have some fun. If you want to create an avatar cartoon maker app, it is also possible to do it quickly. For creating the best app for cartoon avatars, ZEGOCLOUD Virtual Avatar is the best option.
Talk to Expert
Learn more about our solutions and get your question answered.
Talk to us
Take your apps to the next level with our voice, video and chat APIs
10,000 minutes for free
4,000+ corporate clients
3 Billion daily call minutes