Although, anime series are just cartoons with a storyline revolving around a bunch of imaginary characters. However, for anime enthusiasts, the characters and the anime series are everything for them. Are you also a die-hard anime admirer? Do you want to replicate yourself with an anime character? This article will list the best free avatar anime maker and avatar SDK for you.
The Best 10 Anime Character Creators
Watching an anime character may look interesting but making one for yourself is even more exciting. The internet is loaded with several avatar character creator apps that you can use for free. However, deciding which is the best choice for you is where the problem begins. In this part, you will find the 10 finest anime avatar tools.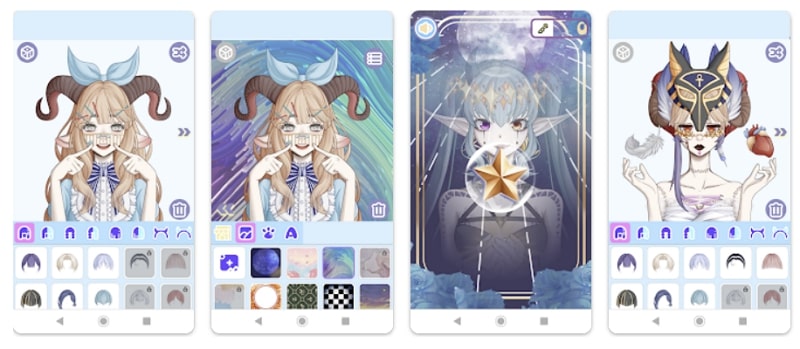 With Anime Avatar Maker, design a perfect anime avatar for yourself that will ultimately take you into the world of anime origin. Simply select your desired anime character from the available options, after which apply necessary customizations by adjusting the hairstyle, facial expressions, clothes, eyebrows, horns, and stitches.
In fact, you can also apply accessories like glassed and hats to your character. For any anime fan, the application is straightforward to use, with clear navigation. This means you can quickly create your anime while unleashing your passion.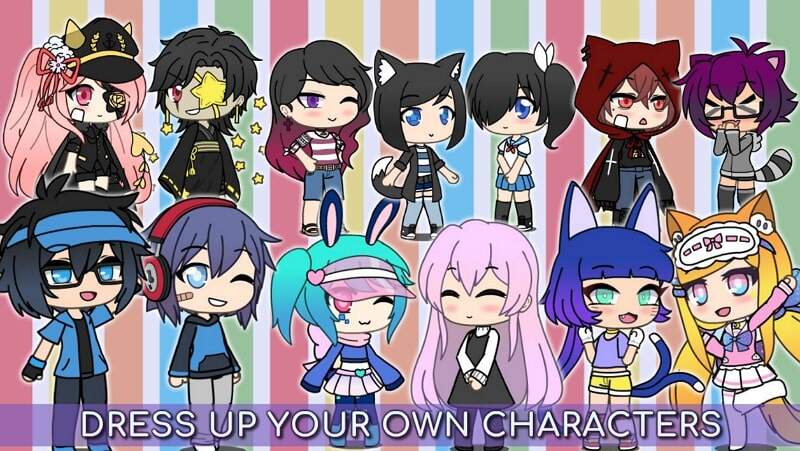 Are you an anime fan with an interest in adventures? Gacha Life is a perfect match for you. This anime avatar maker lets you design and create anime characters within your personalized anime fashion. Henceforth, you can apply different dresses to your character, choose appropriate hairstyles, use beautiful hats, and power up your character with suitable weapons.
From the available studio mode, you can add text to your character with options to pose in a specific position within the required background. Also, you can play mini-games with your anime characters and collect gems to increase your accessory collection.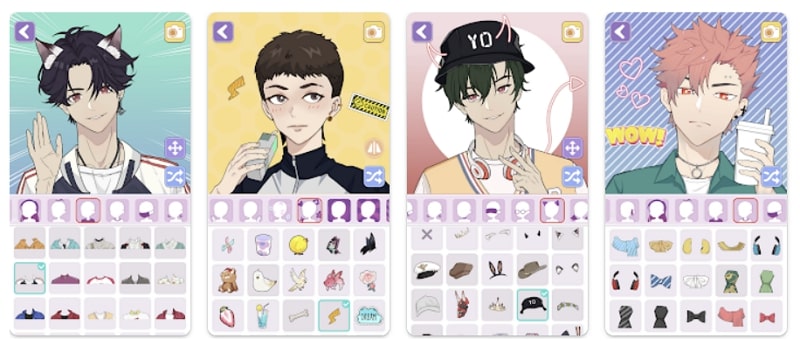 Replicate your favorite character from the popular anime series by making a similar avatar. All thanks to Avatar Maker: Anime Dress Up, which allows you to dress up your character in your favorite outfit within your desired attire. Moreover, this application will enable you to select your desired avatar from different options and customize it using adjustments in clothing, hairstyles, eyes, eyebrows, and facial expressions.
Add an attractive background with suitable accessories to make your anime avatar more interesting. Of course, you can share your anime creativity with friends and families and ultimately grow the anime community.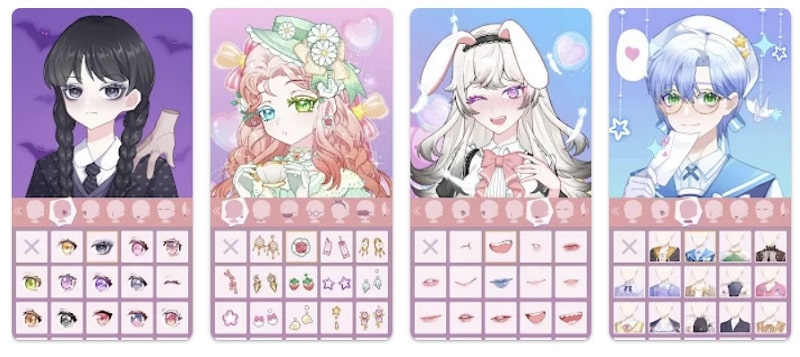 Enter the amazing anime world with Anime Avatar Maker Creator, your one-stop solution to creating a perfect anime avatar for yourself. Using this avatar character creator, you can select your desired character, which resembles you or your favorite anime personality. Afterward, you will be able to apply different modifications to your character with different hairstyles, eyebrows, dressings, etc.
With the availability of different accessories and apparel items, you can further personalize your character according to your needs. However, you will face a lot of ads while using this app, or you will have to watch ads to unlock items.

As a girl, do you enjoy watching anime series? Your favorite character is also a girl? Why not make an avatar as a duplicate of your admired character? With Roxie Girl, you can create a perfect female anime character. After all, this avatar character creator provides specialized customization support to adjust female facial expressions, hairstyles, eyebrows, eyes shape, clothes, and more.
Your final character may look similar to you because you will surely design it according to your personal fashion and attire goals. Don't worry about your privacy because data is securely transferred.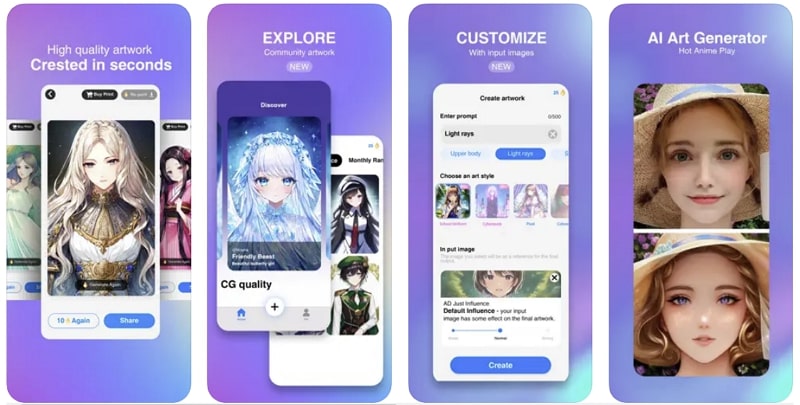 As an anime fan, do you want to see an anime version of yourself? This is possible with Anime AI, a unique 2D art tool. Take a selfie of yourself and upload it to this avatar anime maker, and this AI art generator, with its powerful algorithms, will ideally scan and make an anime version of your picture.
Surprisingly, you can also make a human anime version of your pet since it also scans animals. Moreover, the images are always supported in high-quality resolutions so that you can enjoy your anime artwork with maximum fun and entertainment.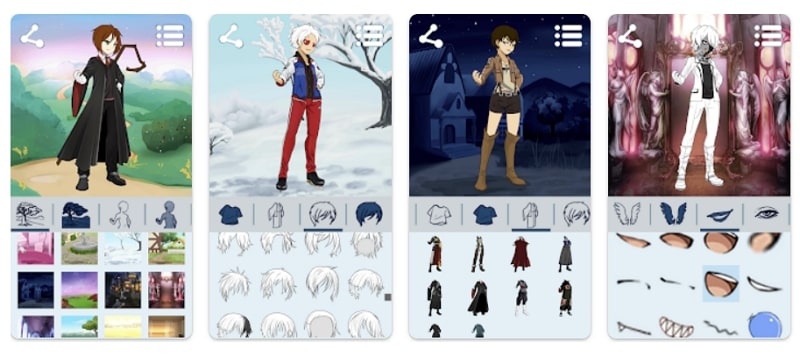 It's not surprising that most boys are die-hard anime fans because of the adventurous and action-packed content in the anime series. As a boy, do you also like anime, and would you like to make a perfect full-body anime avatar for yourself? Avatar Maker: Anime Boys is an ideal solution in this regard.
This anime avatar maker features loads of male characters from which you can choose the one replicating you. After you're done with your selection, customize your avatar with stylish hairstyles, color lenses, clothing options, facial expressions, and many appealing backgrounds.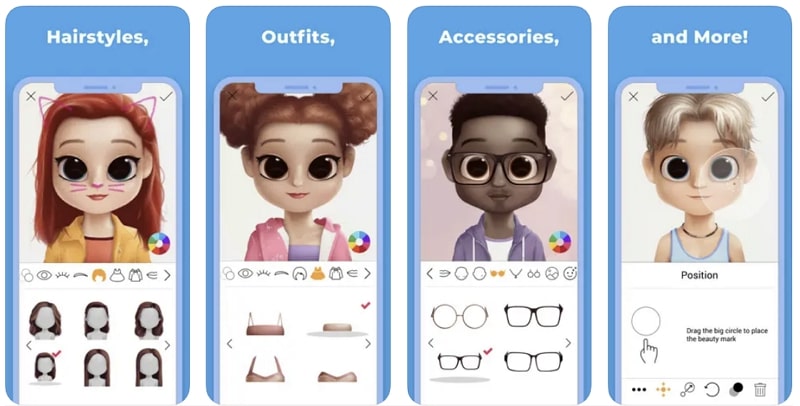 Dollify is a popular avatar character creator app that can help you design and create chibi-style anime characters. Unlike other anime characters that are mostly heroic and adventurous, Dollify produces extremely cute avatars based on the dolls' pictures. Select the avatar character that resembles you, and apply unique hairstyles and outfits.
In addition, you can also apply unique accessories to make your chibi-style avatar to make it look more attractive and stylish. Both male and female characters can use this app.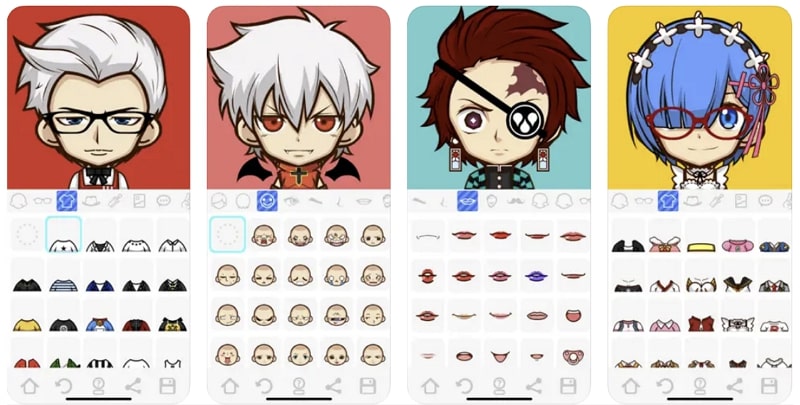 Known as the globally popular anime avatar creator, SuperMe is what you need to create the best cartoon-like anime characters. This platform provides access to multiple customization options, from adjusting hairstyles, eyebrows, skin color, clothing, and facial expressions to applying different accessories.
Moreover, the character options include both male and female avatars. You can also add customized text to your avatar and make it look like an endorsement. With backgrounds, your anime can become more special.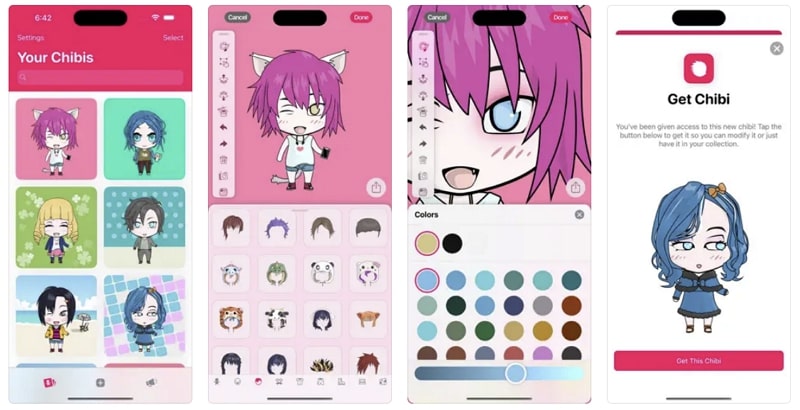 Designing a stunning chibi avatar is now easier, faster, and more unique with ChibiStudio, which possesses a wide variety of characters, commonly called chibis. Thus, you need to first select your desired avatar in the male or female category. After that, you'll be taken to the modifications menu, where more than 500 customizations will welcome you. Apply the ones that make your character look extraordinary.
Interestingly, you can also create and customize the characters with your friends using the iMessage communication channel on iOS. The possibility also includes creating exciting chibi stickers and ultimately using them on all iOS devices.
Avatar Maker: Make Your Own Avatar with ZEGOCLOUD
With the availability of multiple internet resources, developing an avatar anime maker is a relatively easy task. However, it can cause you an excess of time and money in the devotement stage. The best and most reliable option is to choose ZEGOCLOUD Virtual Avatar SDK, which can build anime avatar applications with exceptional features at a much more affordable cost.
By using this SDK, you have the authority to create stunning anime avatar applications for all anime enthusiasts. Subsequently, the users could apply anime customizations on the ready-made avatars or even use their pictures to create 3D anime animations.
Significant Features of ZEGOCLOUD Virtual Avatar SDK
ZEGOCLOUD is the best Virtual Avatar API/SDK currently present in the market, with its range of assistance for making anime avatar apps. Below are some of the features that make it more special:
Multiple Facial Customizations: With ZEGOCLOUD Virtual Avatar SDK, you can modify the facial features of your anime avatar with respect to hairstyle, skin color, face shape, eyes, eyebrows, jawline, lips, and many more.
Face Detection in Real Scenario: ZEGOCLOUD leverages the support of a powerful facial recognition feature that could make a 3D avatar of your face by capturing it and scanning it in a real-time scenario.
Built-in Accessories for Avatar: After making your anime avatar, ZEGOCLOUD Virtual Avatar SDK provides an opportunity to style and design your character using different built-in accessories. This includes shoes, clothes, glasses, makeup, hats, and much more.
Uses Speech Recognition Technology: The AI-based algorithm behind the ZEGOCLOUD Virtual Avatar SDK provides assistance with a speech recognition facility. This means the avatar will follow your facial expressions and mouth movements to mimic the same.
Steps to Create an Anime Avatar App with ZEGOCLOUD Virtual Avatar SDK
We have briefly and thoroughly discussed what ZEGOCLOUD is able to do and how it benefits everyone. Let's follow these simple steps to create a fantastic avatar character creator app:
Step 1: Open the ZEGOCLOUD Website and Login
Search and open ZEGOCLOUD's website from your browser. Create an account first by signing up if you don't have an account. Use the same credentials to login into the "Overview" window. Once this is done, press the "+" icon in order to create a new project.
Step 2: Select the Desired Use Case Support
From the available 12 use cases, select the one that matches your project requirements. When you're done choosing the critical use case, click on the "Next" button. Provide a name to your project and press the "Start with UIKits" button.
Step 3: Choose the Needed Framework and Perform the Configuration
Select the framework for your application from the given options on your screen, navigate into the UI configuration screen, and ultimately configure the UI of your app. Following this, click the "Save and Start to Integrate" button once done with the configuration.
Step 4: Enable the Virtual Avatar Service
Afterward, access the "Project Management" tab from the left side of the panel and select the project you just created. Next, proceed with the "Service Management" option after opening the scheme and move to the "Virtual Avatar" option. Here you can activate the ZEGOCLOUD Virtual Avatar feature.
Conclusion
Making anime avatars is a perfect way to illustrate your love and affection towards your favorite anime characters. Together we have already discovered the best 10 free anime avatar maker apps that you can use to fulfill your anime passion within a creative standard. Conversely, ZEGOCLOUD is the best Virtual Avatar API/SDK to assist with app development if you want to make your anime avatar creator app.
Talk to Expert
Learn more about our solutions and get your question answered.
Talk to us
Take your apps to the next level with our voice, video and chat APIs
10,000 minutes for free
4,000+ corporate clients
3 Billion daily call minutes