Business refers to an activity where a team of people gets engaged in the production, sale, or exchange of goods or services to generate profit. With the rise in entrepreneurial culture, more and more businesses are emerging daily. Simultaneously, the increase in competition is now leading to the adoption of automation through AI technology. This article will list 10 necessary AI tools to grow business.
What are AI tools?
AI Tools refer to software and applications that utilize artificial intelligence to perform tasks that typically require human intelligence. These tools are designed to mimic human cognition to analyze, interpret, and make decisions based on data.
Machine Learning Platforms: These are among the most common AI Tools. They provide algorithms, APIs, and development and training tools for data modeling and processing.
Natural Language Processing (NLP) Tools: These tools enable machines to understand and respond to human language, making them essential for chatbots and voice-activated systems.
AI-optimized Hardware: Innovations in hardware, such as Graphics Processing Units (GPUs), are tailored to better serve AI models, ensuring faster computations.
Robotic Process Automation (RPA): These AI Tools are designed to automate repetitive tasks in business processes, enhancing efficiency and accuracy.
Decision Management AI: These tools are embedded into applications to automatically make decisions based on data.
Deep Learning Platforms: A subset of machine learning, these tools use neural networks with many layers to analyze various factors of data.
In essence, AI Tools are revolutionizing industries by offering solutions that can process vast amounts of information, learn from it, and make informed decisions, all at speeds incomparable to human capabilities.
---
What are the Benefits of AI Tools?
The integration of AI Tools into various sectors has brought about transformative benefits. Here's a glimpse into the advantages they offer:
Efficiency and Automation: AI Tools can handle repetitive tasks with speed and precision, freeing up human resources for more strategic roles.
Data Analysis: With the ability to process vast amounts of data, these tools provide insights that were previously unattainable, aiding in informed decision-making.
Cost Savings: Over time, the automation and accuracy provided by AI Tools can lead to significant cost reductions, especially in labor-intensive sectors.
Personalization: In marketing and e-commerce, AI Tools analyze user behavior to offer personalized experiences, enhancing customer satisfaction and loyalty.
Predictive Capabilities: From forecasting sales to potential market shifts, these tools can predict trends, allowing businesses to be proactive rather than reactive.
Enhanced Creativity: AI Tools can assist in the design, content creation, and even music composition, pushing the boundaries of what's possible.
Round-the-Clock Availability: Unlike humans, AI systems can operate continuously without fatigue, ensuring 24/7 availability for tasks like customer support.
In conclusion, AI Tools are not just technological advancements; they are catalysts driving efficiency, innovation, and growth in the modern world.
---
10 AI Tools and Software in 2023
You will find several options on the internet regarding free AI tools for business. Apparently, choosing the right and appropriate one for your business could be a difficult task. Not anymore, because here you'll find 10 popular AI tools that will assist business growth in a significant way: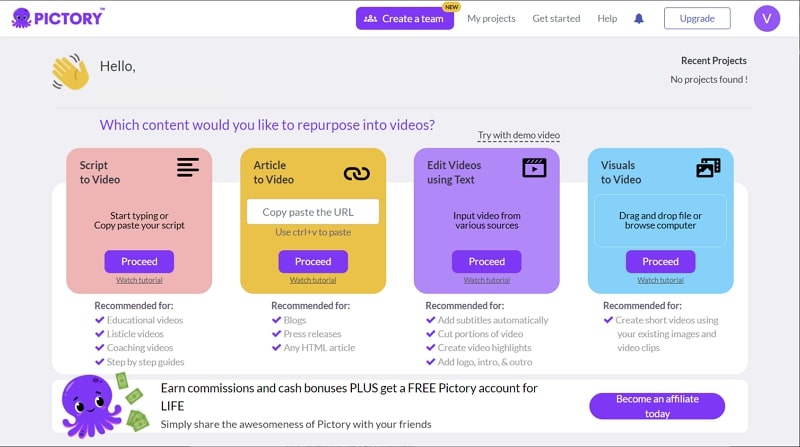 Pictory rates itself among the top AI tools for business in the market. After all, it allows you to create and edit videos without much effort. So, while using this AI video generator, you only need to provide a script, blog, or article as input. Pictory's AI system will analyze and assess the input text to generate video efficiently.
To conclude, you don't need any video editing expertise. It's because Pictory will handle all your important video stuff itself. You can further use the generated videos for social media or websites.
Key Features
Pictory infrastructure has been developed on the cloud network. So, you can generate and access videos from anywhere, anytime, on any device.
You can create shareable video highlight reels on the Pictory by which short trailers and short clips can be shared on social media.
It's possible to edit the videos by using the text. Provide the updated scripts with changes and your videos will get adjusted accordingly.
Captions to the videos can also be added while using this AI tool to convert text to video. Meanwhile, the captions get added automatically.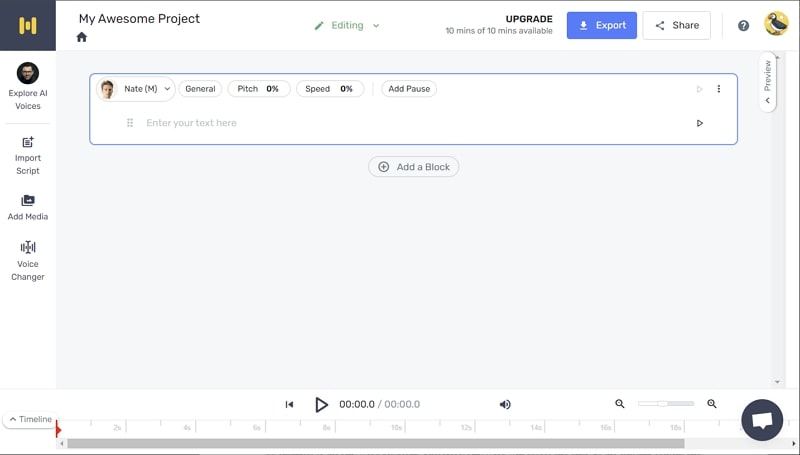 If you're searching for top AI voice generators for your business, Murf is what you need. With this free AI tool, you can experience impressive text-to-speech functionality. Thus, you can convert your written text into stunning voiceovers and dictations. Hence, businesses can create instant voiceovers for podcasts, conferences, and meetings.
You can modify the voice with more natural-sounding sounds. Different sound dialects exist for males and females, and you can use the preferred option.
Key Features
Murf possesses voiceover solutions for every business sector, including developer, marketer, educator, corporate, podcaster, animator, etc.
You can choose from 120+ sounds on the network in 20+ languages. Hence, customize the voice in the way you want.
You can even turn your simple recordings into professional voiceovers by using Murf. The possibilities just increase on this platform.
It's possible to customize the selected voice by adjusting the tone, accents, style, and more. You can tailor the voice totally according to your requirements.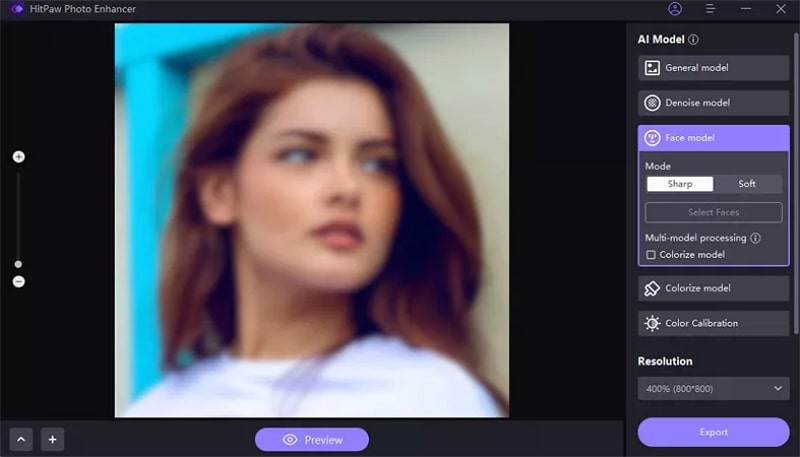 Upscale and enhance your all-important business photos by using HitPaw Photo Enhancer, which is amongst the best AI tools. With just one click, you can improve the quality and resolutions of your blurred business pictures, brochures, or logos. This means the image's noise and grain will be eliminated, and your visual media will become appealing again.
In general, it's straightforward to use this AI photo enhancer. Such that even a beginner can operate and manage the image upscaling.
Key Features
With the batch processing function, you can upscale several photos simultaneously. This will ultimately save you a lot of time and resources.
If your images have low-res graphics, HitPaw allows you to upscale them to 4K/8K resolutions. This way, your pictures will appear clearer and sharper.
With HitPaw, it's possible to upscale old photos. Thus, you can turn your black-and-white photos into realistic yet colorful graphics.
The AI noise reduction technology allows you to upscale images by removing noise from low-lighting and high-ISO images.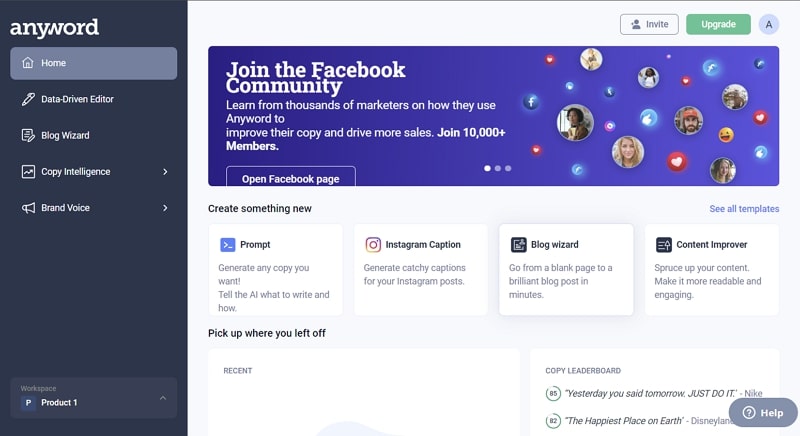 Known as a top copywriting tool, Anyword is a trusted solution for businesses to improve their marketing copies with sales-driven content. Thus, as a business, you need to connect your website, social media, or ad channels to the Anyword platform. Therefore, Anyword will assess and analyze the existing content and provide solutions to update content while prioritizing business growth.
Consequently, your brand voice will spread with proper data-driven approaches to achieve targeted goals with customer attention in mind.
Key Features
With Anyword's best AI tool, you can generate product descriptions, blog posts, articles, website content, YouTube descriptions, and more.
It's also possible to make convertible advertisements for platforms like Google AdWords, Facebook Ads, Twitter Ads, and LinkedIn Ads.
The available API allows businesses to integrate the Anyword into their existing systems. This way, content generation, and polishing become simplified.
If you're struggling to learn how Anyword operates, simply request a demo and familiarize yourself with the platform.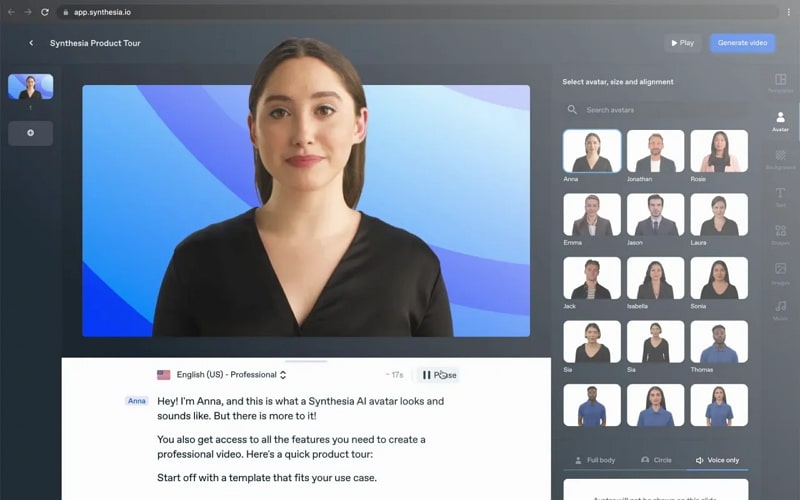 Looking for an AI tool to convert text to video and even voiceover? With Synthesys, this is now a possibility. After all, Synthesys comes with advanced AI models that leverage generative AI capabilities. Hence, you can expect Synthesys to act as a text-to-speech and text-to-video platform. In general, you only need to provide a written script, and Synthesys will turn them into dynamic presentations.
In addition, the voiceovers come with clear and natural voices that sound appealing and realistic. Overall, Synthesys is a great platform to minimize your daily business efforts in generating videos and voiceovers.
Key Features
Select the professional voiceovers from the large library, including 35 female and 30 male voices. Choose the most appropriate option.
More than 145 languages exist for your voiceovers in the videos. This way, you can make your business videos go global.
The videos generated are in high-quality resolutions that offer a clear view. So, you can use videos on social media or share them with friends.
Continue to edit videos or voiceovers from anywhere in the world. After all, Synthesys is a cloud-based application with extensive functionalities.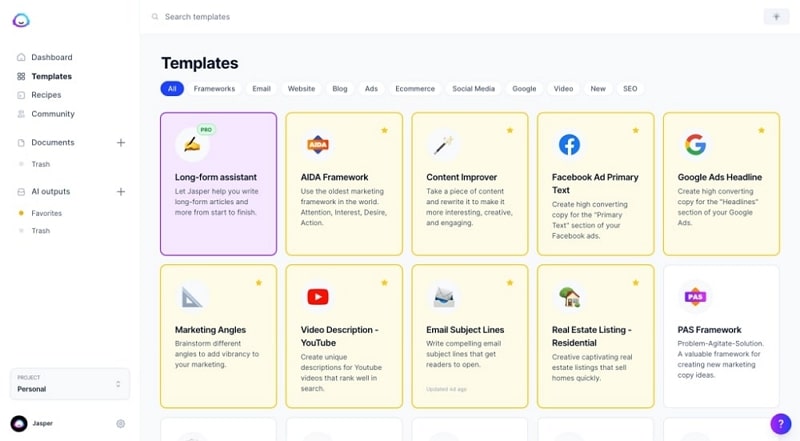 Jasper is a fantastic tool for all businesses that are looking to scale and grow in result-oriented ways. According to the Jasper AI tool report, it can help create artwork from text and generate convertible blogs, articles, website content, and more. For artwork, you need to provide an input text prompt, select your style, and Jasper will begin generating artwork.
On the other hand, you need to select the tone of your text from options like cheeky, formal, bold, and highlight. After this, you've to provide a title and select font and language. Based on this, Jasper begins writing your content.
Key Features
Jasper comes with a user-friendly interface that makes it suitable for users of every age. Hence, everyone can easily operate and manage this tool.
After reading your text prompt, Jasper will create a set of 4 images aligning with your prompt. So you can use the images that best suit your needs.
The generated images don't have any watermark on them. As a result, you have full authority over the artwork you generate.
Jasper keeps your data privacy intact because it leverages state-of-the-art security protocols. Meanwhile, there is also a SOC2 certification.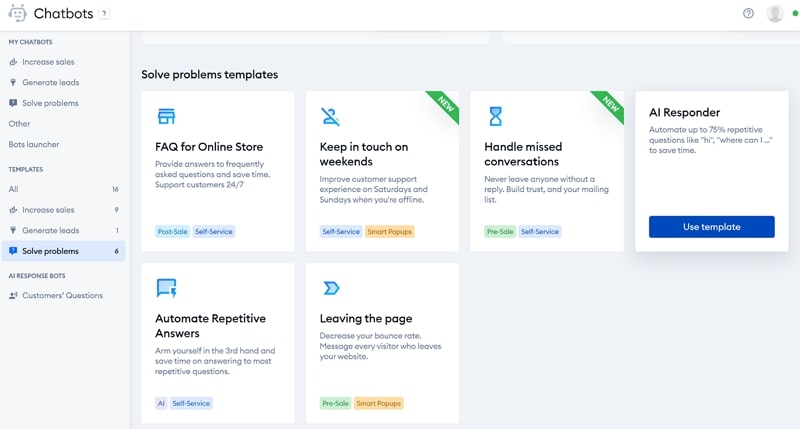 While using the best AI tools, continue to add Tidio Chatbot to your business's website. This way, your business and customer communication will become efficient with timely responses. Previously, with manual standards, the customers would have to wait for your message replies, which may affect sales. With Tidio Chatbot, this situation is possible to deal with quick and instant responses.
The live chat feature can get embedded in e-commerce systems, CRM, and email marketing platforms. It's also possible to integrate Tidio widgets in Messenger, WordPress, and Shopify.
Key Features
Through the available dashboard, get a real-time overview of your visitors on the website. This way, you can analyze what they are browsing. Use data to convert into sales.
By analyzing the user's browser history, Tidio Chatbot can offer discounts to potential customers and bring potential leads to the business.
Tidio Chatbot also covers product recommendations. It's done by analyzing what products your customers visit on your website.
By detecting the location of the lead, Tidio can pursue communication in the customer's language. Thus, increasing the chances of sales.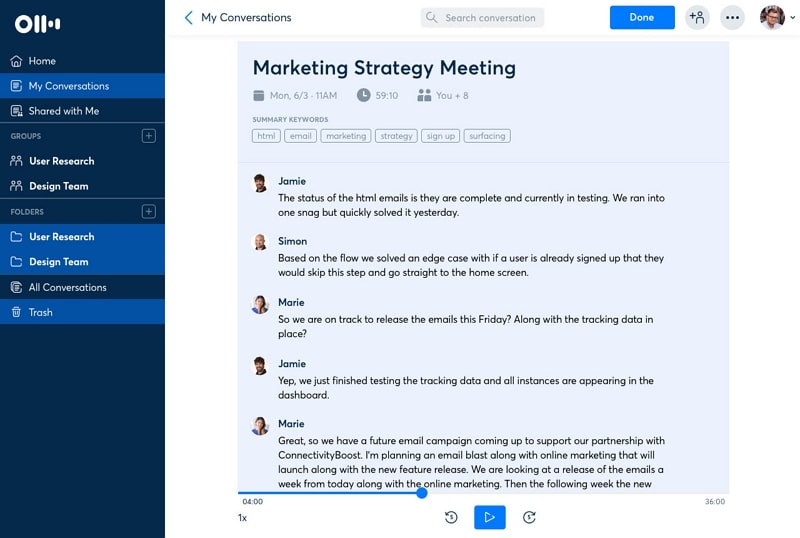 Otter.ai is an AI-based transcription service that uses advanced AI technology to transcribe live meetings. Moreover, the Otter AI tool can write notes and summarize meetings at a 30x faster rate. The notes may include essential highlights of the meeting, comments made, and particular tasks assigned to individuals.
Besides, if you missed the meeting or forgot to make notes, Otter has got you covered. In fact, Otter can also capture important slides from the meeting and develop time notes to better understand the content.
Key Features
Otter AI comes with cross-platform support, as you can use it on iOS, Android, and the web through the Chrome extension.
Through the AI chat facility, continue to collaborate with fellow colleagues within the meetings on presentations, slides, notes, and more.
Connecting Otter with Google Meet, Zoom, and Microsoft Teams is possible. Thus, you can record calls and also transcribe the communication.
Summary generation is also a possibility on Otter that allows you to have a precise overview of the entire discussion that happened.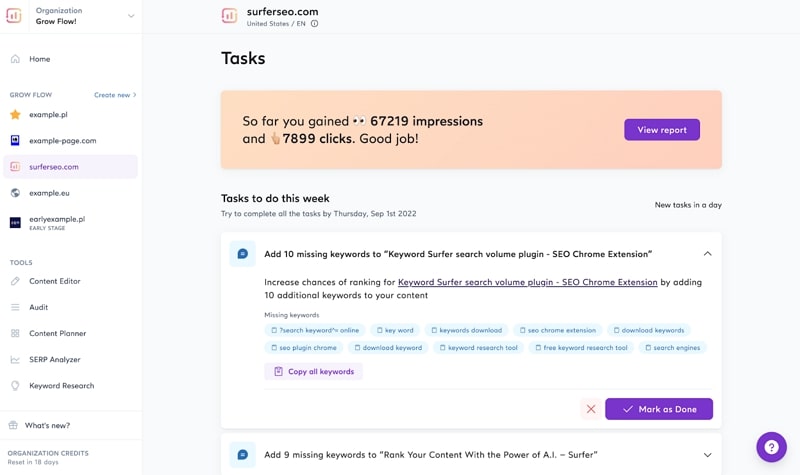 By using SurferSEO, you can now bring organic traffic to your business in an efficient way. Hence, design a result-oriented SEO workflow for your business with this AI tool. After all, SurferSEO can provide you with high-volume keywords following your content requirements. It can also audit your existing copy to deliver the right SEO strategy.
Moreover, SurferSEO is also a trusted solution for AI copywriting. Thus, it can write convertible yet optimized content for you in 20 minutes that is intended to generate traffic.
Key Features
With the built-in outline generator, you can structure your content through a detailed outline that is also optimized for SEO standards.
You can write content within any language as SurferSEO is not only limited to English and Spanish. Thus, make your business copy go global.
The generated content is plagiarism-free, which means your website will have unique content that ranks your website higher in search engines.
Connecting SurferSEO with Jasper, SEMrush, WordPress, and Google Docs is also possible. This increases the possibility of generating content from a wider angle.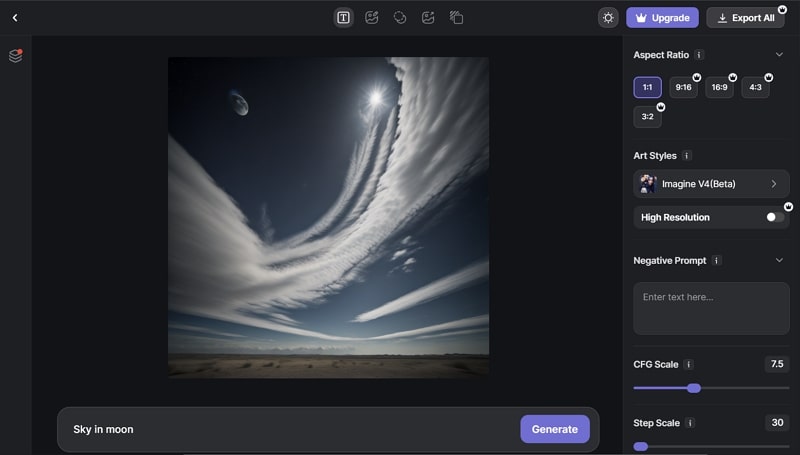 Have you thought of making illustrative art with the power of words? With Imagine AI tools for business, making stunning artwork from text is now possible. The platform takes your text as input and converts it into visual art, depending on your provided description. If you don't know what to write, there exist dummy prompts to give you ideas.
Meanwhile, you can shift between dark and light modes when editing your generated artwork. You can also adjust the aspect ratios of your artwork as well.
Key Features
The negative prompt function allows you to tell AI what you don't want to see in the generated image. Hence, these particular things get avoided.
There's an option to adjust the CFG scale on a slider. This determines how much your image aligns with the input prompt.
It's also possible to adjust the step scale on the slider. The higher the value would be, the better the visual quality appears.
Imagine is in line to add more advanced features in the future. This includes the replace, expand, image, inpaint, and text features.
Conclusion
Businesses need fuel to generate sales. Apparently, this fuel gets powered by dedicated marketing strategies that bring value and leads from target customers. However, there exist several manual marketing techniques. However, using AI tools for business can bring extensive functionalities with automated solutions.
This article discussed the 10 best AI tools for business. Furthermore, a virtual avatar SDK from ZEGOCLOUD exists that businesses can integrate into their systems and make them more extensive. The avatars come with body pose recognition, facial expressions, gesture recognition, and speech simulation. It is also possible to change the attire of the avatars. Sign up for the ZEGOCLOUD avatar SDK
Read more:
Talk to Expert
Learn more about our solutions and get your question answered.
Talk to us
Take your apps to the next level with our voice, video and chat APIs
10,000 minutes for free
4,000+ corporate clients
3 Billion daily call minutes