With increased globalization and the rise in entrepreneurial culture, many businesses and startups are emerging daily. This means the already clustered market is becoming more saturated with time. However, in this scenario, as a business player, you need to overtake competitors using AI marketing tools. To assist you, this article will discuss 10 popular AI marketing tools.
What is an AI Marketing Tool?
AI marketing tool is software that utilizes artificial intelligence (AI) techniques to assist with various marketing activities and tasks. In addition, AI marketing tools leverage machine learning algorithms, natural language processing, data analytics, and other AI capabilities to automate and optimize marketing processes. Ultimately paving the way for the right data-driven decisions that enhance overall marketing performance.
Different solutions are offered when it comes to the functionalities of AI marketing tools. Moreover, this includes customer segmentation, predictive analytics, content creation and optimization, chatbots, virtual assistants, lead generation, ad campaigns, and more.
10 Best AI Tools for Marketing to Grow Your Business
What AI is best for marketing? Which AI tool is best for a business plan? Do you also have the same questions in your mind right now? Don't worry because here you will find the list of the top 10 marketing AI tools: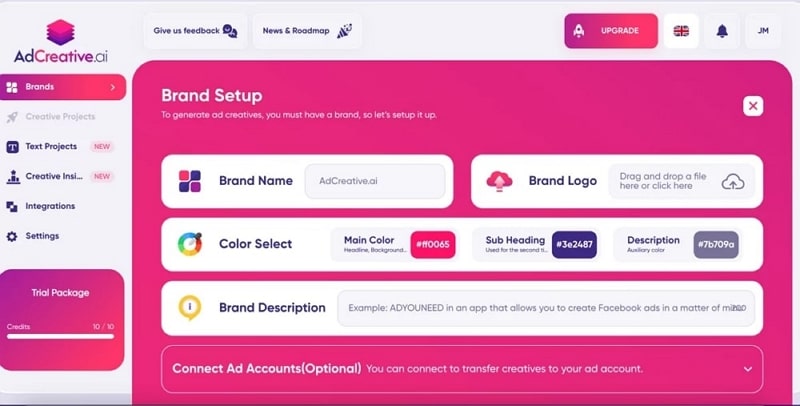 With AdCreative.ai, proceed to run AI-powered ads and social creatives to achieve your business objectives. Moreover, AdCreative.ai is amongst the best AI tools for digital marketing since it allows you to generate Ad creatives in the desired brand, size, text, and image. Thus, there's an option for customized Ad creatives that depend on your target audience's criteria.
Meanwhile, you will get up to a 14x high conversion rate when choosing AdCreative.ai for your marketing campaign. Subsequently, in just 2 minutes, your entire ad is created within the best tone and length.
Best Features
Generate High-Quality Creatives
Text and Headline Generation
Creative Insights Dashboard
Social Media Creatives
Platform Integrations
Pricing Plan
| | Starter | Premium | Ultimate | Scale-up |
| --- | --- | --- | --- | --- |
| Startups | $21 per month | $44 per month | $74 per month | $111 per month |
| Professionals | $141 per month | $186 per month | $229 per month | – |
| Agencies | $499 per month | $699 per month | $899 per month | – |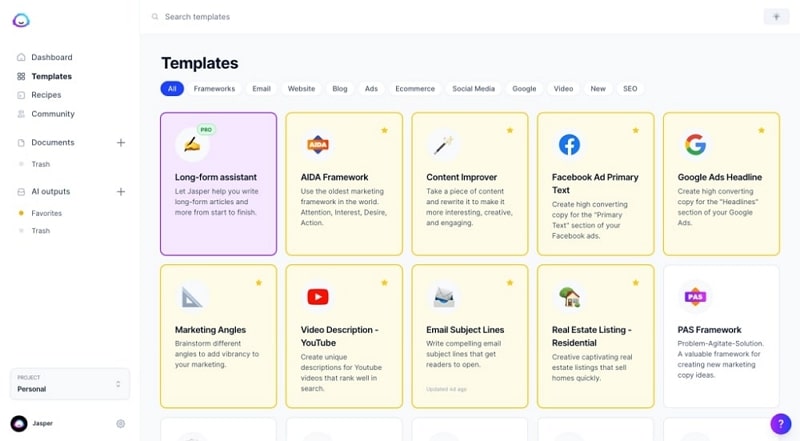 Write a perfect marketing copy that aligns with your business goals and objectives in a significant way. Overall, Jasper is rated among the best AI tools for marketing. Additionally, this is because Jasper can write convertible copies for your business through blogs, articles, website content, and more. In general, Jasper has more than 100,000 active customers that are making real-time content.
Besides, this platform offers a free trial for all new users. Moreover, Jasper is not only a language model; it also pulls functionalities from Anthropic, GPT-4, and Google's Models.
Best Features
Jasper API for Businesses
Browser Extension
Language Translation
Generate AI Art
Marketing Template Library
Pricing Plan
| Creator | Teams |
| --- | --- |
| $49/month | $125/month |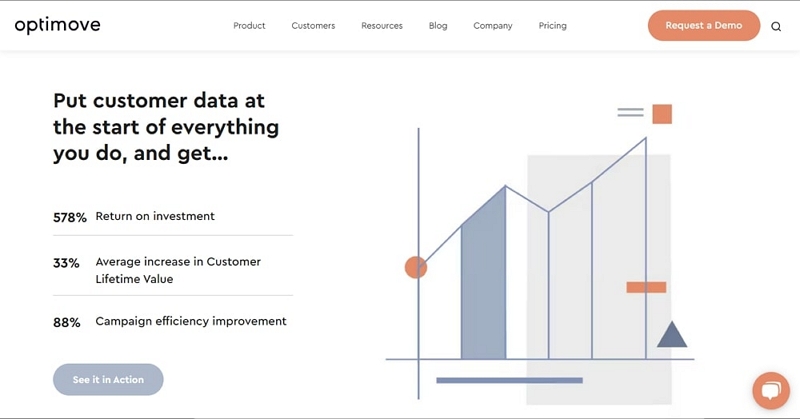 Known as a customer data platform that is tailored to provide AI-based marketing solutions, Optimove is among the recognized names as AI tools for marketing. Basically, Optimove's AI system collects data from different resources to provide collective information at a single dashboard. Meanwhile, businesses can use that particular information to analyze and assess the existing behavior of marketing trends.
The innovative AI tool, Optibot, will bring customer data across the internet for generating insights leading to action. In addition, the campaigns that will bring value to the business get suggested by the tool.
Best Features
Digital Ads
Real-Time CDP
Multichannel Decisions
External Integrations
Web Push and Pop-ups
Pricing Plan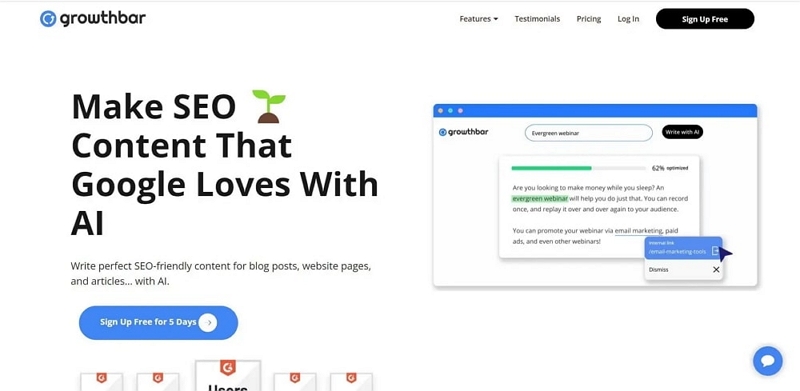 SEO is the way forward to rank your business higher in Google SERPs. But how to get your business ranked this high in search engines? With GrowthBar, you can do it convincingly. In general, this platform lies among the best AI marketing tools, and it helps make SEO content that Google loves.
Furthermore, through its advanced AI algorithms, GrowthBar scans the internet and derives SEO-optimized outlines for your blog, articles, or other promotional content. Additionally, this includes keywords, internal links, headings, etc.
Best Features
Team Collaboration
Audit Existing Blogs
Drag and Drop Blog Creation
Dashboard SEO Analytics
Custom AI Models
Pricing Plan
| Standard (Monthly) | Pro (Monthly) | Agency (Monthly) |
| --- | --- | --- |
| $29 | $79 | $129 |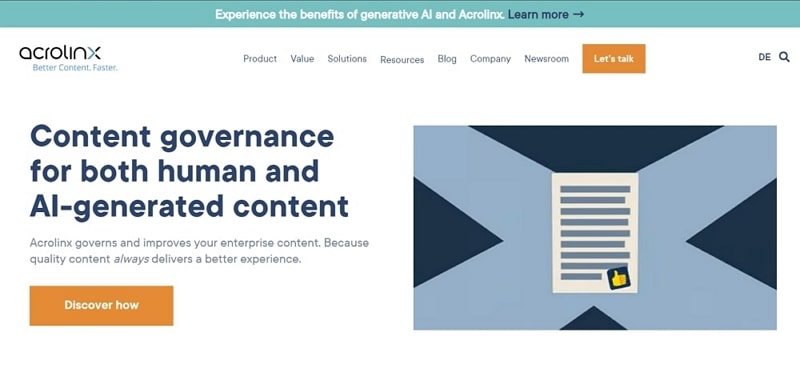 Get your enterprise or corporate content improved in a significant way with Acrolinx AI tools for marketers. Generally, smart generative AI is available to analyze and assess your content to offer suggestions for improvements. In fact, you can also write content that aligns with your brand goals while fulfilling your requirements.
Thus, you can set tone, grammar, style, or even company-specific requirements to get desired content results. Besides, this AI writing assistant won't disappoint at all.
Best Features
Content for Marketing Teams
Content for Product/Support Teams
Content Cube
Long-lasting Content Quality
Offers Different Integrations
Pricing Plan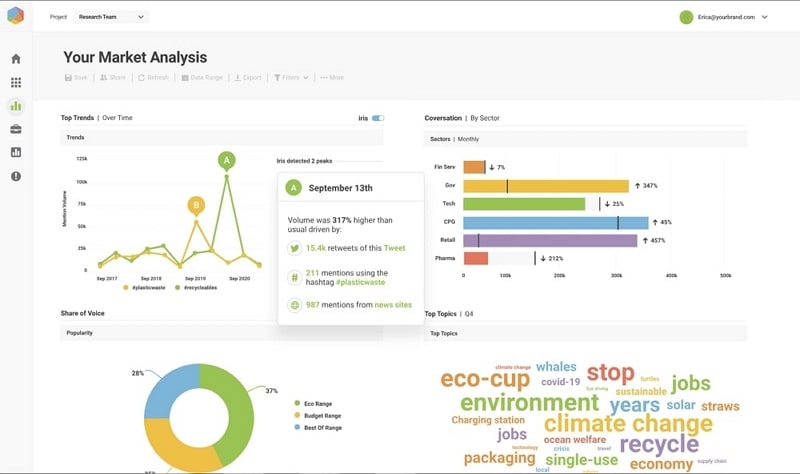 Brandwatch is a well-known consumer intelligence AI tool for marketing that gives businesses insights into what customers are talking about them. In addition, Brandwatch is also a dedicated social media management platform to help businesses scale their brands on different social media channels. Overall, this platform aims to combine consumer intelligence with social media.
Thus, deriving a collective strategy to help grow businesses with a sales-driven approach. Furthermore, Brandwatch conducts research, monitors brands, and creates winning content to achieve better ROI with streamlined marketing strategies.
Best Features
Social Inbox for Connection
Influencer Marketing
Generative AI
Real-time Alerts
Content Calendar
Pricing Plan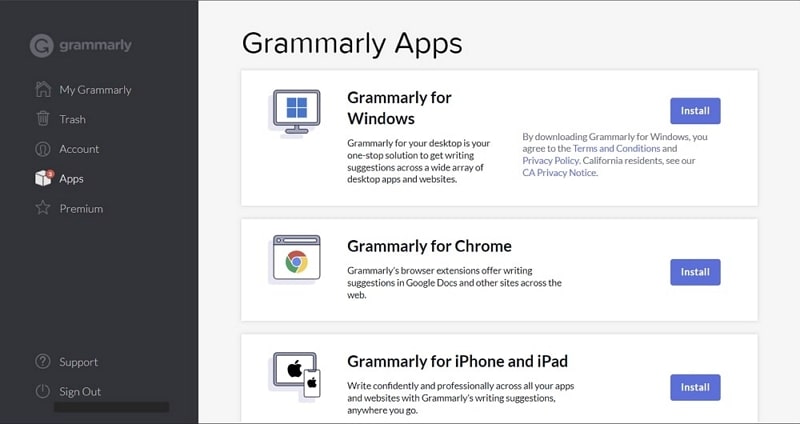 Improve the quality of your marketing copy using Grammarly AI marketing tools. Subsequently, this powerful AI content enhancer can polish your copies by detecting written mistakes, including spelling, grammar, punctuation, tone, clarity, and more. Meanwhile, it also provides real-time corrections on all detected mistakes in your content.
Thus, giving a more professional look to your brand copy. Moreover, Grammarly is available on both mobile and desktop platforms. Therefore, you can use it for content polishing anytime, anywhere.
Best Features
Grammarly AI
Plagiarism Checker
Essay Checker
Paraphrasing Tool
Analytics
Pricing Plan
Individual Plans
| Annual | Quarterly | Monthly |
| --- | --- | --- |
| $12/month | $20/month | $3/month |
Team Plan
| Grammarly Business | $15/month/meber |
| --- | --- |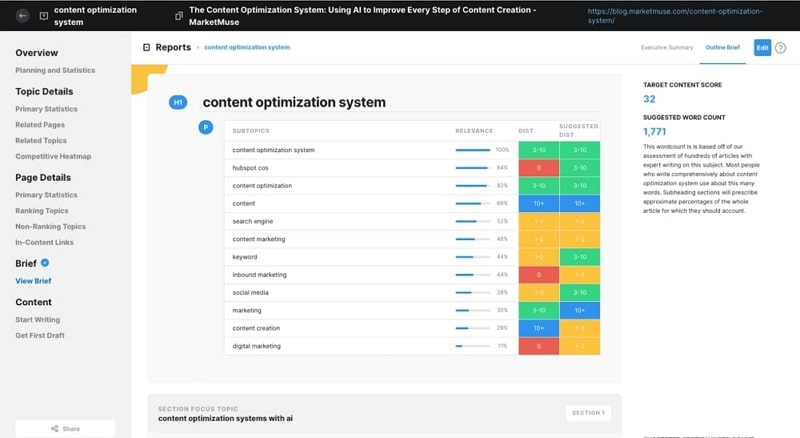 With MarketMuse, tailor your business website with result-oriented content. After all, this AI tool for marketing leverages smart AI solutions that examine your website to provide thorough insights with personalized strategies. Hence, you can plan and implement updated content much faster.
After all, with automated content audits, you'll quickly know what's required to change, as compared to manual standards. Ultimately, the right content is prioritized much faster and with a better approach. In addition, this leads to a better marketing strategy for your business.
Best Features
Data Visualization
Keyword Research
Content Planning
Competitive Content Analysis
Content Optimization
Pricing Plan
| Standard | Team |
| --- | --- |
| $149/month | $399/month |
Taking language translating solutions to the next level, DeepL is the right tool for businesses looking to scale globally, irrespective of language differences. Moreover, this marketing AI tool equips different languages, including Chinese, French, Dutch, German, Spanish, Portuguese, Swedish, Danish, Turkish, Japanese, and more. Meanwhile, DeepL cannot only translate text but also files and documents.
Although the result of the translation is not close to the native level, however enough for a native speaker to understand what is written. Furthermore, this platform is simple to use due to its user-friendly interface.
Best Features
AI Writing Companion
Language Auto-Detection
APIs for Integration
API Documentation
Chrome Extension
Pricing Plan
For Individuals and Teams
| Starter (Billed Annually) | Advanced (Billed Annually) | Ultimate (Billed Annually) |
| --- | --- | --- |
| $8.74/user/month | $28.74/user/month | $57.49/user/month |
For Developers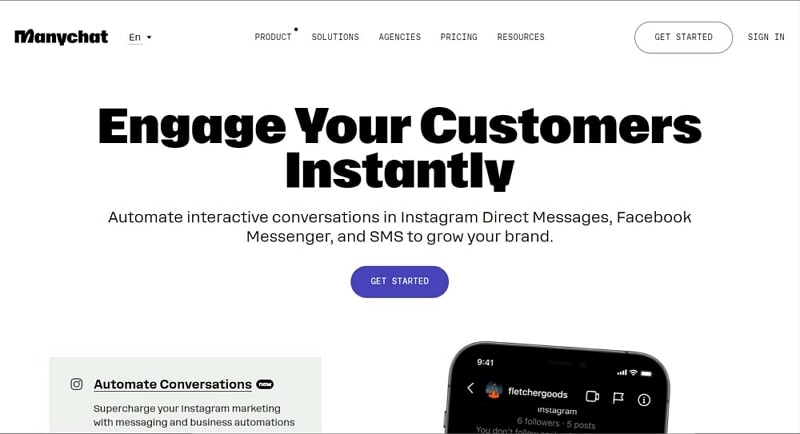 In the world of AI Chatbots, ManyChat is an established name and among the best AI tools for digital marketing. Hence, with ManyChat, you can instantly engage your customers with interactive conversations on channels like Instagram, Facebook, Messenger, and even direct SMS messages. So, if you're operating an e-commerce business on social media, you will get a lot of messages instantly and simultaneously.
With manual standards, it will become challenging to manage incoming messages. However, ManyChat will automate your replies with instant responses to all customers. Thus, improving the chances of converting potential leads to sales.
Best Features
Easy Tool Integrations
Ready-made Templates
Clickable Ads Leading to Messages
Multichannel Communication
Modifiable Interface
Pricing Plan
Why You Need to Use AI-Powered Marketing Tools
In today's digital age, the question isn't whether to use marketing tools, but which ones to employ. Among the myriad of options, AI Marketing Tools stand out, offering unparalleled advantages. But why should businesses integrate them into their business strategies?
AI Marketing Tools provide in-depth data analysis, enabling businesses to gain profound insights into their target audience. With predictive analytics powered by AI, companies can anticipate consumer buying behaviors, crafting more effective marketing campaigns as a result.
Moreover, automation is at the heart of AI tools. This means repetitive tasks, which once consumed hours, can now be executed in minutes, freeing up time for more strategic endeavors.
Personalization, a crucial aspect of modern marketing, is made more accessible with AI. These tools can segment audiences based on behaviors, preferences, and past interactions, ensuring that each communication feels tailor-made.
Lastly, the adaptability of AI tools ensures they evolve with changing market dynamics, ensuring businesses remain at the forefront of their industries.
In conclusion, the integration of AI Marketing Tools isn't just a trend; it's a necessity for businesses aiming for growth and relevance in a competitive landscape.
How to Use AI Tools for Your Marketing
Harnessing the power of AI Marketing Tools is pivotal for modern businesses to stay competitive. Here's how to effectively integrate Artificial Intelligence (AI) into your marketing strategies:
Data Analysis: Use AI tools to analyze vast amounts of data, uncovering patterns and insights that can inform your marketing decisions. This can help in predicting consumer behavior and tailoring campaigns accordingly.
Chatbots: Implement AI-driven chatbots on your website or social media platforms. They can engage with customers in real time, answering queries and providing instant support.
Personalization: AI Marketing Tools can segment your audience based on their behaviors and preferences. Use this information to deliver personalized content, offers, and ads, enhancing user experience and boosting conversions.
Content Creation: Some AI tools can generate content, from blog posts to video scripts, based on the data they've gathered. This ensures your content is always relevant to your audience.
Predictive Analysis: Use AI to forecast sales trends, potential market shifts, and customer preferences. This allows for proactive adjustments to your marketing strategies.
Incorporating AI Marketing Tools into your campaigns not only streamlines processes but also offers a more personalized and efficient approach to reaching your target audience.
ZEGOCLOUD AI Tool: Avatar to Build Virtual Human
Avatars refer to digital representations of individuals or even virtual characters from popular serials. In general, making your own avatar or designing a favorite character's avatar brings fun and entertainment at the same time. Hence, avatar apps are extremely popular these days. If you want to build your own avatar app with minimal resource utilization, choose ZEGOCLOUD AI+TTS Avatar SDK.
Moreover, ZEGOCLOUD is an industrial-grade SDK for building avatar apps in just minutes. Thus, with simple integrations of existing UIKits and components, you can build virtual avatar apps. This means you don't need to code the entire avatar application from scratch.
In addition, the ZEGOCLOUD avatar comes with facial expression mirroring, speech simulation, gesture, and body pose recognition. Furthermore, you can also organize virtual meetings and virtual live streaming in metaverse-like virtual worlds where other avatars also hang out. Of course, you can style your avatar in different clothes and facial parameters.
Read more:
Talk to Expert
Learn more about our solutions and get your question answered.
Talk to us
Take your apps to the next level with our voice, video and chat APIs
10,000 minutes for free
4,000+ corporate clients
3 Billion daily call minutes