As the world is rapidly shifting towards AI content generation techniques while leaving behind self-written content development, the need for AI detection tools is also rising. After all, it's essential to detect the originality of content, for which AI detection tool greatly assists. Remember, Google de-ranks websites with solely low-quality AI content, so you must know where your content stands. This article discusses 10 AI detector tools listed for you.
10 Amazing AI Detector Tools (Free and Paid)
Although AI content can be made faster without putting much effort, it still isn't the right way to proceed. Hence, there exist several AI checker tools that can detect AI content at a go. Let's find 10 popular AI detector tools to get started: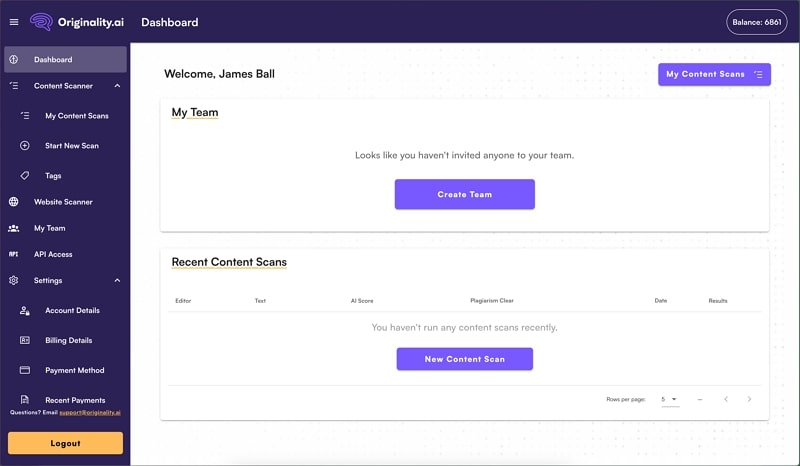 Originality.ai is recognized as the top AI detection tool on the internet. Secondly, this tool is known to provide accurate AI detection from content generated on ChatGPT and GPT-4. So, if you're a web publisher using AI content, Originality.ai will help you know where your content stands in terms of AI presence. Moreover, it provides the feature of scanning the whole website for AI content detection.
Key Features
Plagiarism Checker Available
Free Chrome Extension
Check Readability Score
Pros
Fast and Efficient
Team Management
Shareable Reports
Con
Occasionally Incorrect Flag Content
Pricing Plan
$0.01 per 100 Words Checked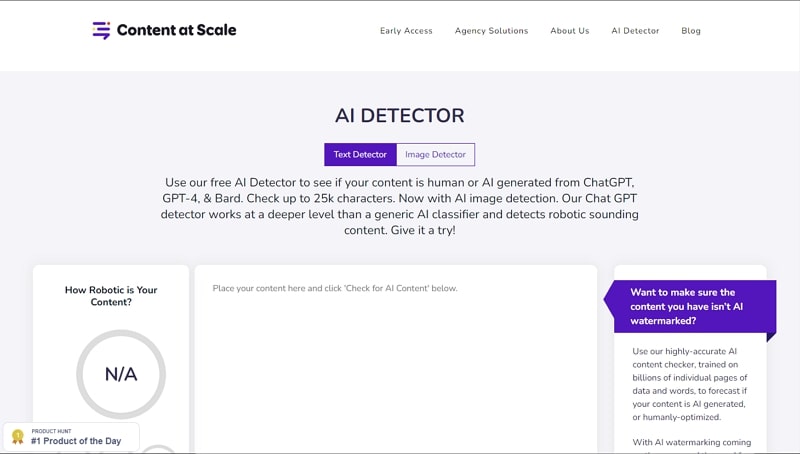 Check the originality of your content in a few seconds with the Content at Scale AI detector tool. Hence, by using this AI detector, you can determine whether your content is human-generated or AI-generated. In general, this ChatGPT detector takes deeper insights into the content. In a single search, you can detect content up to 25000 characters.
Key Features
Test Tool with Dummy Text
3 AI Engines Used
API Available on Request
Pros
Image Detector is Also Available
Specialized Agency Solutions
Scans All Content Types
Con
Built-in SEO Tools are Not Reliable
Pricing Plan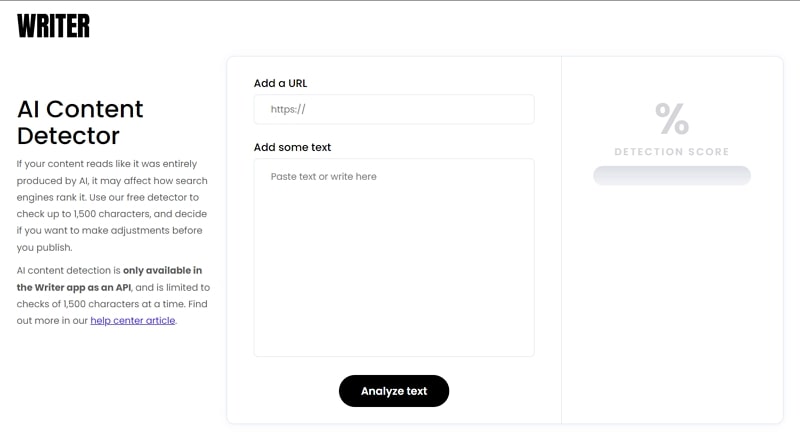 AI content detection becomes simpler and smarter with Writer free AI detection tool. Generally, you can test your content's originality by detecting the level of robotic content in it. This way, as a content publisher, you can maintain your website's ranking in search engines. Overall, using this AI detection tool is very simple and easy. Everyone can use it for their specific purposes.
Key Features
Type Text or Add a URL
Check 1500 Characters At Once
Writer for Figma
Pros
Enterprise-Grade Security
Better AI Content Generator
Writer for Chrome
Con
Pricing Plan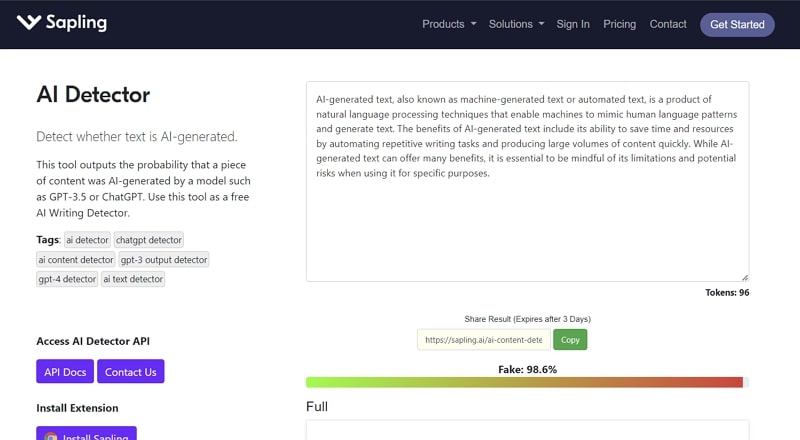 Continue to detect ChatGPT or GPT-3.5 generated AI content with ease while using Sapling.ai. Basically, this is a free AI content detector tool that you can use to test how robotic your written content is. Ensure to provide text with more than 50 words, offering accurate AI detection. The token count, which is an approximate word count, get displayed as an output score.
Key Features
Upcoming Support for GPT-4
Grammar and Writing Assistant for Chrome, Google Docs, Outlook, and Word
Copy the Link to Share the Results
Pros
Quick and Efficient Detections
User-friendly Interface
TLS (HTTPS) and AES-256 Encryption
Con
Pricing Plan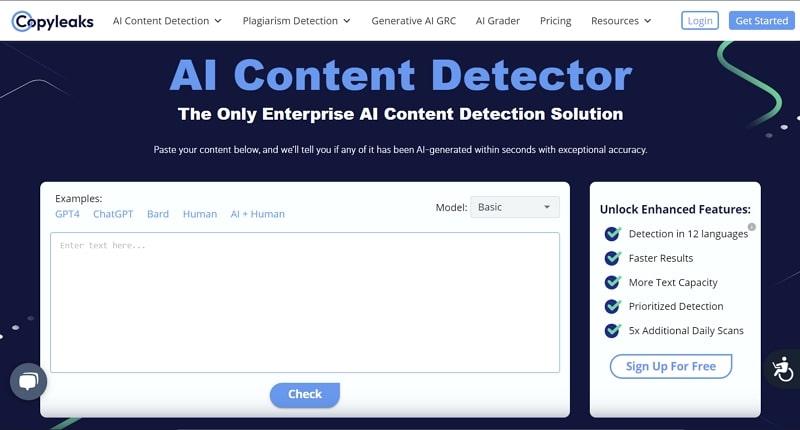 Copyleaks is an ideal solution for all content marketing agencies that need bulk AI content in a short span of time. For testing the content's originality and determining how robotic it is, Copyleaks is a trusted solution. Moreover, this AI detection tool provides 99.1% accuracy in detecting content from GPT-4 and Bard. Meanwhile, this tool can also detect paraphrased AI content.
Key Features
GDPR Compliance and SOC2 Certified
Basic and Enhanced Model for Checking Content
Detects in 12 Multiple Languages
Pros
Detects Plagiarism
API and LMS Integrations
Chrome Extension
Con
Pricing Plan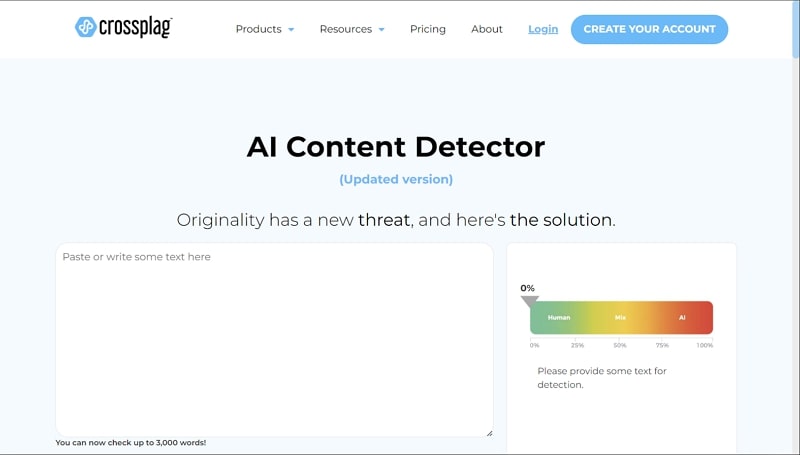 With Crossplag, AI content detection is now easier and smarter. After all, this AI checker tool provides AI content detection with maximum accuracy. Simply paste your text up to 3000 words and begin the scanning process. Consequently, you will get your results within a few seconds or minutes. The available scoring bar will let you know how robotic or human your content is.
Key Features
Clear Text Option
Trained on More Than 1.5B Parameters
Easy-to-Use Platform
Pros
Plagiarism Detection
Dedicated Customer Support
Single Button Press Scanning
Con
Room for Accuracy Improvement
Pricing Plan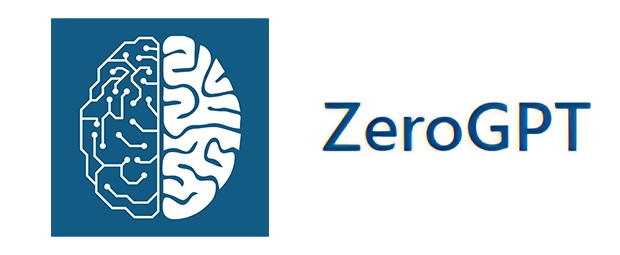 Whether you're a writer, educator, student, or professional, ZeroGPT is an excellent assistance in scanning and detecting AI-generated content within your documents. Generally, when you use this free AI content detector tool, it becomes clear whether your content is human-written or AI-generated. Interestingly, ZeroGPT comes with 98% accuracy when detecting AI content.
Key Features
Text Privacy Maintained
API Integration Available
Multi-language Detection
Pros
Add text or Upload Files
Simple and Clean Interface
AI Percentage Gauge
Con
Content Analysis Not That Much Unreliable
Pricing Plan
Detect ChatGPT content with reliable yet accurate results using the SEO.AI AI detector tool. Henceforth, you'll be able to know if your content is human-centric or AI-generated. Furthermore, there exist 4 different AI models by which your text gets detected. Thus, you can expect accurate results with the right probability levels. Overall, you can detect text with up to 5000 characters at once.
Key Features
AI Writing
SEO Automation
AI Keyword Research
Pros
Free Demo Available for Other Features
Rich Formatting of Generated Content
SERP Analysis
Con
Only Supports the English Language
Pricing Plan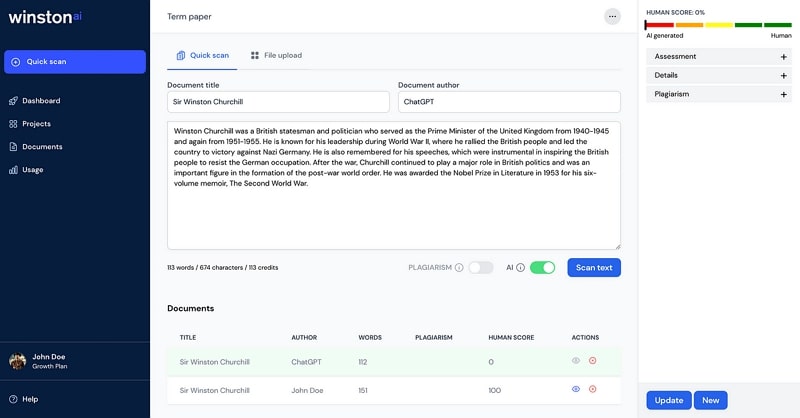 Winston AI is a powerful solution to detect AI-generated content from platforms like ChatGPT, Copy.ai, Jasper, RYTR, and more. To begin with, the Google search engine can de-rank websites with AI-generated content. Thus, using Winston AI as an AI detection tool is the ideal way to proceed. Apparently, you can add text or upload .docx, .pdf, .png, and .jpg files for AI content detection.
Key Features
OCR Technology
Plagiarism Checker
Generate Reports for Print
Pros
English and French Supported
Free trial available
Email and Chat Support
Con
Pricing Plan
Growth: $18/Month
Essentials: $12/Month/Annually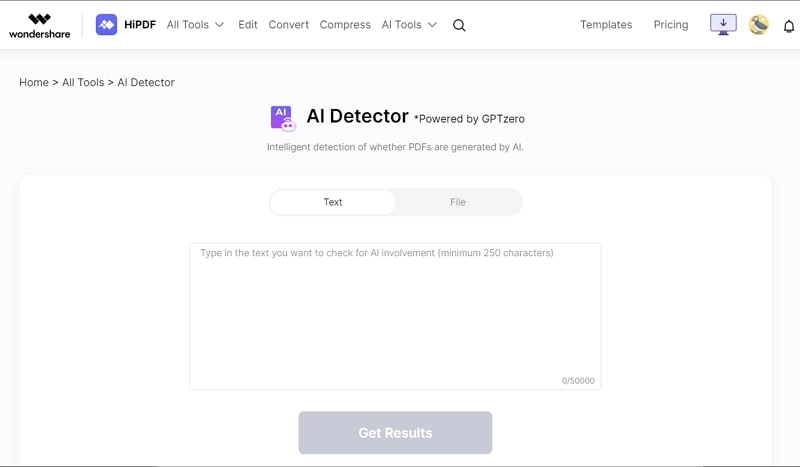 Also known as an online PDF tools hub, HiPDF is a result-oriented free content detector tool. In general, while using this tool, you can efficiently detect AI-generated content from your PDF documents. Each word in a sentence gets analyzed, and therefore, the likelihood of AI text gets detected. Furthermore, AI detection gets carried out efficiently with fast results.
Key Features
Average Perplexity Score
Burstiness Score
Allows Checking 50,000 Characters for Each PDF
Pros
Free Trial Available
Chat with PDF
Powered by GPTzero
Con
Only Allows Uploading PDF Files
Pricing Plan
Monthly Plan: $5.99
Annual Plan: $3.33/Month
Conclusion
To summarize, detecting AI content is essential since most search engines prohibit using AI-generated content. Of course, you want to avoid your website getting de-ranked; hence detecting AI content is definitely ideal. For this purpose, you discovered the list of 10 best AI detection tools in this article.
Indeed, you need to test AI content generation, but there's a way to make your website more intuitive. This is by integrating virtual avatar SDK from ZEGOCLOUD, which is a popular API/SDK platform. Ideally, you can perform automatic or manual avatar generation, apply different clothes, and experience speech simulation and facial expressions with body synchronizations. Moreover, your website will become more extensive with ZEGOCLOUD virtual avatar.
Talk to Expert
Learn more about our solutions and get your question answered.
Talk to us
Take your apps to the next level with our voice, video and chat APIs
10,000 minutes for free
4,000+ corporate clients
3 Billion daily call minutes