Have you ever tried to make your virtual self with a 3D avatar creator? From social to messaging apps, creating avatar for the digital world is now the new normal. Interacting behind the cartoonish version of oneself enlivens the web and gives it a personal touch. Today, digital frontiers take it further, and turning yourself into a three-dimensional virtual character is possible.
All you need is a good-quality frontal photo of your face and an excellent online service to create it. So let's find out what 3D avatar maker you can try for the best.

Top 7 3D AVATAR Creators to Make Avatar
This 3D avatar creator generates animated and talking avatars, starting from a simple personal photo.
To use it, you must visit the Photo Face site, and as you will immediately notice, it requires you to have Flash Player installed on your PC. Nevertheless, getting oriented on the homepage is simple. A series of buttons direct you to the different ways of uploading images. You can upload a file from your PC or the Internet or take it on the spot. Immediately after that, you can preview your 3D avatar, which you can customize and even disguise as a celebrity.
To have your 3D character speak, click the add audio section, upload a file, record a new one, or write text for your 3D avatar to tell. Once you have finished customizing, you can save your avatar as an image or video by clicking download image or download video. Alternatively, you can share your avatar via email, Facebook, direct link, or embed code.
It's a unique 3D avatar creator online app that can turn your photo into a three-dimensional avatar while giving it a twist inspired by James Cameron's famous movie, Avatar.
Again, your pc must have Flash Player. The app is simple and intuitive: upload a photo, place the face correctly, and select the genre and favorite character from the series, complete with emoticons and a custom background. To download the created 3D avatar image, click the share button and then the download button. You can also share it on social media.
Union Avatars is a good tool for creating realistic characters for your virtual worlds and metaverses.
Simple to make, you can get your 3D avatar in real time by uploading your photo in a few moments. Export your representation and use it in video games, virtual and augmented reality applications, or the metaverse.
To get started, you must create an account and follow the steps to create your 3D avatar from your image. A unique feature of this 3D avatar creator online is the UnionID option that, alongside the 3D virtual character, makes an authentic digital identity with blockchain technology. An identity that users control entirely and then take to other platforms and dispose of their assets and data.
In three steps, Ready Player Me 3D avatar creator online makes a beautiful digital version of yours. Just enter the homepage, click the create an avatar section and follow the instructions. After uploading or taking a picture of yourself, you can customize every aspect of your body and face, from hair to skin color to outfit.
Once finished, click claim it, and the window will open to sign up with your email and get your avatar that you can download, share on social or use directly from the site in numerous supported apps and games.
One name at the forefront of 3D avatar creators is TaFi Avatar. The company creates custom avatars and digital content to enrich user and customer identities.
Their Astra SDK is designed for developers who want to monetize a full-body 3D avatar creation experience for games and applications on mobile, desktop, and VR/AR devices. It makes art its workhorse and allows for creating excellent quality and creative avatars alongside other token digital assets such as NFTs.
However, they mainly work with other companies-otherwise they have high-level collaborations-and developers, so it is not helpful for the end consumer who wants to make their avatar and use it elsewhere, like the services listed above.
Wolf3d.io also offers SDK/API for avatars that helps developers create personal 3D avatars of their users from photos.
It works on multiple platforms and desktop, web, and mobile. You must submit a photo to get a perfect virtual avatar in 5 seconds. Among other things, the service offers 2D rendering of avatars for use in games, apps, or websites. Adaptable as profile photos and stickers.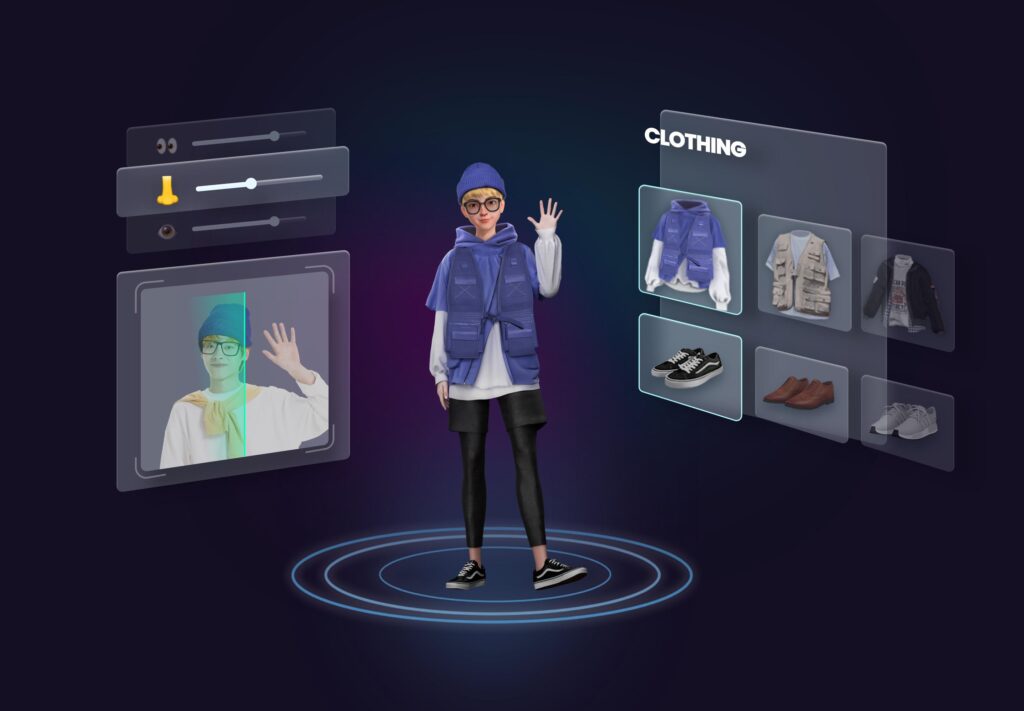 Another popular and free 3D avatar creator online is IMVU. Once you sign up for the site, you have total creative freedom to model your 3D avatar and make it look exactly the way you want.
IMVU has more than 40 million digital pieces in its collection, probably one of the largest digital catalogs in the industry; therefore, difficult for a customized 3D avatar to look the same as others. Users can customize and change avatars with various hairstyles, clothes, shoes, and accessories.
Click on create an avatar to get started and enter through email or Facebook. Once you have completed your avatar, you can save it by registering on the site. In this case, you can't start with a photo of yourself to create the avatar, but you can certainly make it more realistic and similar to you with the countless features.
There are other exciting services and software to create a 3D avatar to identify yourself in the virtual world—so many apps available for free in the app stores on smartphones.
Most Recommended 3D Avatar Creator – ZEGOCLOUD
One cutting-edge 3D avatar creator online is ZEGOCLOUD. Based on powerful artificial intelligence algorithms, with ZEGOCLOUD's avatar creator, you can create the perfect avatar for your social media, games, virtual events, and other applications.
With accurate facial feature recognition, the solution quickly generates a 3D face model based on the photo. Adjusting the multidimensional parameters of facial features gives each one a unique avatar and accurate self-portrait.
In addition, with numerous options, including clothing, accessories, and virtual makeup, you can unleash your customization.
The main features of ZEGOCLOUD's 3D avatar creator are:
Facial expression mirror, capturing users' facial expressions in their avatar in real-time
Vocal Simulation
Gesture recognition
Body pose recognition.
In short, you can create an avatar suitable for multiple contexts, from virtual karaoke to video games, via live broadcasts and video conferences. The product aims at developers and those who want to integrate ZEGOCOUD's unique 3D avatar creator, but anyone can try the software.
To try it out, click get started for free on the product page and sign up for the site's console.
You can download the app to your smartphone and have fun with your 3D avatar!
Talk to Expert
Learn more about our solutions and get your question answered.
Talk to us
Take your apps to the next level with our voice, video and chat APIs
10,000 minutes for free
4,000+ corporate clients
3 Billion daily call minutes