Tamatem Games is the leading mobile games publisher in the MENA region with more than 150 million game downloads since its launch in 2013. The demand for mobile games and entertainment is higher than ever and the publisher works to serve a market that craves relatable and culturally relevant mobile gaming content published in the local language.
In addition to offering localization & translation services, Tamatem Games also extends expertise in game design, marketing, social media, distribution, data analytics, monetization, and community support to its partners. Tamatem Games is currently focused on expanding its product suite and recently launched Tamatem Plus- a platform that offers Arab players the ability to top up their accounts using their preferred local payment method and therefore gives access to mobile game developers to an untapped market.
The Trends
Social games have gained immense popularity recently, particularly in the MENA region. Three key phenomena can be observed:
Realism in voice chat: Open voice chat creates an authentic and engaging experience for players, enhancing the social experience of gaming compared to text messaging or emojis.
Social bonds: Through shared gaming experiences, players can connect with others with similar hobbies and interests and develop lasting relationships with potential gaming partners.
Monetization for the app: Maintaining continuous voice communication during gameplay can lead to increased user activity and longer session times, generating revenue through payment points based on solidified social relationships, such as gift-giving and VIP room subscriptions.
The App
"With Wanas, our vision is to create a thriving community where players can connect, communicate, and enjoy their favorite games together, fostering meaningful relationships and memorable experiences in the gaming world." – Abdullah Bustami, Product Manager of Tamatem Games
Following these trends, Tamatem launched Wanas, which offers a unique platform where players can meet new people, create chat rooms, share their thoughts, explore new interests, and expand their social networks. Designed as a welcoming community for all, Wanas enables users to connect with individuals from around the globe and create their own personalized worlds. In addition to fostering new friendships, Wanas features the trendy strategy board game, Ludo, allowing users to enjoy a stimulating gaming experience as they bond with others.
Ludo is essential for Wanas, as:
Ludo's popularity stems from its simplicity, which appeals to players of all ages and backgrounds. The game's social aspect, which allows players to connect with strangers, is also a critical factor in its appeal. The stronger the social interaction, the longer the average daily usage of the app. On average, Ludo users in the market play for 45 minutes to 1.5 hours each day.
The original offline setting for Ludo involved several people gathering around a board to play the game while engaging in conversations and social interactions. The ability to replicate this social environment in an online setting is crucial to the game's success. The more closely the online version of the game can mimic the offline experience, the more likely it is to attract and retain players.
Key Features of Wanas
Voice chat highlights:
Public chat rooms to engage with diverse users
Private & VIP chat rooms to enjoy exclusive discussions
Real-time voice chat to communicate seamlessly
Browse rooms by country or subject to connect with like-minded individuals
Send virtual and animated gifts to express emotions
Additional features:
Make new friends while playing Ludo using voice chat
Share thoughts on music, culture, games, sports, and more in real-time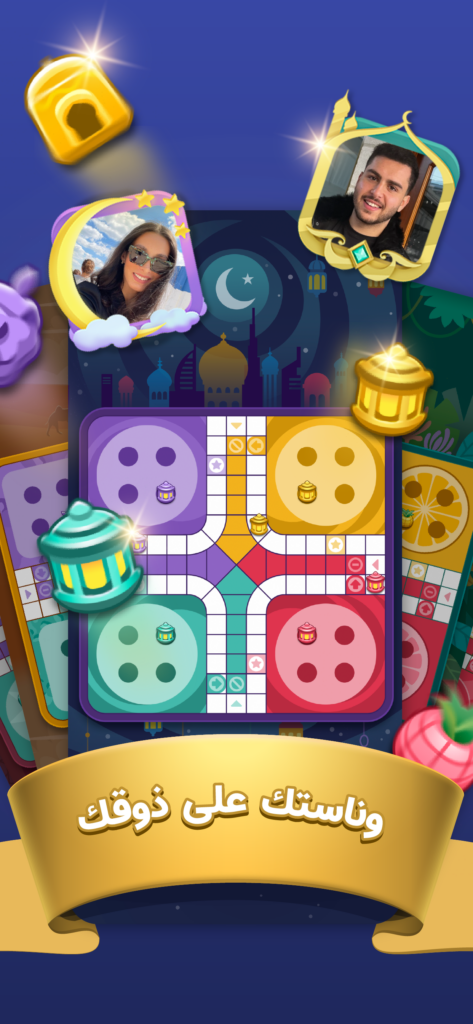 The Requirements
With the vision of creating a thriving user community based on gaming + voice-based social interaction, Tamatem Games is seeking an experienced and reliable provider to assist them in developing a high-quality product to guarantee a seamless and captivating gaming experience for its users, including the ability to socialize with other players via voice communication.
The requirements are:
Cross-platform compatibility: Wanas is developed using the Unity framework.
Comprehensive voice chat room functionality: The app could be quickly developed and launched to market.
Excellent audio quality and high concurrency support.
The ZEGOCLOUD Solution
Solution Highlights
Unity API encapsulation: ZGOCLOUD Voice Call SDK encapsulates the Unity API, simplifying the integration of voice call functionality into Unity-developed games without the need for complex integration work using a Native SDK.
Mature voice chat room solution: Utilizing ZEGOCLOUD's years of experience in serving Yalla Ludo and deep understanding of customer needs, ZEGOCLOUD provides a comprehensive Unity-based solution for voice chat rooms. This includes handling complex issues such as managing multiple audio channels and ensuring audio remains active when the app is in the background. The solution enables customers to swiftly create a marketable multi-person voice chat scenario.
Uninterrupted gaming experience: ZEGOCLOUD continuously optimizes its audio algorithms to minimize the required CPU, memory, and network resources. Additionally, it provides automatic connection recovery and intelligent platform audio management to ensure seamless communication.
Crystal-clear voice: ZEGOCLOUD supports 48Hz full sampling, providing high-quality and real-time audio communication with end-to-end latency as low as 79ms.
Live atmosphere with sound effects: ZEGOCLOUD offers an audio effect player that ensures compatibility between real-time voice and game sound effects, preventing distortion of the game's sound.
Support Highlights
Multi-faceted support to ensure that customers receive the best possible service at every stage of their journey:
Pre-sales architects and technical leaders will work together to understand customer needs and provide industry analysis and technical solutions tailored to their requirements.
Technical support will be available during the integration phase to ensure a seamless implementation process and quickly address any issues.
Customer success specialists will continue to follow up with customers to provide ongoing advice on industry scenarios and solutions, ensuring that customers receive the guidance they need to succeed.
2. A dedicated technical support team is always available to respond promptly to customers' inquiries or concerns, ensuring a timely and effective resolution to their issues.
"ZEGOCLOUD's solution played a critical role in the rapid development and launch of Wanas. The seamless integration of voice chat functionality and excellent audio quality have resulted in a captivating and uninterrupted gaming experience for our users. We look forward to a win-win future with ZEGOCLOUD." – Abdullah Bustami, Product Manager of Tamatem Games
Talk to Expert
Learn more about our solutions and get your question answered.
Talk to us
Take your apps to the next level with our voice, video and chat APIs
10,000 minutes for free
4,000+ corporate clients
3 Billion daily call minutes