VOOHOO Live is a live-streaming app that allows individuals to showcase their skills, capture special moments, and connect with new friends. The app empowers people by enabling them to share their talents through live streaming.
The Trends
The Indian creator economy is experiencing a significant upswing. This term describes the community of creators, influencers, and content producers who earn income by creating and sharing content on digital platforms. In particular, on social media, video sharing, and live streaming apps.
The growing internet and smartphone usage in India have propelled the expansion of the creator economy. A study conducted by consulting firm Omidyar Network India and venture capital firm RedSeer predicts that the creator economy in India will increase to $16 billion by 2023, growing at a 25% compound annual rate. Flexible work hours, remote work opportunities, and a renewed focus on individual passions facilitate this growth.
Despite the rapid expansion of the creator economy in India, significant challenges remain. One major issue is the lack of proper monetization models, which hinders creators' ability to generate income from their content. Additionally, many creators need help identifying the best platforms for monetizing their content. Thus highlighting a need for greater education and resources.
The App
"In my view, social media platforms–particularly live streaming services–have tremendous potential further to advance the digital economy in the coming years. I have always maintained that both established and new content creators can unite audiences by building communities, and my team has strived to provide them a venue and a means to transform their talents into income."

-Aditya Jangid, Founder & Director, VOOHOO live
To inspire and nurture up-and-coming talent within its community, VOOHOO Live strives to make live-streaming simple and accessible anytime, anywhere. The app continues to evolve by incorporating new features such as 3D virtual gifts, animated stickers, and real-time Like Meter. This indicates viewer engagement – designed to encourage emerging content creators and foster an engaging environment for all members.
Key Features of VOOHOO Live
WOW Battles (Coming Soon): Streamers can engage in a fun competition where viewers show support by sending gifts, increasing both streamers' audiences and chances to stream more often.
Earn Money: Gifts received during live streams convert to virtual coins that streamers can later redeem for real money.
Group Calls: Streamers can add up to 3 viewers to their live stream for a joint video or audio stream, engaging with their audience.
Mini-Games: The platform offers five mini-games (Teen Patti, 7Up 7Down, Car Race, Cricket, and Roulette) for streamers to play with their viewers, allowing players a chance to double their coins with each turn.
StarBoard: VOOHOO live has a leaderboard that displays the top hosts, fans, and spenders for the day, week, and month. This feature encourages viewers to support their favorite hosts and rewards the most active and engaged fans by displaying their names on the leaderboard.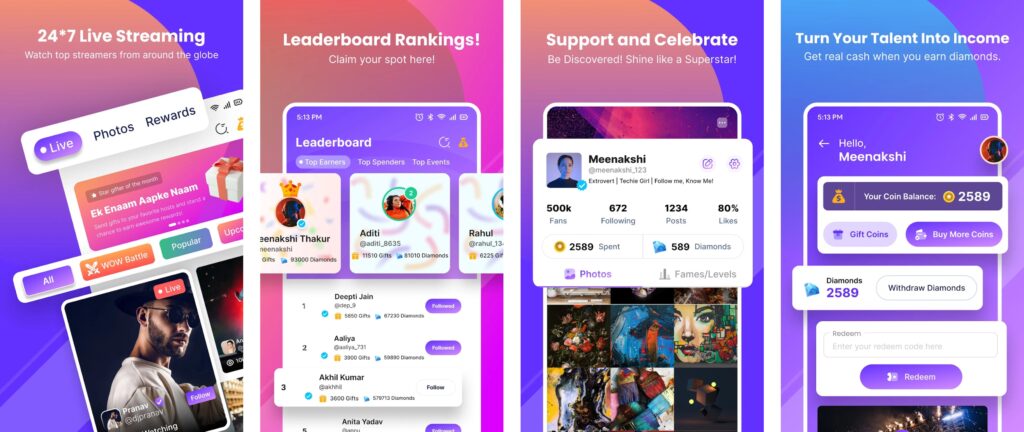 The Requirements
To establish an inviting community where users and creators can bond through entertainment, spread joy, foster connections, and also generate income while doing all of these, VOOHOO Live has the following requirements:
The platform should have group video calls, live streaming, and in-app chat to enable rich user scenarios.
The platform should provide interactive features like co-hosting, live battles, and virtual gifting to enhance audience engagement and participation.
Reliable, high-quality video and audio streaming.
A reasonable pricing model that can adjust as the business expands.
In-time technical support and expertise in technical solution design.
The ZEGOCLOUD Solution
Products Used:
Solution Highlights
Live battles
Co-hosting
Virtual gifting
Group chat and call
Instant video loading
Virtual gifting within live streams is vital to VOOHOO, as the feature aims to provide a revenue stream for live streamers through viewers' engagement.
Popular virtual gift effects animation files. VOOHOO live can purchase these special effects animation files directly on the ZEGOCLOUD platform without finding professional designers, saving time and labor costs.
A comprehensive solution for sending, rendering and playing virtual gift effects, which can be quickly integrated through ZEGOCLOUD documentation.
Support Highlights
Multi-faceted support to ensure that customers receive the best possible service at every stage of their journey:

Pre-sales architects and technical leaders worked together to understand customer needs and provide industry analysis and technical solutions tailored to their requirements.
Technical support was available during the integration phase to ensure a seamless implementation process and quickly address any issues. During the integration and testing of the virtual gifting feature, issues such as slow animation loading, unclear animation rendering, and no sound during animation playback occurred. ZEGOCLOUD tech support team promptly helped troubleshoot and provided quick feedback, significantly boosting feature integration efficiency.
Customer success specialists continue to follow up with customers to provide ongoing advice on industry scenarios and solutions, ensuring that customers receive the guidance they need to succeed.

A dedicated technical support team is always available to respond promptly to customers' inquiries or concerns, ensuring a timely and effective resolution to their issues.
Talk to Expert
Learn more about our solutions and get your question answered.
Talk to us
Take your apps to the next level with our voice, video and chat APIs
10,000 minutes for free
4,000+ corporate clients
3 Billion daily call minutes