Looking for the best video meeting app to enhance your virtual communication in 2023?
This article has rounded up the top five video meeting apps with feature details. Whether you're a remote worker, a student, or a business owner, these apps will help you stay connected and productive while working from home or on the go.
1. Skype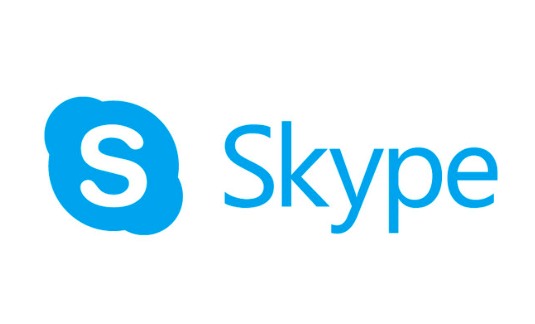 Skype has been around for quite some time, and it's still one of the most reliable video meeting apps. It offers a range of features, such as screen sharing, file sharing, and instant messaging. Skype also provides high-quality video and audio, which is essential for effective communication during virtual meetings. Skype is an excellent video meeting app for personal or professional use.
2. Zoom
Zoom is one of the most popular video meeting apps, and for a good reason. Its user-friendly interface makes it easy to join meetings, host webinars, and collaborate. Zoom provides many features, such as screen sharing, virtual backgrounds, and breakout rooms. With its advanced security settings and encryption, you can be assured that your meetings will remain private and secure.
3. Jitsi Meet
For those seeking a video conferencing solution that's both cost-effective and easy to use, Jitsi Meet is a top pick. It is an open-source video meeting app you can access directly from your web browser. With its user-friendly interface, you can enjoy screen sharing, live streaming, and chat features. This app is an excellent option for a fuss-free yet practical virtual communication experience.
You may also like: How to Build Video Call Apps Like Jitsi Meet
4. GoToMeeting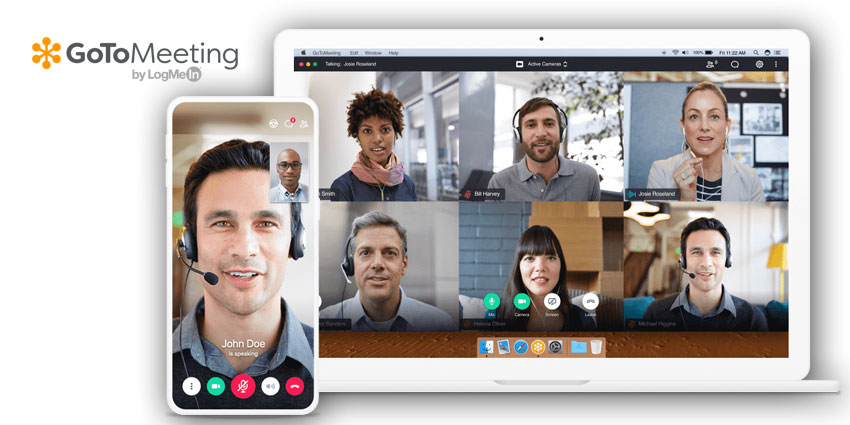 GoToMeeting is a reliable video meeting app with features like screen sharing, recording, and drawing tools. It also offers a range of integrations with other productivity tools, such as Microsoft Office and Salesforce. GoToMeeting provides high-quality video and audio, making it an ideal choice for virtual meetings and webinars.
5. Webex by Cisco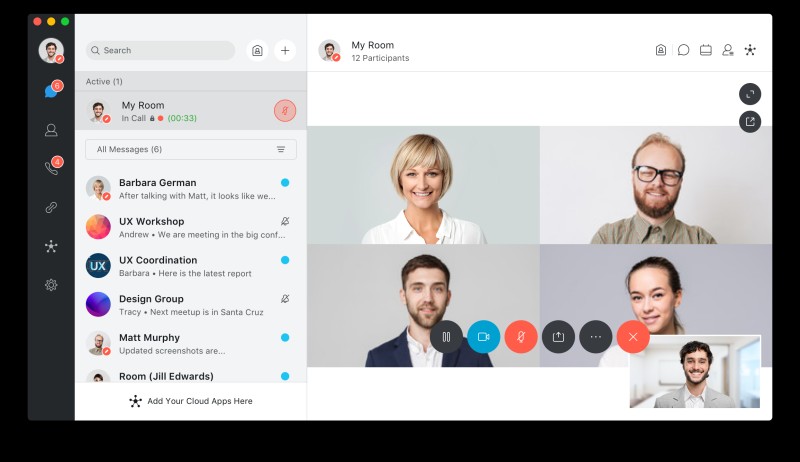 Webex by Cisco is a popular video meeting app with features like screen sharing, virtual backgrounds, and hand raising. It also provides a range of advanced features for more significant virtual events, such as breakout rooms and live polling. Webex by Cisco ensures that your meetings are always secure with advanced security features, including end-to-end encryption.
How to Build a Video Meeting App with ZEGOCLOUD
ZEGOCLOUD provides developers with pre-built UIKits that can be customized to create a unique video meeting app. These UIKits include essential features such as messaging, calling, video conferencing, etc. With these UIKits, developers can quickly build custom video meeting apps with prebuilt UI components that cater to specific needs.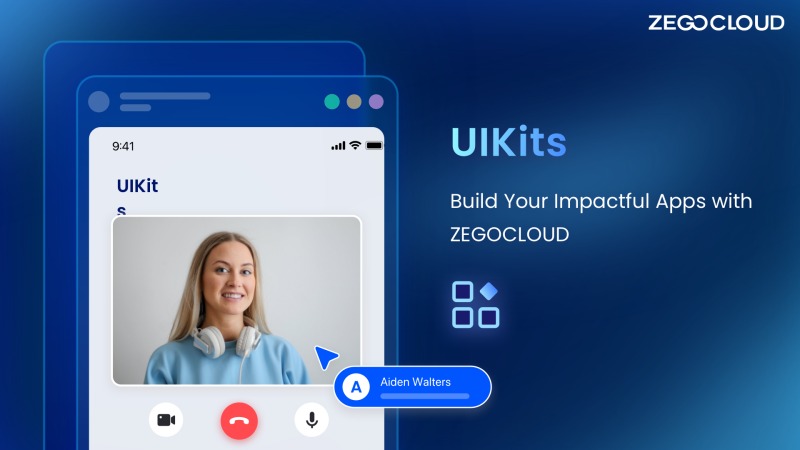 Video Conferencing Kit for Video Meeting App
ZEGOCLOUD's Video Conferencing Kit is a type of UIKits designed to help developers create high-quality video conferencing apps.
Features of ZEGOCLOUD Video Conferencing Kit
1. Video and Audio Quality
ZEGOCLOUD's Video Conferencing Kit offers high-quality video and audio, enabling crystal-clear communication. It utilizes advanced codecs to ensure minimal latency and smooth streaming.
2. Screen Sharing
The Screen Sharing feature allows users to share their screens with others in the meeting. This is particularly useful for presentations, remote work, and collaborative projects.
3. Virtual Backgrounds
ZEGOCLOUD's Video Conferencing Kit allows users to choose from various virtual backgrounds to make their meetings more engaging and fun.
4. End-to-End Encryption
ZEGOCLOUD's Video Conferencing Kit ensures all meetings are secure and private with end-to-end encryption. This feature provides an added layer of protection for sensitive discussions and confidential information.
Steps on How to Build a Video Meeting App with ZEGOCLOUD
1. Sign up or log in to the ZEGOCLOUD admin console
This is the first step in creating an app on ZEGOCLOUD. You must create an account and log in to the admin console to access the app creation tools.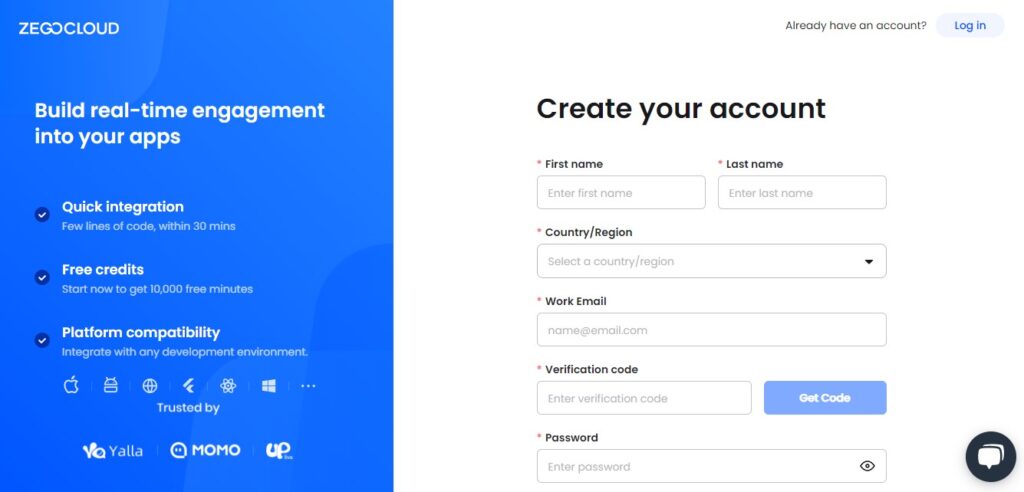 2. To begin, create a "New project" in the admin dashboard.
Once logged in, you can create a new project by clicking the "New Project" button in the admin dashboard. This will start the process of creating a new app.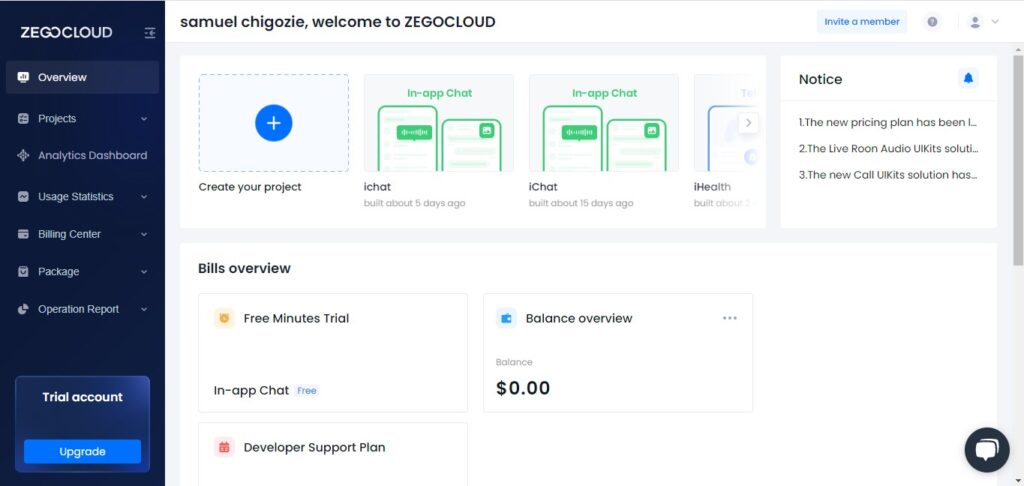 3. Choose app use cases
You will be prompted to choose the app use cases, which will determine the functionality and features of the app. This step is essential in defining the purpose of the app and its intended audience.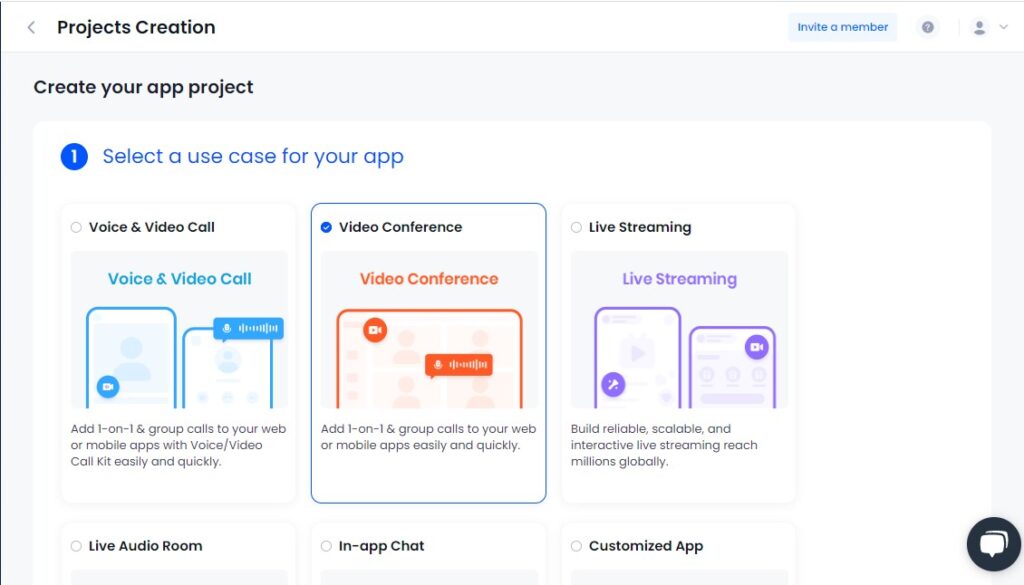 4. Choose the app name of choice
Choose a name for the meeting app project. The name should be unique and reflect the purpose of the app. This step is essential in branding and marketing the app.

5. Select "UIKit" to scaffold the UI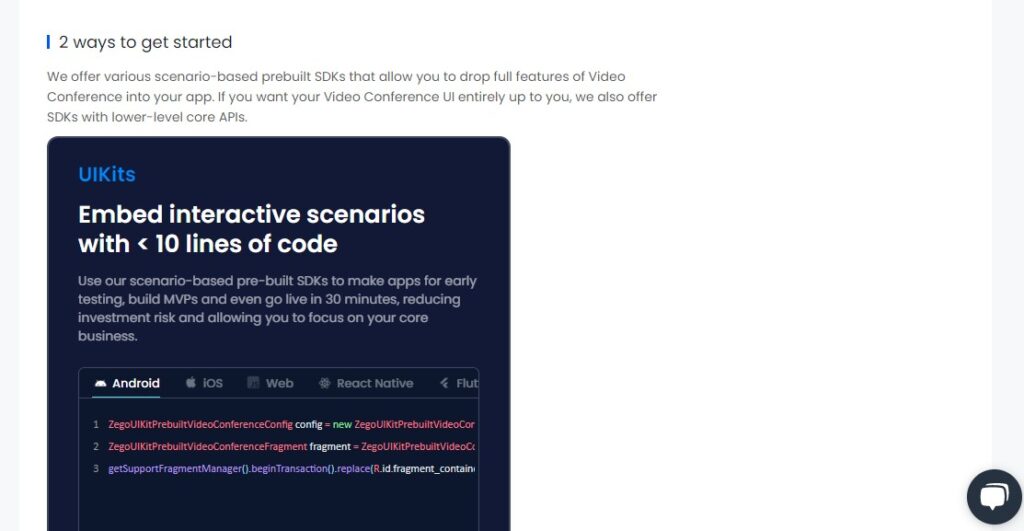 6. Select the platform of choice
You must select the platform on which the app will be deployed. ZEGOCLOUD supports multiple platforms, including iOS, Android, and the web. This step is important in determining the target audience for the app.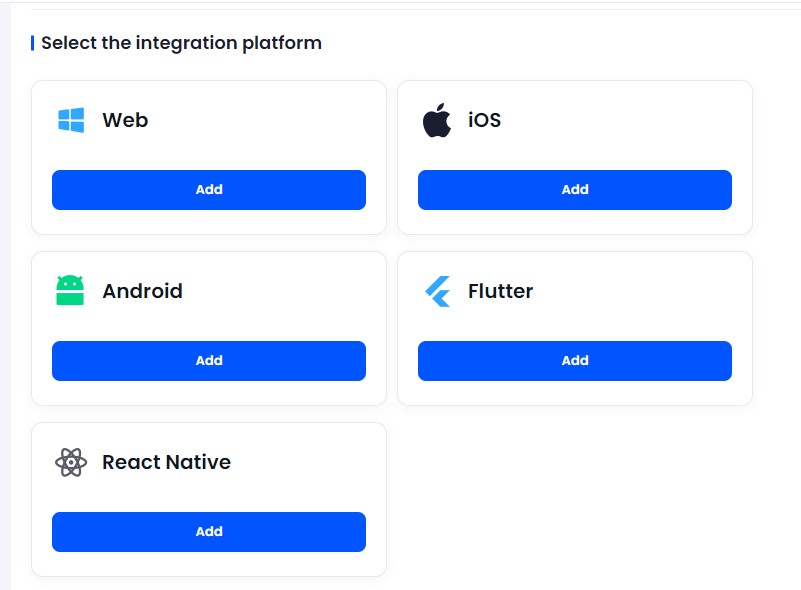 7. Make UI configuration to match your purpose
Configure the user interface components to match the purpose and functionality of the app.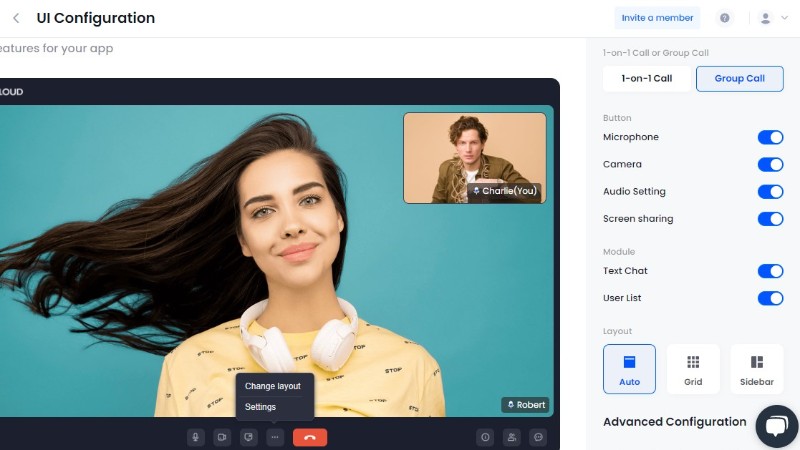 8. To obtain the project, click the "Get configuration file and integrate" button for downloading.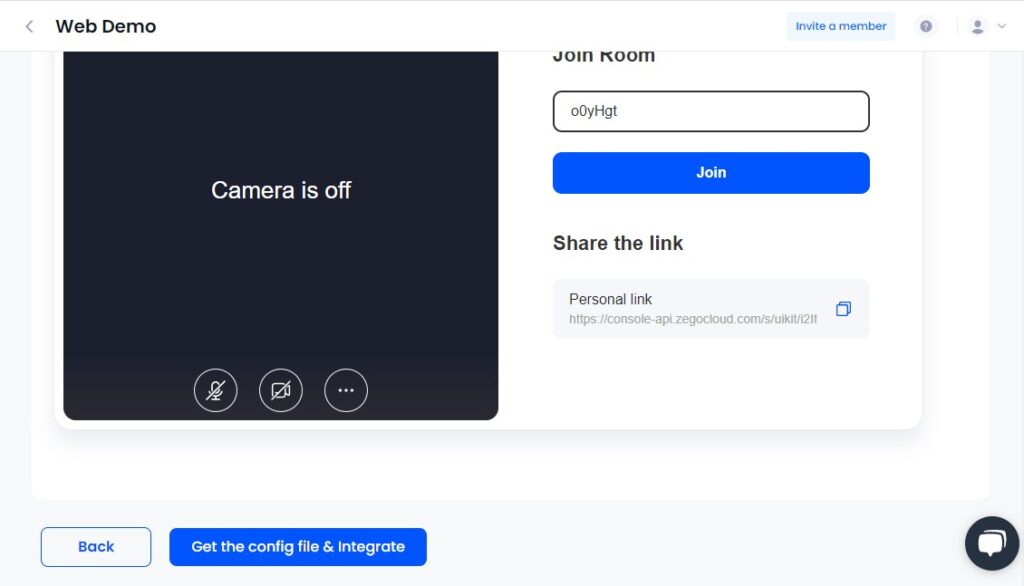 Conclusion
Video meetings have become essential to our lives, and choosing the right app is crucial to ensure seamless communication. This list of the five best video meeting apps for 2023 provides a comprehensive overview of the top players in the market, catering to different needs and preferences.
If you plan to create a video meeting app, just start with ZEGOCLOUD and experience 10,000 free monthly minutes while creating high-definition meeting applications with exceptional clarity.
Read more:
Talk to Expert
Learn more about our solutions and get your question answered.
Talk to us
Take your apps to the next level with our voice, video and chat APIs
10,000 minutes for free
4,000+ corporate clients
3 Billion daily call minutes