Effective communication and collaboration have become paramount for businesses and individuals alike, giving rise to the video collaboration software market. These video collaboration solutions have fundamentally transformed our communication methods, serving as game-changing instruments. As we delve into the ever-expanding domain of video collaboration, we've compiled a thorough list of the top 10 video collaboration tools.
What is Video Collaboration?
Before we go after the top 10 video collaboration tools, it is important to understand first what video collaboration entails. Moreover, video collaboration represents a technology-enabled form of communication that enables individuals or groups to engage in real-time interactions through the use of both audio and video, regardless of their geographical separation. In contrast to conventional text-based or audio-only communication, video collaboration offers a dynamic and immersive experience.
In addition, this experience closely resembles face-to-face interactions as video collaboration platforms offer high-definition video streaming. The visual element also adds depth and context to the conversation. Moreover, these tools also prioritize crystal-clear audio. It is all about instantaneous communication and participation, engaging in real-time conversations. Additionally, you can use APIs & SDKs offered by ZEGOCLOUD to create your own.
Top 10 Online Video Collaboration Software
In a market brimming with options, choosing the right video collaboration platform can be a daunting task. To assist you in traversing this domain, we've compiled a selection of the finest 10 video collaboration platforms. These platforms distinguish themselves through their adaptability, array of features, and profound influence on enhancing user connections and collaboration.
Considered to be one of the most widely users video collaboration software, Zoom has long established itself as a household name. Moreover, the platform is full of features and many tools to make video collaboration immersive. It can accommodate up to 1,000 participants and can show around 49 videos on one screen. In addition, the platform is also known for its formidable security, providing 256 TLS encryption.
Key Features
It is widely recognized for its user-friendly interface and robust feature set.
Offers video conferencing, webinars, and screen sharing.
Ideal for businesses, educators, and individuals looking for seamless virtual communications.
Pros
Provides a generous free account for users.
It provides features like Q&A, polling, and virtual hand-raising.
Con
Unable to include a description or meeting agenda in an invitation.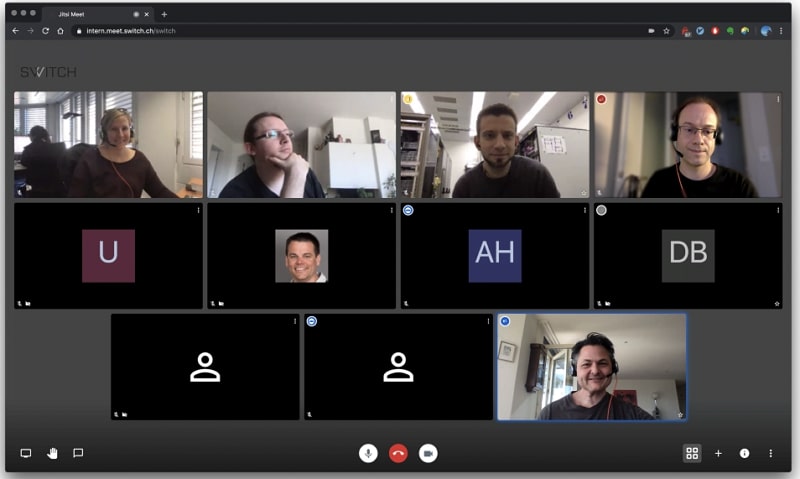 Jitsi Meet is an open-source video collaboration platform that focuses on user privacy. Moreover, it has repeatedly shown commitment to transparency and data security. It also offers end-to-end encryption for video calls, ensuring only you and the participants can access the content of the meeting. Additionally, users can host Jitsi Meet on their servers, granting them full control over video calls.
Key Features
There is no need to register or log in to use Jitsi Meet for video collaboration.
Supports screen sharing, document collaboration, and integration with popular office suites.
Allows you to record meetings for future use.
Pros
Available on multiple platforms, including web, desktop, Android, and iOS
Permits users to blur the background during video calls.
Con
Lacks many of the advanced features compared to its competitors.
Integrated with the Microsoft 365 Suite, Microsoft Teams is a comprehensive video collaboration software. It seamlessly provides chat, video calling, and file-sharing features within a single application, catering particularly well to Microsoft users. Moreover, this app is accessible as a standalone solution and an integral component of the Microsoft Office 365 Suite. In addition, it delivers top-notch video conferencing capabilities for collaborative video interactions while facilitating instantaneous communication.
Key Features
Supports features such as screen sharing, meeting recording, and live captions.
Allow file sharing and real-time collaboration on MS Office apps.
Provides support for one-to-one and group chats with the ability to share files and links.
Pros
Teams are organized into channels that make managing different tasks easier.
Offer powerful security features such as data encryption and multi-factor authentication.
Con
It works best only in the Microsoft ecosystem.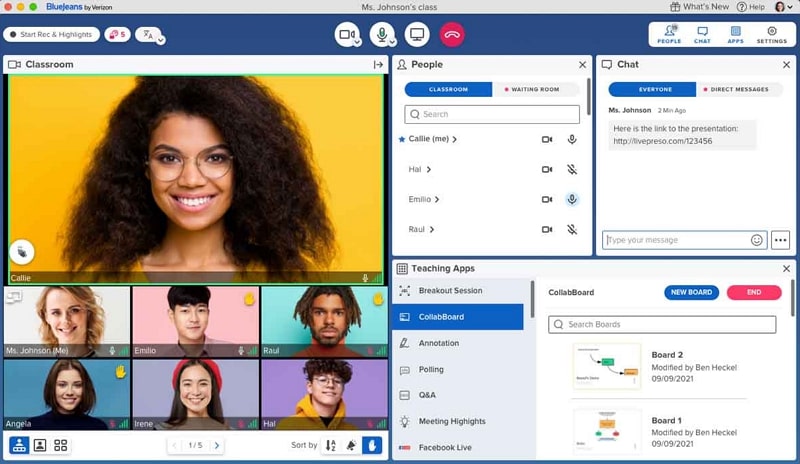 BlueJeans, under the ownership of Verizon, stands as a robust video collaboration platform celebrated for its exceptional audio and video performance. Crafted to streamline virtual meetings, webinars, and video conferences across many devices and operating systems, BlueJeans boasts dedicated applications catering to all platforms, Linux included. In addition, the platform properly integrates with popular calendar applications such as Google Calendar and Outlook.
Key Features
It incorporates Dolby Voice technology that enhances audio quality.
Participants can share screens and transfer files to make collaboration easier.
The platform offers integration with popular third-party tools like Slack, Trello, etc.
Pros
Prioritize security with encryption, access control, and administrative features.
Record meetings, webinars, and other presentations for future use.
Con
The browser version lacks complete feature parity with the desktop application.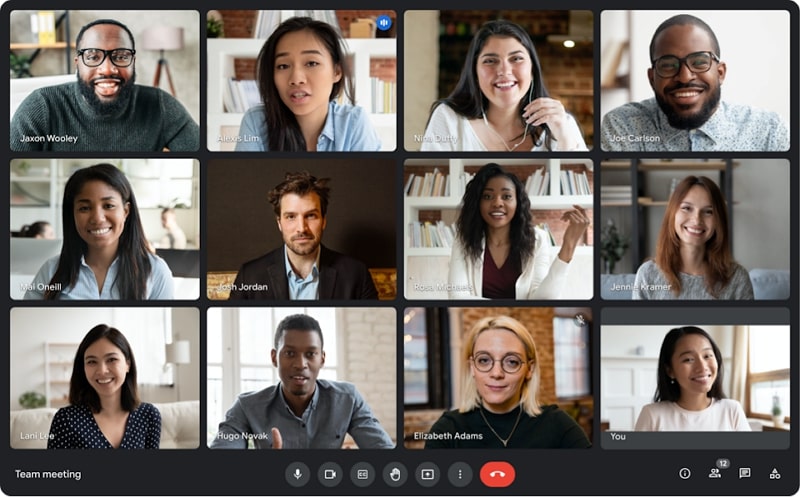 Meet is a widely used video collaboration platform developed by Google. It is part of the Google Workspace ecosystem and is a natural choice for many businesses and organizations already using Google tools. Additionally, it provides high-definition video and audio quality, ensuring participants can easily collaborate. Furthermore, this app is designed to facilitate virtual meetings, collaboration, and communication.
Key Features
Real-time captions are available during meetings.
Participants can easily share their screens, making it easy to collaborate.
Allows users to record meetings and store them in Google Drive.
Pros
A robust focus on safeguarding data through comprehensive end-to-end encryption.
Works completely within the confines of your browser.
Con
You need a Google Workspace membership to access business features.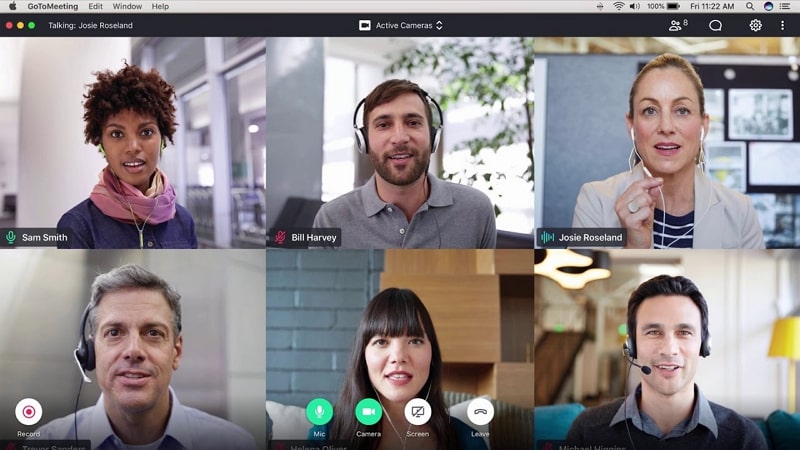 GoToMeeting, created by LogMeIn, is a reputable video conferencing and online meeting platform. Moreover, its primary purpose is to streamline virtual meetings, webinars, and remote collaboration, making it a favored selection among businesses and organizations, regardless of their scale. With its renowned user-friendly interface and comprehensive feature lineup, GoToMeeting has become a dependable solution for remote work, team cooperation, and online communication.
Key Features
This video collaboration platform is designed for businesses of all sizes.
Offers HD video conferencing, screen sharing, and customizable meeting options.
Provides meeting analytics and reports to track attendance.
Pros
Background noise suppression and crystal-clear audio
Meeting locks, encrypted sessions, and single sign-on
Con
Doesn't offer whiteboard functions.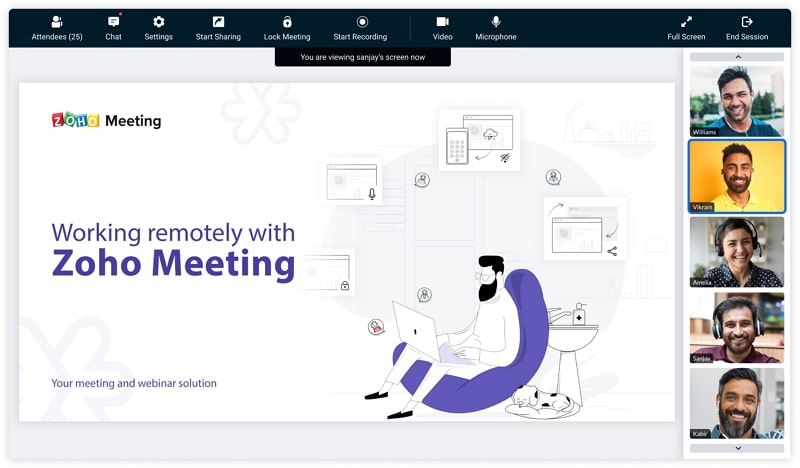 Zoho Meeting, developed by Zoho Corporation, a renowned provider of cloud-based business software applications, is an internet-based video conferencing and virtual meeting platform. Additionally, tailored to streamline virtual meetings, webinars, and collaborative sessions, it serves as a valuable resource for enterprises, educational institutions, and organizations seeking effective online communication and collaboration solutions.
Key Features
Features for hosting webinars and training sessions for later reference.
Schedule, manage, and send invitations for meetings.
Options for conducting polls and surveys during meetings and webinars.
Pros
Provides up to 25 videos on a single screen.
Allows you to change your background with virtual ones.
Con
It doesn't provide the option for automatic transcription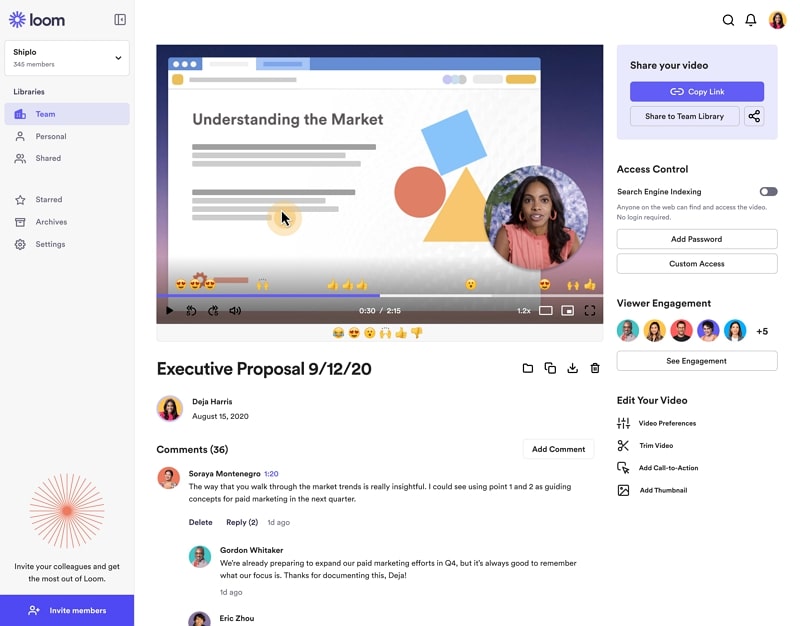 Loom is a versatile video messaging and screen recording platform that is designed to enhance communication and collaboration in both professional and personal contexts. Furthermore, it allows users to create short video messages or screen recordings and share them instantly, making it an effective tool for remote work, customer support, education, and more. Moreover, Loom focuses on making video communication quick and easy.
Key Features
This video collaboration platform allows users to capture screen activities.
Permits organizations to collaborate on videos and manage access to them.
Enables businesses to add their logos and brand colors to videos.
Pros
Add password protection and set expiration dates for your videos.
Offers 25 video storage in its free-tier package.
Con
In the free version, the video is limited to 5 minutes.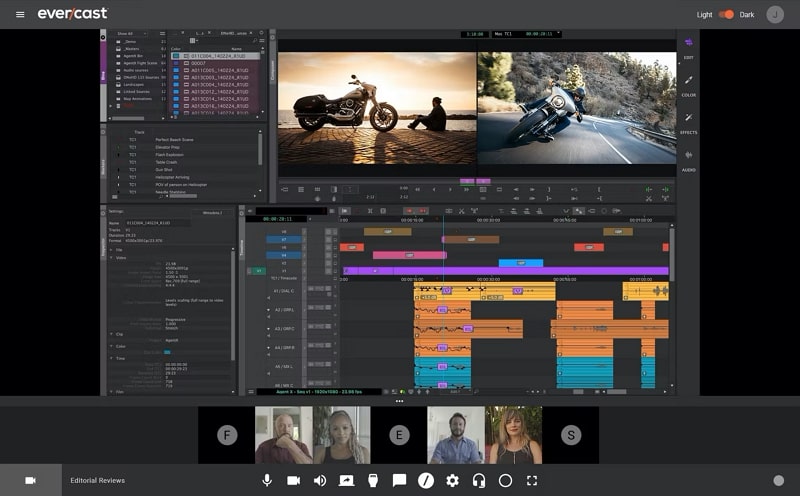 Evercast is a real-time video collaboration app professionally developed to meet the distinctive demands of creative experts in film, television, advertising, and gaming. Moreover, its primary objective centers on delivering top-tier, ultra-low latency video and audio streaming capabilities, facilitating seamless long-distance teamwork on media production and post-production projects. In addition, Evercast has a cyber defense team working 24/7 to provide you with a secure and safe platform.
Key Features
Allows multiple users to collaborate in real-time over a video.
Offer live annotation tools to annotate videos.
Integrates well with tools such as Adobe Premiere Pro, Avid Media Composer, etc.
Pros
Users can customize their workspaces according to the workflow.
Allows users to sync playback across all connected devices.
Con
It is aimed at professional users and thus has a steep learning curve.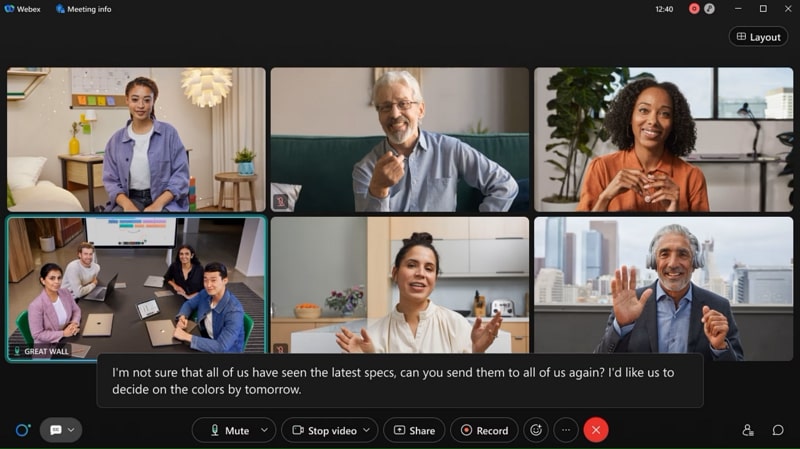 Cisco Webex is a professional video conferencing and virtual meeting solution carefully developed by Cisco Systems while keeping the industry standards in mind. Furthermore, it proudly stands among the most venerable and extensively adopted video communication tools, celebrated for its robust capabilities and top-tier security. With its thoughtful design, Webex empowers seamless virtual gatherings, enriching webinars, fostering collaboration, and enhancing communication for companies, irrespective of scale.
Key Features
It is known for its intuitive and user-friendly interface.
Available on mobile applications for both iOS and Android platforms.
Offers real-time chat and messaging features for meetings and events.
Pros
It supports hosting webinars, virtual events, and large-scale online presentations.
This video conferencing platform integrates with a wide range of productivity and collaboration tools.
Con
The tool is expensive, while real-time translation costs extra.
Conclusion
In conclusion, the world of video collaboration software has evolved rapidly to meet the diverse needs of individuals, businesses, and organizations. The 10 best video collaboration software solutions explored in this article offer a glimpse into the vast landscape of tools available for virtual communication, teamwork, and innovation. If you are looking forward to creating a video collaboration tool of your own, we highly recommend ZEGOCLOUD video call APIs & SDKs and voice call APIs & SDKs.
Talk to Expert
Learn more about our solutions and get your question answered.
Talk to us
Take your apps to the next level with our voice, video and chat APIs
10,000 minutes for free
4,000+ corporate clients
3 Billion daily call minutes