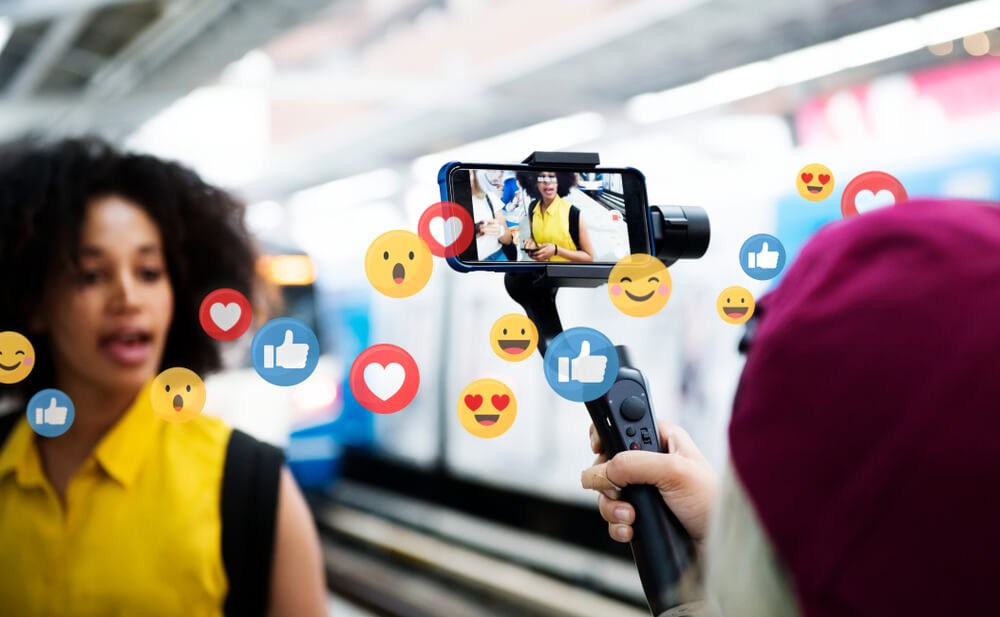 A 'lifeline anchor.'
We had the chance to explore together the video streaming industry, for which 2020 marked a turning point.
In particular, live video streaming has become the preferred way to consume content. This market will exceed 500 billion globally by 2030.
The smartphone is now the preferred video streaming medium. According to Statista, global viewers spent significantly more hours streaming live videos in 2021 than in 2020. This trend accelerates with the constant release of new live video streaming mobile apps and upgraded devices.
Considering the massive impact on business, developing mobile video streaming apps is essential today. Tools such as the iOS video streaming SDK and Android video streaming SDK make this task easier.
Why use a live video streaming mobile SDK?
As mentioned, people consume businesses' video content mostly on mobile devices. On average, a person today spends 16 minutes a day watching videos on their smartphone.
Of course, one can access such content from a browser. However, for a better user experience, it is more immediate, convenient, and more popular to use an app. Creating a live video streaming app satisfies multiple user needs and builds loyalty.
For software developers, this task involves several challenges. Along with programming, they must:
– design concepts and prototypes for new applications
– plan and organize development phases
– analyze intermediate results
– eliminate errors or weaknesses.
The irrepressible technological advancement of the software makes such work even more tricky. For these reasons, ready-to-use code platforms are indispensable to software developers' daily work.
Live video streaming SDKs, therefore, represent indispensable tools for mobile application development for live video streaming.
What is an SDK?
SDK stands for Software Development Kit. It is generally defined as a set of tools enabling a team of developers to create a mobile application. Such a kit consists of helper libraries, relevant documentation, code samples, processes, and guides developers use on specific platforms or programming languages.
Some examples of SDKs are DirectX SDK and .NET SDK (Microsoft), Android SDK (Google), and iPhone SDK (Apple).
What is SDK's purpose?
SDK is a "shortcut" that makes developers' work easier using libraries or precompiled modules. This way, they avoid rewriting thousands and thousands of lines of code. They can improve the functionality of mobile apps, such as analytics, advertising, or handle push notifications. Without SDKs, many of these features would have to be developed from scratch, thus requiring more resources and time.
What are SDK's characteristics?
A mobile SDK must provide value to other companies and their developers; therefore, the company or organization realizing it must deliver a product that should:
– Be easy for other developers to use
– include comprehensive documentation to explain how the code works
– Have enough functionality to add value to other applications
– Do not negatively impact a mobile device's CPU, battery, or data consumption
– Interact well with other SDKs
To meet these qualities, Software Development Kits typically contain documentation, editors, libraries, runtime and development environments, compilers, debuggers, drivers, network protocols, test examples/projects, and APIs.
What's the difference between SDK and API?
API stands for Application Programming Interface, a software intermediary that allows two applications to talk to each other. Live Streaming Video API is a broader term describing a group of similar APIs that work for video.
Compared to the API, SDK acts as a starter kit. The API is the blueprint; the SDK is a package of pre-built elements you can copy, modify, or insert directly into your programming projects. To further break it down, the API for video transmission is a set of instructions, whereas a video streaming SDK consists of examples of valuable ways to use those instructions.
The components of an SDK mentioned earlier simplify the process of going from a multifunctional API to completing a specific coding project.
Therefore, the Software Development Kit extends the API's functionality; it is a set of tools and code examples that help implement complex operations through an API.
There are many points of contact between SDK and API, and many people tend to overlap the two concepts. The API can be seen as a "minimal" SDK, lacking all the documentation and additional libraries needed, for example, for debugging or library modification and customization. However, these are two very different programming elements from each other.
What do live video streaming SDKs and APIs enable?
SDK and API vendors for live and video streaming enable the creation of native video and audio experiences in software and mobile applications, sites, and web applications. They offer comprehensive toolkits for developers and components such as WebRTC that facilitate the creation of custom live streaming platforms within the web and mobile applications. Use cases for live video streaming include but are not limited to:
-web and video conferencing applications,
-live video streaming platforms,
-virtual event platforms,
-video calls
What to choose, SDK or API?
In software development, there is no need to choose between either one. To create a mobile application, you must decide what functionality you need in the application and select the required API to operationalize the functionality. Next, you will choose the suitable SDK to make your application operational in a short time.
Which SDK to choose?
The choice of SDK is critical because it involves technical complexities that affect the development of a video streaming app or any app.
The developer must consider specific features of various types of SDKs available, including:
– An SDK subject to a proprietary license is incompatible with open-source software development.
– An SDK may be subject to a license agreement to prevent software made with that tool from being released under an incompatible license.
– Some SDKs may require acceptance of specific agreements or rules
– SDKs covered by the General Public License (GPL) do not allow the development of proprietary apps.
– A Lesser General Public License (LGPL) provides conditions for projects containing proprietary code elements.
It is essential, therefore, to pay attention to the terms of use of live video streaming SDK for building your application, especially live video streaming mobile SDK.
ZEGOCLOUD Video & Live Streaming SDK solutions
SDK and API providers for live video streaming enable companies to create native live streaming video and audio experiences in software and mobile applications, sites, and web applications. Among the best providers of SDKs and APIs for live streaming is ZEGOCLOUD.
ZEGOCLOUD offers a fully customizable and easy-to-integrate Video SDK to rapidly build high-quality and scalable video calling and live streaming into your mobile app and on your web and desktop apps.
With an easy-to-use SDK and feature-rich APIs, building video functionalities requires few lines of code and less than 30 minutes, so you can focus on developing your product and significantly accelerate your time-to-market.
ZEGOCLOUD also provides development tutorials and sample codes to help you get started quickly.
Request a demo and contact our developers for further information.
Unlock innovation, try ZEGOCLOUD SDK solutions.