People speak with each other through voice. But conversations are complete and meaningful when we can see each other's gestures, postures, and facial expressions. This is not easy to happen in a two-dimensional virtual space hosted on the internet.
However, real-time communication significantly improved user engagement. Inke immersive Metaverse Karaoke is a great example. This is a Metaverse-based product launched on May 18, 2022. It constitutes an upgrade from online karaoke for an unparalleled user experience. ZEGOCLOUD-powered karaoke solutions helped build this exceptional app.
Inke Metaverse Karaoke Scenarios
1) Have fun in a metaverse karaoke room as a pretty avatar
The Inke app offers a metaverse-based luxurious karaoke room. The karaoke room looks huge from a 3-dimensional perspective. It won't become crowded even if you put 20 people into it. There is a big theater-style screen, a few lounges, and a mini-stage with spotlights. You will be endowed with a pretty good-looking customizable avatar as a user. You will enjoy moving and dancing. Also, you will see many peer users like you; some even have similar appearances. Overall, the metaverse karaoke room makes you feel like you are just in a real karaoke room.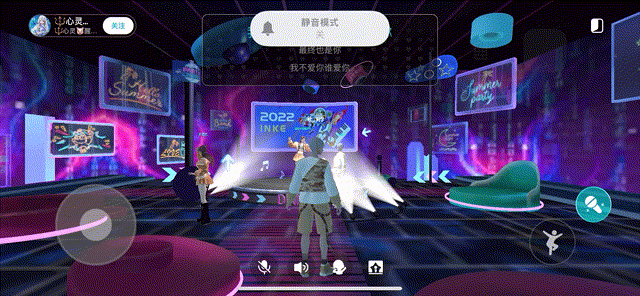 2) Real-world-like 3D-spatial social interactions open a new door for user engagement
You can speak with and see your friends in an ordinary video chat room through real-time voice and video. However, compared with our real-world conversations, there is still something missing. Yes, 3D-spatial social interactions such as posture, gesture, and facial expressions are absent. Anyway, with 2D video pictures, an ordinary video chat room can only take us so far. Things are different in the Inke metaverse karaoke room. You can run or even chase with your cyber pals for fun and sit down on one of the lounges for a quick talk. You will feel that the audio follows real-world physical rules. For example, people's voices will fade out when you move away, and you won't hear them if you are far away enough.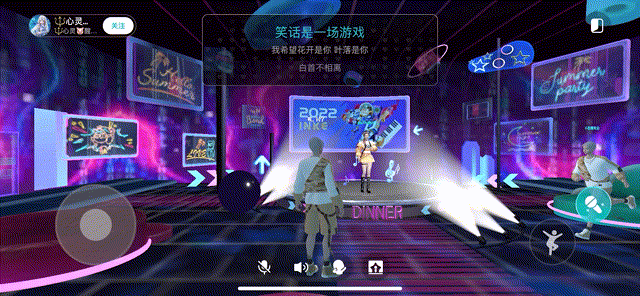 3) Your avatar's posture, gesture, and facial expression can be synchronized with your actual movements
You can do a lot of everyday actions like what you can do in the "real world." You can make social interactions funnier when you speak with your cyber pals through real-time voice. Rich postures and gestures make a pleasant conversation. Currently, your avatar cannot be synced with you for facial expressions. According to Inke's product iteration plan, its metaverse karaoke product will support avatar facial expression synchronization. Your avatar will be able to sync-ed with you for facial expressions. In fact, the system monitors the critical points on your face and your vocal signals.
4) Multiple perspectives allow you to see your cyber pals from different angles
Let's see what you can do:
Explore the metaverse from various perspectives, looking at people from different angles, such as first-person and third-person perspectives.
Rotate your view up and down, and zoom in and out as you wish.
When someone is performing on the mini-stage, you can switch their view to a close-up perspective of the stage
Feel a sense of spatial freedom and would like to explore and
play and have lots of fun
5) Metaverse karaoke offers you the same experience as real-world karaoke
Inke's metaverse karaoke is an upgraded version of a previous online karaoke product, like Kugou KTV. You can search and select songs. Karaoke has a rich music repository. You will therefore be able to find your favorite songs. Hot or trending songs are ranked and listed in a few category panels for your easy selection. Once you select a song, the song will be listed in a queue. Once your turn comes, the system will automatically guide your avatar onto the mini-stage. A panel will appear at the top-centric part of the screen, showing rolling lyrics of the current song. You can choose to sing along with an accompaniment of pure music or actual singing. Other users in the karaoke room can wave, show likes, or clap hands around the stage. It is precisely like what you can do in a real-world karaoke room.
The following infographic draws a concise outline of typical metaverse karaoke scenarios.

Immersive Metaverse User Experience
The true meaning of metaverse karaoke is that you can live a brand new life with an Avatar.
1) Real-world-like spatial freedom brings an authentic, immersive metaverse user experience
The metaverse karaoke endows you with the feeling of being alive in a brand new 3D spatial world. Many elements add together to create an authentic, immersive user experience. Among these: are spatial movements, gestures, facial expressions, 3D spatial voice, and proximity voice. You can read someone's thoughts by looking at his or her facial expressions. The feeling is so immersive that you won't help but stay longer than you planned!
2) With the cover of a customized and pretty avatar, your social fear will be gone
Like many other youngsters, you may be afraid to socialize with first-time strangers. Why is it so? Perhaps you just don't feel confident about your appearance. Or perhaps you don't want to show your true identity in case you encounter acquaintances. Inke's metaverse karaoke allows you to generate an avatar initially based on your appearance. Nevertheless, you can change your facial features.
You can customize it according to your taste. Your social fear will indeed vanish.
3) Metaverse karaoke brings you the sense of a superstar with spotlight, applause, and cheers
I assume that most of you are not celebrities or superstars. The Inke metaverse karaoke offers you a stage in a luxurious big room. You will earn applause and cheers in the spotlight if you are talented and good at singing. Otherwise, never mind; chances are neither of your cyber pals is a good singer. You will feel like a superstar surrounded by fans with applause, flowers, and cheers in the spotlight.
The following infographic makes a concise conclusion of the values of the ZEGOCLOUD metaverse karaoke solution.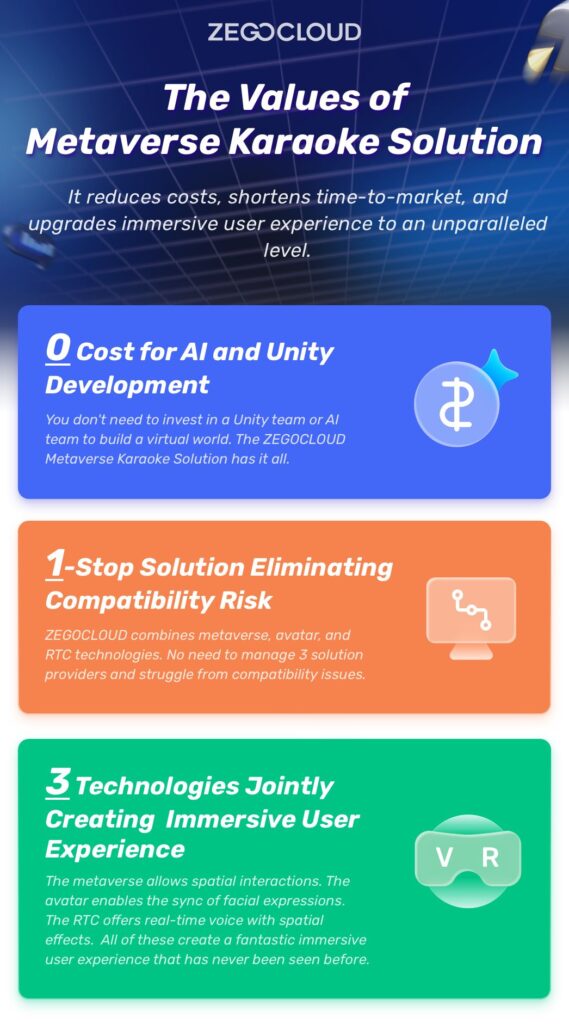 The Inke app is empowered with the ZEGOCLOUD metaverse karaoke solution
Inke has long been a loyal client of ZEGOCLOUD's for 7 years. With the mutual trust and confidence built up in the 7 years, Inke built the "full view karaoke" into its app with the ZEGOCLOUD metaverse karaoke solution.
According to the person in charge of the Inke "full view karaoke" product, since the first cooperation between Inke and ZEGOCLOUD in early 2016, the two companies have joined hands to create many internet entertainment and social products that have been loved by Inke's users. This time, Inke and ZEGOCLOUD worked together again to create the "full view karaoke" for the Inke app, which has been proven to be a big success. Since its launch, user statistics have shown positive feedback. Generally, users have shown great interest in the exciting and novel metaverse karaoke.
The person in charge of the Inke "full view karaoke" product also expressed that what truly impressed the Inke team was the values that ZEGOCLOUD has brought to them and their users. He summarized ZEGOCLOUD's values as follows:
1) ZEGOCOUD's metaverse karaoke solution enables them to rapidly launch the "full view karaoke" product without sunk cost on Unity and avatar technologies. You don't have to maintain a Unity team to build a virtual world, nor do you need to invest in an AI team to develop avatar technology. The solution helps you get rid of all these costs. Even better, your time-to-market reduces significantly.
2) ZEGOCOUD provides a one-stop solution that saved them from the burden of managing at least 3 vendors for metaverse, avatar, and RTC technologies. ZEGOCLOUD encapsulates the metaverse, the avatar, and the RTC technologies to offer a unified interface to your app. You don't have to struggle with compatibility issues among them.
3) ZEGOCOUD combines Unity, avatar, and RTC technology to create great synergy and brings a full view and immersive experience to Inke's users. The Unity-powered virtual world allows spatial interactions. The avatar enables the sync of facial expressions; The RTC offers real-time voice with spatial effects; these create a fantastic immersive user experience that has never been seen before.
How to build a metaverse karaoke product
The person in charge of the ZEGOCLOUD metaverse karaoke solution stated that the solution can help our clients to build metaverse karaoke products rapidly for various metaverse-based scenarios and achieve outstanding and immersive user experience. We have been working on polishing the solution for quite an extended period. The goal is to provide the market with an outstanding, stable, and innovative solution and help our clients to upgrade their user experience. We have taken plenty of measurements to save our clients from cost burdens.
For example, we have provided a metaverse editor that allows clients to load design assets, and preview how their metaverse will look like. The metaverse editor also allows clients to edit the objects in the metaverse, add new objects, reposition objects, replace objects with new ones, etc. The metaverse editor can lower the development barrier, and reduce development costs significantly.
In Inke's "full view karaoke" product, ZEGOCLOUD provides real-time voice and video, 3D spatial voice, 3D avatar, 3D metaverse, ultra-low latency online karaoke, and copyrighted music repository. All these abilities empower Inke's "full view karaoke" product, upgrading the immersive user experience to an unparalleled level that has never been seen before.
You might want to refer to the below infographic for an overview of the ZEGOCLOUD metaverse karaoke solution.

If you would like to build a metaverse karaoke product like Inke's, and want to know more about it, please come signup or contact us for consultation.
Read more:
Talk to Expert
Learn more about our solutions and get your question answered.
Talk to us
Take your apps to the next level with our voice, video and chat APIs
10,000 minutes for free
4,000+ corporate clients
3 Billion daily call minutes